DAVID ANDRY

SEND THIS TO A FRIEND!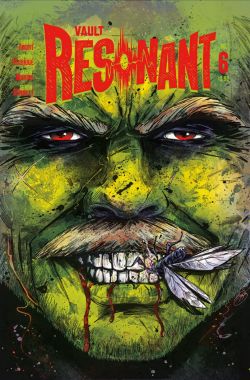 DF Interview: David Andry creates a terrifying world made from humanity's worst in 'Resonant'
By Byron Brewer
A decade has passed since the first Waves hit, unleashing humanity's darkest impulses and plunging the world into chaos. Paxton, a single father of three, must venture from the secluded haven they've built to restock the medicine his chronically-ill youngest son needs to survive. When the somewhat routine trip goes awry, Paxton and his children – now separated – will battle everything in their path to reunite.
In the aftermath of a Wave, Paxton continues his journey in search of medical assistance for his sick son. Left to fend for themselves at the family cabin, the kids are visited by a mysterious stranger. Meanwhile, Paxton reaches the settlement of Hospitality – only to find the welcome less than hospitable.
From writer David Andry and artist Alejandro Aragon comes Resonant. DF wanted to get you the full 411 for this book from Vault Comics, so we rode the last Wave into shore and chatted with scribe David Andry.
Dynamic Forces: David, what can you tell us about how Resonant came together as a comic? What is the genesis of the series?
David Andry: The idea for Resonant started years ago, when I was in college. I remember leaning over a third floor railing and having the sudden feeling that I might jump. It was so strong that I stepped back. These were the days before Google, so I had no idea what was going on. Later I learned that this was a common experience called "High Place Phenomenon" or "Call of the Void". The feeling stuck with me and I knew that I wanted to use it in a story, but I couldn't find the right place for it. It just hung around in my brain for years. It was only when I was working on a different story, about a man separated from his family and trying desperately to get back, that Resonant came into focus. These subconscious impulses like the Call of the Void would form the world that the man was struggling through. After that, the story just fell into place. I pitched the comic to Adrian Wassel from Vault Comics a couple of years ago at Emerald City Comic Con and he loved the idea and helped me shape it into the comic you see on your shelf. Vault provided me with a list of artists that they thought would work on the book and when I saw Ale's name on it I freaked because his art and style was how I saw the world of Resonant when I was writing the scripts. Vault finished putting the team together with Jason Wordie on colors and Deron Bennett on letters, both of who bring tremendous talent and have really completed the look of the book. With Tim Daniel on design, it's really a perfect team.
DF: Tell us what you can about the world you and artist Alejandro Aragon are building for these characters.
David Andry: Ale has really put his stamp on the world, I try to step back and let his amazing creativity go to work. As you can see, the world of Resonant is verdant and frightening. A majority of the population has died off in the decade the Waves have ravaged across the land. Nature has begun to reclaim civilization. The remaining people have had to figure out how to protect themselves from themselves and from others when a Wave strikes. This has led to isolation and strange pockets of population.
DF: What can you tell us about Paxton: as a character, a man, a father? What challenges will he face going forth?
David Andry: Paxton is a father filled with responsibility. He's the sole caretaker of his three children, one of whom suffers from a chronic illness. As a young man, Paxton was a searcher. He looked for meaning and purpose for his life. He traveled extensively, through Asia and India. He studied yoga, meditation, zen philosophy and martial arts. Even as he had a family, he was dissatisfied with society and moved his family "off the grid". As a result, he was fairly well prepared for the Waves when they started, but his family has still suffered from their effects. Without giving too much away, he will face tremendous challenges to get back to his kids. My goal was to make it as hard as possible, to really put him through his paces, not just physical but mentally. He's going to have to overcome obstacles he can't imagine to reunite his family.
DF: Introduce readers to his three children, if you will. Are they important to the series as a whole or just a MacGuffin?
David Andry: The kids are actually a major part of the story. Maybe even more than Paxton. I really wanted to explore the family dynamic of the children left alone. Especially in this insane world of the Waves where that is their normal. They have known the Waves for their whole lives, like children born in war zones. While still scary, kids still play, have fights, they are still kids. How do they step up to the challenge, how do they handle this world without their father? I'm really excited about telling their story.
DF: What is a "Wave"?
David Andry: Waves are invisible, random pulses of energy that force people to follow their deepest, darkest impulses. Whatever is rattling around in their subconscious. Beyond that, more will be revealed as the series continues.
DF: Can you hint at anything about the mysterious stranger who vistis the kids in the coming issue #2?
David Andry: Yes. He will be a dividing force in the family.
DF: Talk about the stunning art of Alejandro Aragon.
David Andry: I mean, have you seen it?! Ale is absolutely destroying each page! It's the most stunning work of his career and each issue is getting better. Ale has the amazing ability to bring drama to the still moments and chaos to the action. I could not be happier with his work. If he's not already, I think he's going to be an absolute superstar! He's been a total pleasure to work with, really bringing his heart and soul to Resonant. He really cares about the work and wants to make it his best. He's a gem!
DF: David, any other projects, inside comics or outside, that you can tell readers about?
David Andry: You can find all my old self-published stuff at www.ghostthunder.com. I'm still working on self-published series with my GhostThunder partners. I have multiple pitches ready to go and I'm shopping things around so hopefully I can have some new announcements soon.
Dynamic Forces would like to thank David Andry for taking time out of his busy schedule to answer our questions. Resonant #1 is in stores now. Resonant #2 from Vault Comics hits stores Aug. 28th!
For more news and up-to-date announcements, join us here at Dynamic Forces, www.dynamicforces.com/htmlfiles/, "LIKE" us on Facebook, www.facebook.com/dynamicforcesinc, and follow us on Twitter, www.twitter.com/dynamicforces.
---
NEW! 1. 11/25/2020 - STEVE SKROCE
4. 11/16/2020 - RYAN O'SULLIVAN
5. 11/16/2020 - RYAN O'SULLIVAN