JOHN ALLISON

SEND THIS TO A FRIEND!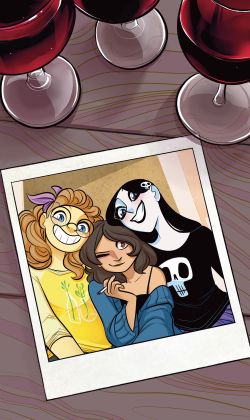 DF Interview: John Allison brings his acclaimed series to a close with 'Giant Days: As Time Goes By'
By Byron Brewer
One year after their graduation from university, Esther De Groot and Daisy Wooten are back in Sheffield for a reunion with Susan and McGraw. The year apart has not been easy for all of them, and this reunion will only draw out the secrets they have all been keeping for too long.
Giant Days: As Time Goes By, an over-sized one-shot comic book, concludes the Eisner Award-nominated series by writer John Allison (Scary Go Round) and artist Max Sarin, giving fans one final adventure with the friends. DF wanted to share more about this important series ending, so we sat down with creator John Allison.
Dynamic Forces: John, why is now the time to end your Eisner-nominated Giant Days series?
John Allison: I was always going to end Giant Days after the third year – most students in the UK only do three years of undergraduate study. The only question was how many issues that would turn out to be. And while mathematically, this is where the end falls (each school year was blocked out as 18 issues), I've been working on this series for 8 years (the first self-published mini came out in 2011) and I'm ready to say goodbye.
DF: For the uninitiated (and shame on you!), can you kind of summarize what the preceding saga has been all about? What do new readers need to know about the past to enjoy As Time Goes By?
John Allison: It's a sitcom about three young women who meet on the first day of university, and become best friends simply because their dorm rooms are next to each other. They then ride out the ups and downs of college life. It's a pretty simple comic to get your head around. Every issue is a story designed to be read in isolation, but part of the larger tapestry.
DF: Introduce us (again) to your main protagonists: Esther, Susan and Daisy. Where have they been in life and where are they headed in this Giant Days one-shot?
John Allison: Susan and Daisy have stayed back in Sheffield, Susan to finish her medical degree, Daisy to work for the city council on archaeological sites. Their lives are more or less progressing as expected. Esther has moved to London for a "dream job" and as is the nature of things, it does not live up to her expectations. She has drifted apart from the other two, for reasons that are largely out of her hands.
DF: What can you tell us of any new characters we need to know about? Can you bio a few of them here please?
John Allison: This special is very tight. It's readers' last chance to spend time with Daisy, Esther and Susan and so I haven't embroidered it with loads of new characters. There are precisely two, they are both called Cressida, and all I can reveal is that they are spectacularly unpleasant. Most of the issue is about the friends, dealing with the reality of their friendship (and some other key relationships to the series) post-university.
DF: Our cast is set. Give me the extended elevator pitch for this concluding chapter of Giant Days.
John Allison: On the one hand, it's a treatise on how we try to sustain the heightened, intense reality of university past the end of that time, and the impossibility of that. On the other hand, it features demented action sequences that hark back to the very first self-published issue – real, sustained madness. So it is very much an issue of Giant Days.
DF: John, as an obviously caring writer, how does it feel to be ending this beloved series? Any chance of a spinoff/continuation?
John Allison: Almost all my work is a spinoff or a continuation of something I did before. I find that long-running stories always contain the seeds of something new. Esther de Groot first appeared in one of my comics in 2005! If there are any spinoffs from Giant Days, they won't be a Frasier or a Trapper John, MD (there's one for the teenagers). They'll appear from the margins. The story of Daisy, Esther and Susan will be over after As Time Goes By. Readers deserve endings.
DF: Talk a little bit about the awe-inspiring art of Max Sarin.
John Allison: It's been an incredible privilege to work with Max as they have developed as an artist over the last four years. When Lissa Treiman left the series, I had no idea how we'd replace her, she was my dream artist for the project. The luck of finding Max in the first place, then watching their style evolve over the years into what I think is among the most sophisticated in contemporary comics, is a dream for a writer. As an artist, it is a trip to school every month that has improved my own work enormously. The only downside is that I am now horribly spoiled.
DF: What other projects, inside or outside comics, in which you are involved can you tell readers about?
John Allison: I have a new 5-issue series, Steeple, coming from Dark Horse in September, which I am writing and drawing. Hopefully people will like it and I can do more – it's a fun world to spend time in, with characters who are already starting to grow in my mind. The trades of By Night, my BOOM! Studios series with Christine Larsen, are coming out (Book 2 came out in late July) and another Bad Machinery collection is due from Oni Press around the same time.
Past that, I've been writing a 22-page comic script every two weeks for two years, and given the way I write, I've burned through a lot material and mental energy. Those two scripts were done alongside drawing pages, writing and drawing newspaper-sized strips, making new pages for Bad Machinery collections, and other trials. So I'm going to take a few months off to rebuild my personality. I plan to put up some shelves.
Dynamic Forces would like to thank John Allison for taking time out of his busy schedule to answer our questions. The Giant Days: As Time Goes By one-shot from BOOM! Studios hits stores on Oct. 30th!
---
NEW! 1. 08/28/2023 - TONY S. DANIEL