PATRICK KINDLON

SEND THIS TO A FRIEND!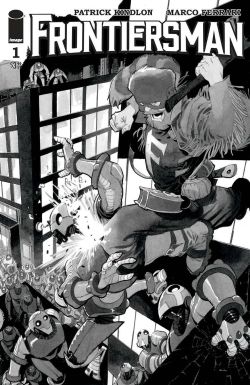 DF Interview: Patrick Kindlon shows us why superheroes should never come out of retirement in 'Frontiersman'
By Byron Brewer
Classic Green Arrow-style adventure blends with the thoughtfulness of Concrete in a superhero odyssey for mature, but uncynical, readers! Frontiersman is coaxed out of retirement by an environmentalist group, only to find that being a spokesperson makes him a target for old and new enemies alike! For the superhero reader looking for more.
Patience! Conviction! Revenge! creative team Patrick Kindlon & Marco Ferrari reunite for Frontiersman, an all-new ongoing series. I wanted to get more info about this new book, so I took the deep dive with scribe Patrick Kindlon.
Byron Brewer: Giving readers a "good time". That is what you have said you would like to do with your new comic, Frontiersman, Patrick. Explain.
Patrick Kindlon: Genre work is supposed to be thrilling. It can be thoughtful, insightful, and provocative. But if it's not thrilling first, then it's built on quicksand. Corporate mandates have chilled creativity at the big publishers. Editors are afraid and therefore creators are afraid. The outcome is what you'd expect: work that is noncommittal, and entirely too self-aware. At Image we've got the opportunity to do anything. We wanted to do something expressive and challenging. So we chose a superhero book without the stink of fear. It's fun by default because it's two creators doing only what speaks to them.
BB: Everyone still around who read comics in the 1960s and '70s say they watched as the fun and even a majority of the colorful supervillains were sucked out of superhero comics. Things like the joy of seeing characters having everyday problems in comic books eventually morphed into a cynicism of sorts, some veteran readers charge. How does Frontiersman address this, if it does?
Patrick Kindlon: I've been around for a few distinct eras of the medium and at this point I've found things to appreciate in them all. But anyone who denies there's been a change is not being honest. It's just a fact that what is marketed during one era is derided in the next. There's a churn, and on some level it's necessary. Or at least represents the time of its creation and is unavoidable. But all that said, there's core values in comics that carry across every decade and fad. Things that just always work. We can always rely on fun. And cool supervillains are never out of style. Readers want these things, but some creators are overthinking the process. If you love comics, some of these things will just bleed on the page naturally. Let it happen.
BB: Introduce us please to Frontiersman.
Patrick Kindlon: Frontiersman is a retired hero. He used to be an iconoclastic figure that did what he felt was right, even when it put him in conflict with the law or other heroes. But now he's older and while he still cares about the world, he's happy to let others handle the problems. He's also a bit out of touch. At one point he was provocative and on the bleeding edge of issues of the day, but the world passes us all by eventually. That said, there's a part of him that still wants to prove he's every bit as vital as he was when he started.
BB: What other characters are key to his adventures? Can you spotlight some here?
Patrick Kindlon: In the first arc, we're introduced to a number of characters including some villains from his past. I think the villain-of-the-month format is what American comics should be doing right now. If the idea is to be new-reader friendly, then I believe there is no better way. Early in the series, Frontiersman is confronted by a cosmic villain he's powerless against and a patriotic hero-turned-mercenary he used to fight alongside.
BB: What can you tell readers about the storyline for the debut issue of your new ongoing?
Patrick Kindlon: Frontiersman is drawn out of retirement with what feels like a low-stakes request. He's asked to tree sit while an environmentalist group pushes courts for an injunction on logging. But he's not sure he wants to be part of the world anymore. He's struggling with what either decision says about him. Is he still a hero?
BB: Does the out-of-retirement hero have an arch foe you can tell us about?
Patrick Kindlon: He's got a few! But they'll have to get in line behind the younger villains who think they can make their name by taking out an old man. Both type of rogue are introduced in the first five issues. And almost every issue after!
BB: How does it feel to be reunited with artist Marco Ferrari, your creative collaborator on Patience! Conviction! Revenge!? Why is Marco the right artist for Frontiersman?
Patrick Kindlon: Marco is a rare individual in any field: he's always pushing himself to be better. His work is striving for greater heights with every page. I am blessed to have a collaborator who wants to push himself and create something undeniable. Specific to Frontiersman, Marco's work is expressive with a lot of panel-to-panel gesture and acting. On the rare occasion I write a static page, he makes it dynamic.
BB: Patrick, what other projects, inside or outside comics, in which you may be involved can you tell readers about?
Patrick Kindlon: There's a Frontiersman-related project that will tie into the main series, coming next year. Very happy to have Image's support on that. I have a fantasy graphic novel with Goran Gligovic coming this fall, and a crime graphic novel with Paul Tucker coming in Spring. Both are exceptional talents and the books look fantastic. Thanks for letting me talk about things I enjoy. Hope everyone checks out Frontiersman.
Dynamic Forces would like to thank Patrick Kindlon for taking time out of his busy schedule to answer our questions. Frontiersman #1 from Image Comics is slated to be on sale Sept. 22nd!
For more news and up-to-date announcements, join us here at Dynamic Forces, www.dynamicforces.com/htmlfiles/, "LIKE" us on Facebook, www.facebook.com/dynamicforcesinc, and follow us on Twitter, www.twitter.com/dynamicforces.
---
NEW! 1. 09/23/2021 - CONOR MCCREERY & NEIL GIBSON