MICHAEL MORECI

SEND THIS TO A FRIEND!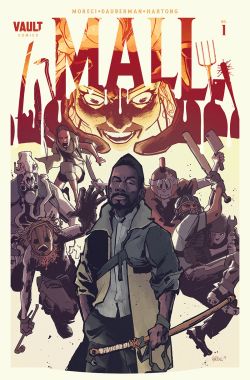 DF Interview: Michael Moreci gives us what remains after the rest of the world is gone in 'Mall'
By Byron Brewer
Here in the heartland of the U.S. of A., the world has ended! But worry not, because the mall still stands. And within the walls of this consumeristic mecca lies a new world order: box store tribes and name brand gangs, all vying for limited space and resources. So, actually…you can worry! Especially for poor Andre Reed, who—after the assassination of a tribal leader—has to navigate the mad haven to prove his innocence, and prevent the end of world, again!
From Vault Comics comes Mall, a new comic co-written by Hollywood screenwriter Gary Dauberman and author Michael Moreci, in partnership with Emile Gladstone, and with art by Zak Hartong, colors by Addison Duke, and letters by Jim Campbell. DF is exploring this new book to the fullest, and so sat down with co-writer and our old friend, Michael Moreci.
Dynamic Forces: Michael, tell us about your collaboration with Gary Dauberman – screenwriter behind Annabelle, The Nun and the film adaptations of Stephen King's It – and the genesis of this new comic, Mall.
Michael Moreci: I mean, you can't ask for more than working with someone like Gary, who's not only a terrific and talented writer, but he's also an incredible guy. He's the best, he really is. As for the genesis of Mall, it all started with Gary. He had this idea of a post-apocalyptic world where a bunch of survivors have locked themselves inside a mall to survive whatever catastrophe ended the world as we know it. And now, we're generation into this existence, you have this world trapped within this cultural/capitalistic mecca, and the whole place is divided into these weird, branded tribes. He and Vault came to me with that—and more—and asked if I could do anything with it. I immediately jumped right into it.
DF: What can you tell us about the world you and Gary are building here?
Michael Moreci: Gary and I both agree that the most interesting thing to do in the post-apocalypse is to not talk about the post-apocalypse. Our focus is solely on the mall itself and the tribal world that's formed within it. This isn't about the mysteries of how the world ends or people trying to figure out how to make it whole again; we're laser-focused on this remarkably strange world of clans and tribes centered around mall stores and brands—which, weirdly, still manages to mirror our own current world in a pretty salient world. The world of the mall is scary—it's dangerous and fractured, and like so many of the works that inspired us—like Escape from New York or The Warriors—utter catastrophe is always a breath away.
DF: Who is Andre Reed? What challenges lie ahead for him in Mall and why?
Michael Moreci: Andre's a guy who suffers from the plague on conscience. He's a good person trying to be moral and good in a place that prioritizes both those things way below so many other concerns. But, like many other moral people, he's a bit blinded to the broader scope of things—meaning, why the people around him aren't as concerned with doing what's right as he is. He's a bit sheltered in that way, and over the course of Mall, part of his journey is his awakening—him learning many truths, not just about why he was framed for murder, but how the mall truly functions.
DF: What can you tell us about any important characters readers may need to watch for as issue #1 arrives and going forward? Can you intro some of them here?
Michael Moreci: The world within Mall is pretty vast. You have Andre and Ronin, who are our protagonists, and I love them both for uniquely different reasons. Someone who also intrigues me and who grew in unexpected ways along the journey was this character named Franco, who is ostensibly Tess's (one of the mall rulers) muscle. But he comes to learn a lot over the course of the series and grow in really cool ways. And Tess is a maniacal treat—she's so much fun to write.
DF: Can you tell readers about the tribe system? What are some of the tribes we will encounter in Mall?
Michael Moreci: It's not unlike our world, you know? In Mall, you have people divided (because we love to define ourselves by our ranks and against the "other") by superficial means—brands, mall stores, whatever you want to call it. They're gangs, and this is their identity, and it's all marked by a hierarchy that extends down from the mall's two box store anchors. And when you have all these factions and limited resources, well—you get conflict. And the world inside the mall is rife we conflict, believe me.
DF: Talk about the stunning art of Zak Hartong.
Michael Moreci: Zak is the BEST. His artwork is so kinetic and wild, and I love that about him. When Adrian (Vault's editor) and I were looking at potential artists, his work leapt off the page. Zak carries a vibrancy that's so rich and compelling, and he mixes it with tremendous character work and great storytelling chops. He's a true treat to partner with.
DF: Michael, I meant to say congratulations on your recent signing with Vault Comics. What can you say about that, and how does it feel to have this first project under your belt, so to speak?
Michael Moreci: I couldn't be happier. Vault is my family, and being tied to them long-term is a gift. We share so much in common—our aesthetics, our business goals, and our personal values—and I have no doubt that we're going to be making great comics together now and for years to come. Believe me when I say this: we have plans.
Having Mall be the first project out of the gates (after the deal I struck with Vault) gets us off to a great start. We've got a great creative team, a unique, diverse book, and I can hardly ask for better than collaborating with one of the most gifted writers working today in Gary.
DF: What else can we expect from you in the near-future in the way of projects?
Michael Moreci: Well, right on the heels of Mall #1 is my next Vault book, The Plot. That one's a gothic horror series that echoes Stephen King, Haunting of Hill House, Ray Russell, and more. It's the most personal thing I've ever written, and I just can't wait for it to be in readers' hands. After that, sticking to Vault, I've got the third (of five) arc of Wasted Space coming, and I also have Archangel #8 (from Axel Alonso's new comic company, Upshot) and The Lost Carnival, my YA Dick Grayson OGN, coming in 2020.
Dynamic Forces would like to thank Michael Moreci for taking time out of his busy schedule to answer our questions. Mall #1 from Vault Comics hits stores on Aug. 28th!
For more news and up-to-date announcements, join us here at Dynamic Forces, www.dynamicforces.com/htmlfiles/, "LIKE" us on Facebook, www.facebook.com/dynamicforcesinc, and follow us on Twitter, www.twitter.com/dynamicforces.
BATTLESTAR GALACTICA: TWILIGHT COMMAND #1 - ATLAS EDITION SIGNED BY MICHAEL MORECI
ROCHE LIMIT #1 SIGNED BY MICHAEL MORECI!
ARMY OF DARKNESS: CONVENTION INVASION
---
NEW! 1. 11/25/2020 - STEVE SKROCE
4. 11/16/2020 - RYAN O'SULLIVAN
5. 11/16/2020 - RYAN O'SULLIVAN