RAFFAELE IENCO

SEND THIS TO A FRIEND!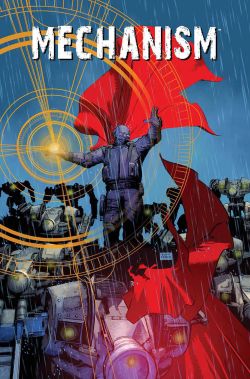 DF Interview: Raffaele Ienco's Mechanism: Humanity's greatest ally or worst enemy?
By Byron Brewer
In the aftermath of an alien invasion, a prototype military robot is rushed into the field before it is combat-ready. Now attached to a group of survivors, it studies them to learn what it means to be human. Will it come to understand man as a noble creature worth preserving or that the human race isn't worth saving at all?
Writer/artist Raffaele Ienco brings his long-awaited sci-fi Mechanism saga to Top Cow and to you. To get the skinny, DF talked with the one-man comic book band.
Dynamic Forces: Raffaele, your series Mechanism was supposed to begin its life at Heavy Metal but is now at Top Cow. Wassup?
Raffaele Ienco: The original plan with Heavy Metal fell through for various reasons which turned out to be a good thing because Matt Hawkins and Top Cow/Image Comics were there to pick up the ball as new publisher. So it's not a continuation of anything. Mechanism #1 from Top Cow is the very first appearance of the series.
DF: Tell us a little about how the series came into being.
Raffaele Ienco: I originally wanted to tell a short story about a farmer that meets a military robot that crashes on his farm after a battle. And in helping to repair the robot the farmer is able to unburden his conscience about an accident that happened long ago with his twin boys that killed one of them. The robot never talked but was a good listener. Aliens attack the farm and mortally wound the farmer despite the efforts of the battle robot. At the end the farmer, now dying, asks the repaired robot to find his remaining son (estranged and now a soldier in the war) and make sure he's okay. The robot nods and flies off as the man dies. I still want to do this particular story sometime in Mechanism but the actual series just kept expanding as I asked more and more questions about the world I created.
DF: Tell us about the world in which Mechanism plays out, and who – or what – are the "Geckos"?
The Geckos are the first alien creatures deposited on Earth by an unknown alien master race that we believe want to terra-form the Earth for their own use. This is the future, where big robots have been abandoned all over the ruined countryside because they failed to defeat the Geckos the first time around. People are displaced, civilization is crumbling and it's constantly raining. Now a new and vastly smarter artificial intelligence is being prepared to take another stab at stopping the invaders. This is the robot you see on the cover of Mechanism #1, his name is Protos.
DF: Who are some of your protagonists, the survivors of the alien invasion of the Earth?
Raffaele Ienco: Tom Burg is one of the creators that helped to bring about the invention of the main Protos super-brain. He'll fraction off a piece of its intellect for the military robot version.
Protos has two incarnations— the super-brain that's kept locked away and the military robot that walks around and mingles with people to learn about the world.
Horus Banks is the "farmer" mentioned earlier. He's the "ordinary guy" that Protos learns a lesson in caring for someone from.
Charles Gibbons is the tough, experienced military cop that knows you can't, even for a second, let your guard down around the Geckos.
Jill Minelli is the charming and kind rookie cop that Charles is training.
Ben is the lost boy that sees something of his dead father in Protos the robot.
DF: Tell us more about Protos the robot.
Raffaele Ienco: Protos -- the robot version -- doesn't talk. Throughout the entire series he doesn't say a thing. He merely observes others. It's the people around him that do the talking. They all seem to unburden their conscience about themselves and the state of the world around him for some reason. Probably because he's a good listener and he'll never interrupt your conversation or ranting. But everything he sees and learns is fuel for the great equation that his parent version is manifesting. Humanity is being tested and even though Protos will witness some great tender human moments it still may not be enough to counter the fact that the Earth may be better off with less or no humans to abuse it. Eventually, Protos will make the decision to help mankind or… not.
DF: Can you tell us the process by which you put an issue together as both writer and artist? I find this fascinating because every writer/artist does it differently.
Raffaele Ienco: I start first with one killer scene. It may be four or five pages long but it's the start. And as I'm executing the art on that I'll have plenty of time to think of the dialogue for the scene and devise the next scene that comes after. After two scenes are done I'll examine what I have to see if I need another scene before or after and then go from there. During all this I am constantly doing thumbnails of scenes, more than I'll need by far, so that I'll have plenty to choose from when it's actually time to execute the art. Sometimes I'll have a killer piece of dialogue and I'll slot it in the best place for it, organically. The process is not linear at all.
DF: If you don't mind, tell us a little about your past life in video games. How did you make your way into comics?
Raffaele Ienco: I started in comics way back but never made it big and the money wasn't materializing to continue on that path. Then an opportunity at a game developer happened and I stayed there making video games for a decade and then came back to comics. The games industry pays very well but making comics is a whole lot more fun and creatively rewarding. I worked on the Nintendo GameCube version of Metal Gear Solid, Eternal Darkness and Too Human, to name a few.
DF: Raffaele, any other projects current or future you'd care to discuss?
Raffaele Ienco: If Mechanism does well, I'd like to open it up for other writers to pen a story that I could illustrate after the first 5-issue arc is done. I have a lot of new ideas for comics that I'd love to do too. Stay tuned!
Dynamic Forces would like to thank Raffaele Ienco for taking time out of his busy schedule to answer our questions. Mechanism #1 from Top Cow is in stores now! Mechanism #2 arrives Aug. 24th!
For more news and up-to-date announcements, join us here at Dynamic Forces, www.dynamicforces.com/htmlfiles/, "LIKE" us on Facebook, www.facebook.com/dynamicforcesinc, and follow us on Twitter, www.twitter.com/dynamicforces
---
NEW! 1. 01/21/2021 - RORY MCCONVILLE
5. 01/07/2021 - DARICK ROBERTSON