JEFF LEMIRE

SEND THIS TO A FRIEND!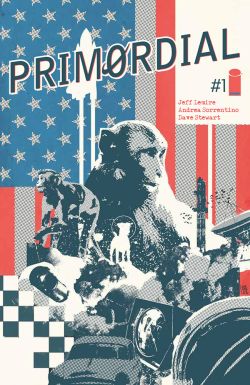 DF Interview: Jeff Lemire perceives the Cold War and Space Race era through a divergent lens in 'Primordial'
By Byron Brewer
In 1957, the USSR launched a dog, Laika, into Earth's orbit. Two years later, the U.S. responded with two monkeys, Able and Baker. These animals never returned. But, unbeknownst to everyone, they did not die in orbit...they were taken. And now they are coming home.
Mind-bending sci-fi collides with Cold War thriller in the six-issue miniseries, Primordial, by the bestselling and Eisner-winning creative team behind Gideon Falls, Jeff Lemire and Andrea Sorrentino. Having grow up in the Space Race years, I could not wait to get into this one, so I sat down with my old pal, Jeff Lemire.
Byron Brewer: Part Cold War thriller and part deep space science fiction. Yep, Jeff, you are definitely not repeating yourself on this one … I don't think? Tell readers how this new limited series came about.
Jeff Lemire: I'm not really sure where this idea came from, to be honest. I've always had an interest in the Space Race and Cold War and love The X-Files and espionage / conspiracy stories. And like you said, I was trying to do a type of story that Andrea and I hadn't done before and one that was very different from Gideon Falls to act as a sort of palette cleanser from the horror stuff we'd been doing. And I had long been looking to do a story with animal protagonists too. So all of these elements sort of came together quickly with Primordial.
BB: Let's see: Gideon Falls, Old Man Logan, Green Arrow… I may be missing other projects you and artist Andrea Sorrentino have teamed on. Tell us about this great collaborative working partnership and how you two came together to do Primordial.
Jeff Lemire: Andrea and I first collaborated on Green Arrow in 2012 and we immediately had this great chemistry that is really hard to find in comics. We just seemed to push each other into experimenting and to really bring out the best in one another. We feed off each other, I think. He will take my scripts and initial ideas and sometimes take them to totally new directions and imagine them in ways I never could. And that, in turn, pushes me to adapt to these new ideas and make them part of the story. This sort of back and forth can only work when you really trust each other. But when it does work, it is true collaboration.
BB: One of the most fascinating aspects of this book for me, who was born in 1958 and grew up during the Cold War/Space Race era, is the always intriguing saga of the first animals that humans sent into space (at least, the ones we know of). Thoughts on this on our Earth, and then how is this treated in the book?
Jeff Lemire: I have always been fascinated by this too. And I started imagining taking the real story of animals like Laika and then doing historical science fiction with them. So it was really interesting doing research on the real events (at least as far as they have been documented) and then extrapolating a more fantastic science fiction direction with them and thinking about how the world we live in now, in 2021, may have changed if these events had unfolded differently.
BB: What else can you reveal about the storyline for Primordial?
Jeff Lemire: Not much! There is a lot of mystery and espionage in the story, and I don't want to spoil that. I will say I enjoyed writing the Cold War and historical elements as much as the animal storyline. I was lucky enough to visit Berlin in 2018 and Checkpoint Charlie and a lot of that worked its way into Primordial.
BB: Introduce us, if you will, to some of your key protagonists here. I assume that will also include, at some point, Laika and Able & Baker?
Jeff Lemire: The three animals we use in this story are Able, a rhesus monkey, Mrs. Baker, a squirrel monkey whom readers are going to fall in love with and of course Laika. I had to adapt and tweak the real events of these animals' lives to fit our story, but I also tries to be respectful of these animals and their sacrifices. We also have two main human protagonists as well, a fictional character named Donald Pembrooke, who is an American engineer and scientist, and also his Russian counterpart, a fictional character named Yelena.
BB: How does the divergence from our own history for this alt-Earth affect the space race, Cold War and things to come, at least in a general non-spoilery sense?
Jeff Lemire: I use the real historical events as the starting point for our story and then jump off from there into science fiction, some of it fantastical and some of it more grounded and based on trying to imagine what really would have happened on Earth if this extraterrestrial event had happened.
BB: Jeff, what other projects in which you are involved, inside or outside comics, can you tell readers about?
Jeff Lemire: I am pretty busy! In addition to Primordial I have MAZEBOOK coming out from Dark Horse in September, a five-issue book I both wrote and drew. And there are several other new comics projects coming in 2022.
Dynamic Forces would like to thank Jeff Lemire for taking time out of his busy schedule to answer our questions. Primordial #1 from Image Comics is slated to be on sale Sept. 15th!
For more news and up-to-date announcements, join us here at Dynamic Forces, www.dynamicforces.com/htmlfiles/, "LIKE" us on Facebook, www.facebook.com/dynamicforcesinc, and follow us on Twitter, www.twitter.com/dynamicforces.
SWEET TOOTH: THE RETURN #1 CGC GRADED
---
NEW! 1. 09/23/2021 - CONOR MCCREERY & NEIL GIBSON