SEAN MACKIEWICZ

SEND THIS TO A FRIEND!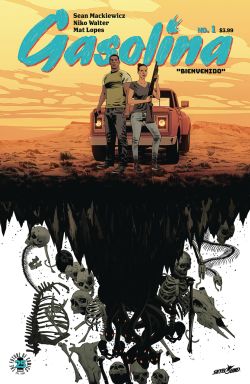 DF Interview: Love and devotion are measured in fire and blood in Gasolina from Sean Mackiewicz
By Byron Brewer
Fugitives. Rebels. Newlyweds. In their journey south from El Norte, Amalia and Randy have played many roles in order to survive. Now, they must become unlikely leaders in the fight against a new cartel who uses inhuman tactics to ignite the most monstrous war Mexico -- and the world -- has ever seen.
Everything burns in Gasolina, a new series from Sean Mackiewicz and Niko Walter. To get all the necessary 411, DF spoke with scribe (and Skybound Entertainment's Editorial Director) Sean Mackiewicz.
Dynamic Forces: Sean, when did the concept for Gasolina come about? Is this one of those burning (forgive the pun) ideas that kept rattling around in your head for years or is this something that was inspired by a muse more recent?
Sean Mackiewicz: I was listening to a podcast discussing the narco wars in Mexico, and the phrase "mega murder" was used regarding the level of atrocities going on. It got me thinking about what's left in this world for a cartel to use to kill their enemies even more efficiently and for maximum humiliation. And the answer worked itself into this book. Which sounds like a grim, horrific comic to write or read… which lead to creating the right protagonists in Randy and Amalia to guide us through the story and really care about it.
DF: Tell us a little about the world you are creating in Gasolina, coming out in September from Skybound and Image Comics. Describe, if you can, the atmosphere we will be seeing your protagonists endure?
Sean Mackiewicz: It's a modern day western, with incredible vistas and gun fights against cartels armed with things that may be even too perverse for Hellboy. But it's seen through the eyes of newlyweds navigating a world quickly going to sh*t, who put a human face on a conflict that's both outrageous and harrowing.
DF: Can you give us a little backstory on your protagonists, Amalia and Randy? What makes them tick as characters for you and what parts of each are reflective of Sean Mackiewicz?
Sean Mackiewicz: I'm not a newlywed anymore, but those feelings still feel fresh enough to tap into. So I wanted to create a couple that embraced the ups and downs of marriage, and are making it work through some serious hard times. Amalia and Randy are both trying to distance themselves from their pasts when the story opens, and the heart of the story comes from them navigating this dangerous world together, and exploring their responsibilities to each other and the community that they live in.
DF: Without spoilers, what can you tell us about the cartel that becomes antagonists of our survivors couple?
Sean Mackiewicz: Los Queridos are a young cartel that have staked their claim on the state of Veracruz through kidnappings and mass executions that are brutal even for those that have become desensitized by cartel violence. They have a higher purpose that drives them, and that lies in their allegiance to La Querida.
DF: How is it working with Niko Walter? Why is this artist right for Gasolina?
Sean Mackiewicz: Like any great collaborator, Niko improves my scripts. I met him at WonderCon a couple of years ago, and he's the only artist I've hired from showing me a portfolio at a convention in my almost five years as Skybound's Editorial Director. His storytelling always feels fresh and exciting, like the evolution of Sean Phillips at times, and it's fascinating to see him level up so early in his career. And luckily enough, he's interested in drawing the same things I want to write, so Gasolina was a natural fit.
DF: As co-creators of Gasolina, what research if any did either Niko, you or both do to get the flavor of the environs in which the series takes place, the people who reside there?
Sean Mackiewicz: I did a lot of reading on the history of Mexico and narco culture in the early stages of developing the series. I'd picked Veracruz as the area to begin the story because I hadn't seen that area of Mexico explored much before. And once I learned that's where Cortes and the Spanish Empire invaded what's now Mexico, a foundation for a much larger story was built. Niko, Arielle (our editor) and I pass ref around to hopefully add some authenticity, but we're always trying to learn more as we go.
DF: Sean, as well as writer of Gasolina you are, as we mentioned earlier, Skybound's Editorial Director. I think our readers would love to hear about the comic book creative process from your editorial point of view. Can you describe your duties, how you go about things as overseer of The Walking Dead, Outcast, et al, please?
Sean Mackiewicz: Right now I oversee a line of 10 titles, with twice that in development. I also work with all the other Skybound divisions (Interactive, Digital, Film/TV, Business Development, etc.) to make sure our comics are faithfully adapted into other media, and our creators are at the center of those decisions. Crossing over to the other side of comics creation has really given me a new perspective about what creators should expect from their editors and how we can build better relationships together.
DF: Any other current or near-future projects you'd care to tell our readers about?
Sean Mackiewicz: 2017 has been a pretty strong year for us so far, especially in launching new series, like Extremity by Daniel Warren Johnson and Mike Spicer, and Redneck by Donny Cates, Lisandro Estherren and Dee Cunniffe. After Gasolina, we have two more launches this year. They all set up distinct new worlds, and really round out the rest of the Skybound line with the type of character-driven, emotional genre storytelling – and surprises – that our readers know us best for.
Dynamic Forces would like to thank Sean Mackiewicz for taking time out of his busy schedule to answer our questions. Gasolina #1 from Skybound and Image Comics hits stores Sept. 20th!
---
NEW! 1. 11/25/2020 - STEVE SKROCE
4. 11/16/2020 - RYAN O'SULLIVAN
5. 11/16/2020 - RYAN O'SULLIVAN