STEVE ORLANDO

SEND THIS TO A FRIEND!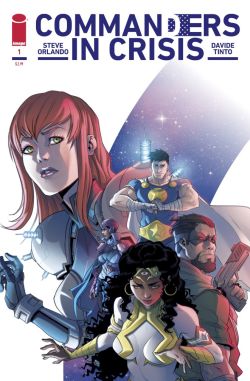 DF Interview: Steve Orlando teams up the last survivors of multiple worlds in 'Commanders in Crisis'
By Byron Brewer
The last survivors of the Multiverse live among us under new, superheroic identities, five survivors of doomed worlds...taking a second chance to ensure our world lives on. A new twist on strange superhero comics, with a bleeding-edge eye on the modern moment, Commanders in Crisis follows in the footsteps of Doom Patrol and Thunderbolts as five unexpected heroes come together to solve a murder. The victim? Compassion itself…This is ideacide!
Writer Steve Orlando (Wonder Woman, Doom Patrol: Milk Wars, Martian Manhunter) teams up with artist Davide Tinto (Marvel Action: Spider-Man) for a superhero story unlike any other in the forthcoming Commanders in Crisis. This new ongoing series is produced by Arancia Studio—the Italian media company which worked on Mirka Andolfo's bestselling Image Comics titles—and will launch from Image Comics this October. DF wanted the full 411, so we chatted the series up with scribe Steve Orlando.
Dynamic Forces: Steve, why is now the time to unleash your inner creator-owned?
Steve Orlando: I've done some books I'm incredibly proud of while on contract with DC, books like Martian Manhunter, Batman/The Shadow and Milk Wars. And I worked some great co-owned books as well like Namesake, Crude and Dead Kings.But when I went freelance in February of this year, one of the main reasons was to not get comfortable, to challenge myself, to build my own worlds, and follow my own rules (if any such thing exists). I am incredibly thankful for my time at DC, and am sure I'll be popping up there, and on other licensed properties again. BUT the time came to kick myself in the ass, take everything I'd learned under the DC tree, and start planting some forests of my own.
DF: What can you tell us about the story behind this new ongoing from Image Comics, Commanders in Crisis? Has it been bubbling on the Orlando back-burner long?
Steve Orlando: I'd say it's been building since 2015. As soon as a young, dew-eyed Orlando stepped into the DCU he saw both the incredible opportunity to add to that 80+ year mosaic of lore and story, but he also saw the sexy allure of starting his own mosaic from brick one. That's where Commanders in Crisis came from, from taking everything I'd learned in almost five years exclusive, and using that knowledge to build something fresh. It's a book that speaks to the modern moment, gives us hope for the future by interrogating the present, and also blows a kiss back to the first comics that gripped me: big, bold, classic superhero heart with even bigger, wilder, strange ideas behind it, things like Stormwatch or Moore/Charest's WildC.A.T.s or Casey/Nguyen's Wildcats 3.0. The times when you could get a Gaiman or a Moore on Spawn or Youngblood. We want to welcome old school superhero fans but take those ideas that haven't been refreshed since the 90s and give them a devastating jolt of electricity.
DF: What world will readers find themselves in when they pick up issue #1? Tell us about the world you and artist Davide Tinto are building.
Steve Orlando: It's a world on the brink, even if it doesn't know it. The heroes of the Crisis Command are the last survivors of the Multiverse, a concept they've held back from revealing to our Earth. And why? Because their Earths had all become so broken, so toxic, that the Multiverse itself turned on them like tumors. Their Earths were the victims of Cosmic Sepsis, and our world could be too, if it gets bad enough. Everything is riding on this Earth, our Earth, the last hope for sentient life. So the Crisis Command has held back the existence of the Multiverse from us for our own protection, thinking that tensions would be even higher if we knew the stakes. They're fighting to keep us good enough, long enough, so that sentient life can survive.
DF: Introduce us to the five survivors of doomed worlds that now live amongst us please. And … as superheroes?
Steve Orlando: That's right! I'll save the introductions for the issue, but the Crisis Command are all people who were rescued from their own terminal universes by Frontier, the leader of the Crisis Command and the greatest inventor our Earth has ever known. They all crossed the Cosmic Breech, where their bodies were broken down and remade with incredible, esoteric abilities. These are people slick as Stormwatch and strange as the Doom Patrol, and the world around them follows suit.
DF: Can you give readers any spoiler-free clues about the big-bad? Who would murder Compassion?
Steve Orlando: Someone with a grudge they feel is more important than the well-being of the world itself! Feels pretty nihilistic and spiteful to me.
DF: Talk about your collaboration with Davide.
Steve Orlando: Davide has been outstanding bringing this book to life! Introduced to me through Arancia Studio, who puts out Mirka Andolfo's Unnatural and Mercy, as well as Nomen Omen, all at Image, Davide has brought just the type of energy we want to this book. His designs are high energy, classic superheroes, the perfect counterbalance to the weird ideas within. I trust him implicitly with the hyper powerful stylized energy he's brought to this world, from the looks of the characters, to the storytelling, to the architecture. He's an incredible draftsman and key to this book.
DF: Steve, you've said that Commanders in Crisis represents your efforts in "a fight for comics as they need to be." 'Splain.
Steve Orlando: We're being too safe, it's that simple. We're relying on remixing ideas from fifty, thirty, and ten years ago, when we should be using those as a base to build what's next. We need new ideas, with need stories with teeth. Nostalgia has its place, and it's powerful, but when that's the sole focus of a story it becomes hard to do the type of work future generations will have nostalgia for in the first place. We need those reverent stories to feed our hearts, but we need new new new stories as well to challenge our minds. And our minds have gone underfed.
DF: What other projects of yours can you tell readers about?
Steve Orlando: So much! Not a lot announced, but out the same month as Commanders in Crisis is Kill A Man from AfterShock Comics, an LGBT MMA graphic novel I'm co-writing with Phil Kennedy Johnson, art by Alec Morgan, that is one of my favorite things I've ever done. It's the next step for Midnighter and Virgil readers, as this launch is the next step for Martian Manhunter and Milk Wars readers!
Dynamic Forces would like to thank Steve Orlando for taking time out of his busy schedule to answer our questions. Commanders in Crisis #1 from Image Comics is slated to hit stores Oct. 14th!
For more news and up-to-date announcements, join us here at Dynamic Forces, www.dynamicforces.com/htmlfiles/, "LIKE" us on Facebook, www.facebook.com/dynamicforcesinc, and follow us on Twitter, www.twitter.com/dynamicforces.
THE SHADOW/BATMAN HARDCOVER - SIGNED BY STEVE ORLANDO
DARKHOLD ALPHA #1 SIGNED BY STEVE ORLANDO
MARTIAN MANHUNTER #1 SIGNED BY STEVE ORLANDO
WONDER WOMAN #51 STANLEY ARTGERM LAU COVER ELITE GOLD SIGNATURE SERIES EDITION SIGNED BY STEVE ORLANDO
THE SHADOW/BATMAN #1 DAVID FINCH CONVENTION FOIL EDITION - SIGNED BY STEVE ORLANDO
JLA/DOOM PATROL SPECIAL #1 SIGNED BY STEVE ORLANDO
SHADOW/BATMAN #1 - SIGNED BY STEVE ORLANDO
BATMAN/SHADOW #2 SIGNED BY STEVE ORLANDO
BATMAN/SHADOW #1 ULTRA LIMITED SHADOW SILVER SIGNATURE EDITION SIGNED BY STEVE ORLANDO
MIDNIGHTER AND APOLLO #1 SIGNED BY STEVE ORLANDO!
---
NEW! 1. 11/30/2020 - SKYLAR PATRIDGE
5. 11/16/2020 - RYAN O'SULLIVAN