JIMMIE ROBINSON

SEND THIS TO A FRIEND!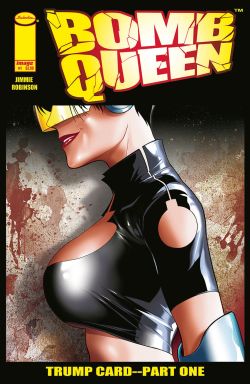 DF Interview: Jimmie Robinson sets The Queen against The President in 'Bomb Queen: Trump Card'
By Byron Brewer
Set in the year 2024, Bomb Queen: Trump Card follows supervillain Bomb Queen on her quest to stop Donald Trump from becoming president for life. Her plan: campaign against Trump, steal his voter base, and lay bare America's dark underbelly in the process.
From Image Comics/Shadowline, the explosive satire is written and drawn by Jimmie Robinson. Readers are warned that the four-issue miniseries is rated as VERY MATURE.
DF wanted to get the 411 on this political farce, so we sat down with the majority of the creative team: Jimmie Robinson.
Dynamic Forces: Jimmie, after eight years, why is it a good time for a return of Bomb Queen? (Could it have to do with something coming up nationwide in November, LOL? Unless COVID-19 reschedules that event as well.)
Jimmie Robinson: Yeah, it's all about the upcoming election. Bomb vs. Trump is a 4-issue arc that was set to release in July and end in October, just before the November vote, but things changed because of the pandemic and now it ends in December. Nobody is at fault, that's just how the chaos and the industry responded. I'm happy it's even still happening and I'm happy Image is still very much behind it.
Eight years seems like a long time, but I only pull out the Queen when the time is right. The Bomb Queen series has always been a call-and-response to the current events of the era, so during these unprecedented times a return to the Queen is actually perfect for everyone.
2020 has been a mess and it doesn't look like it'll get better anytime soon. The funny thing is a lot of what we're going through now I wrote about in 2019. It's one of those times when I could instantly publish stuff because I was running current with the times. Now I might look like I'm piggybacking on current events.
DF: So, for the uninitiated, tell us about the previous Bomb Queen volume. Is there anything readers need to know from it before tackling Trump Card?
Jimmie Robinson: The last volume of Bomb Queen is not part of this upcoming storyline. Volume 7 was set in the far flung future on an alternative timeline, so it's not required to read this new series. I went with a different timeline because writing a story about Trump is nearly impossible in our present timeline because he's such a moving target. He will say something one week, then it's another thing every other day. It's hard to keep up. So I pushed the story to 2024, that way I can make up what I want without conflicting with current events. Anything that happens now, I can add as an historic footnote.
I have linked several stories and backstories for Bomb Queen in the early volumes, so if folks want to catch up on her evolution they can start at the beginning. In fact, as an inside joke, Bomb Queen makes reference to her past volumes in the book. A lot of the humor breaks the fourth wall in both the dialogue and the art. You can say it has a Deadpool vibe at times. So readers can expect a lot of information and Easter eggs as I recap and get everyone up to speed.
DF: How long has Trump Card been percolating on the Robinson backburner?
Jimmie Robinson: It's been two years. I was just busy doing other projects and I kept changing the story idea. True story, swear to God: One of the first storylines for this arc had her starting a pandemic and poisoning half the country just to control the voting block and turn the election, but then I switched it to a better idea… which I can't tell you about.
DF: That IS wild! … What is the basic (spoiler-free) storyline of this Bomb Queen outing?
Jimmie Robinson: This takes place in the year 2024, after Trump is re-elected. The superhero community can't do anything about it. They can't take out a sitting President because they're heroes, and they know killing the President will just make him a martyr to his voter base. So they strike a deal with Bomb Queen to run for President to steal his base. Once she wins, she'll turn over the office to her running mate (a superhero) and thus the heroes will reclaim the country. But, as you know, you never make a deal with the devil without paying; after all, this is Bomb Queen's comic and things may not turn out the way everyone, including the reader, will expect.
A lot of readers might be expecting this comic to be about Bomb Queen beating up Trump. I'm sure many would love to see the blood spill because the Queen is so violent. But you gotta remember Bomb Queen isn't a liberal, a Democrat or a Republican. The only political position she has is what's good for her. She has dealt with presidents Bush, Obama and now Trump. And in every arc, her plots benefit herself.
DF: Can you (re)introduce readers to The Queen?
Jimmie Robinson: Bomb Queen is a series I started in 2006. It's a deconstruction of the superhero genre by making the villain the lead. Not the hero. The lead. A lot of folks get that mixed up, thinking she's an anti-hero, like 99 percent of most comic book villains.
Bomb Queen rules a town called New Port City. Just like Batman protects Gotham, or Superman protects Metropolis, Bomb Queen protects her city, but as a villain she protects it FROM the heroes. This means her city is a free-range crime zone. Her city and her self-made government is sanctioned by law because all the criminals are sent to her city of crime. This makes the rest of the country safer. The problem is that her city is powerful and the government wants it back. So they often send superheroes to her town to take it back.
At the same time, Bomb Queen is a satirical reflection of society, current events and pop culture.
DF: What other characters, including an orange-headed fellow, should we be on the lookout for in this miniseries?
Jimmie Robinson: Yes, we will see Trump, but I'm keeping other real-life people at arm's length. He is the focus. As for comic book characters, there are several reoccurring figures from past Bomb Queen stories who will be featured, but there are no key guest appearances this time. In the past, I've had Shadohawk, She-Spawn, Savage Dragon, Youngblood, even Invincible, but this is a political hot potato that I'll keep in my universe. It's gonna get dirty – and if there's any fallout, I'll take the hit.
DF: Talk about the advantages and disadvantages of being Bomb Queen: Trump Card's entire creative team. And also the fact that this is a book rated for the VERY MATURE.
Jimmie Robinson: Being the only creative on the entire book is like juggling bombs. In a perfect world, I would have enough time do all the chores. I'd prefer to complete each stage of the book from beginning to end. Do all the writing, then all the pencils, then all the inks, all the coloring, all the lettering. However, since we don't live in a perfect world, I often end up writing the entire series, but only drawing half of it and then going back and forth between pencils, inks and finishing. This does work in my favor when it comes to making changes and editing. since I control everything I can also manage all changes without working across a team of creatives.
The "very mature" aspect is something I bring to Bomb Queen because the series is about pushing the boundaries. She is the Queen of Obscene. She's the ultimate villain and her actions and her world reflect that. This means going to the edge where other villains would never dare.
DF: Jimmie, what other projects do you have ongoing that you can tell readers about?
Jimmie Robinson: I have a graphic novel I am shopping around called ARTillery. It's an urban magic five-issue series. It's all scripted, drawn, inked and in the process of coloring. I have one interested publisher, but the release is still a long ways off.
Another project I have on the fire is called Omission to Mars, which is scripted but not drawn. I'm trying to do that one all digital. I've roughed out 70 pages, just figure gestures, panels and outlines. I simply cannot get to all these books since it's just me working on the entire project. I can only do so much at a time. Hahah!
And right now, my focus is making sure Bomb Queen is on time!
Dynamic Forces would like to thank Jimmie Robinson for taking time out of his busy schedule to answer our questions. Bomb Queen: Trump Card #1 from Image Comics/Shadowline is slated to hit stores August 26th!
For more news and up-to-date announcements, join us here at Dynamic Forces, www.dynamicforces.com/htmlfiles/, "LIKE" us on Facebook, www.facebook.com/dynamicforcesinc, and follow us on Twitter, www.twitter.com/dynamicforces.
---
NEW! 1. 11/30/2020 - SKYLAR PATRIDGE
5. 11/16/2020 - RYAN O'SULLIVAN