JIM ZUB

SEND THIS TO A FRIEND!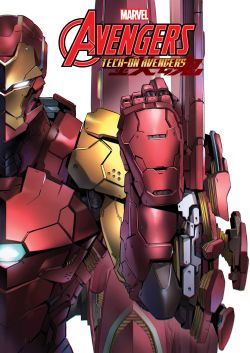 DF Interview: Jim Zub gives Earth's Mightiest Heroes a new power-up in 'Tech-On Avengers'
By Byron Brewer
When the Red Skull wields a strange new force that strips heroes of their powers and threatens the entire world, the Avengers turn to Tony Stark's experimental new technology to save us all. Here come the Iron Avengers – Avengers Tech-On!
Sleek high-tech power suits bristling with energy and amped-up attack power face off against super villains enhanced to match. It's mechs and mayhem in the Marvel Mighty Manner!
Tech-On Avengers is a sentai-inspired action-adventure series produced in partnership with Bandai Spirits, written by Jim Zub (Uncanny Avengers, Champions) and illustrated by Jeff "Chamba" Cruz (Venom: The End, Street Fighter)!
As a fan of this motif for a long time – and knowing the excitement and pure fun it can bring! – I wasted no time in checking in about the new miniseries with my buddy, scribe Jim Zub.
Byron Brewer: Jim, a decade or two ago there was an Avengers animation themed around all the heroes being in high-tech metal suits, which I loved. More recently, we've had Black Widow in space in a Stark special and Jed MacKay's Avengers Mech Strike. As we prep for the iron excitement of your Avengers, what is it about these suited-up superheroes which have all of a sudden become the rage?
Jim Zub: It actually goes back even further than that. Way back in 1977 there was an issue of What If called "What If the Avengers Had Never Been?" where Tony Stark outfits Rick Jones, Henry Pym, and Janet Van Dyne with Iron Man-style armor to fight the Hulk.
The idea that anyone could put on a suit and become a hero is a fun bit of imagination to pursue. There's a reason why powersuit and mech heroes tend to have lasting popularity. It might be popular now, but I think it's just another wave of it, not a brand new thing.
BB: Ah yes, What If? #3, actually my favorite issue of that mag. By Jim Shooter and Gil Kane with that beautiful Kane/Joe Sinnott cover. The toon seems further back, but that is probably because I am always re-reading those classics. … Jim, Tech-On sounds like a fun limited series. What can you tell us about the overall storyline?
Jim Zub: The Red Skull has found a way gather power left behind by the Infinity Stones and remove superpowers from Earth's heroes, leaving him an open path to conquering the world, but Tony Stark's brilliant mind and ingenuity allows him to keep the Avengers together and keep fighting.
It's colorful, action-packed, and built around a Japanese adventure series concept, which is appropriate since the designs for these new suits of armor were done by Eiichi Shimizu and the team at Bandai Spirits.
BB: What Assemblers will we be accompanying into adventure? Did you get to choose your own team?
Jim Zub: The team members were set based on the toy line being tied in with this release, so I didn't get to pick my crew, but it's a sweet cross section of heroes known around the world: Iron Man, Captain America, Captain Marvel, Wolverine, Black Panther, and Spider-Man, with other Marvel heroes making cameo appearances as well.
BB: As I understand it – and this might be something totally in my head – but the group of villains will also be tech-mech enhanced. If that IS so, will their tech reflect what their real power is … say, the Owl in an Owl-appropriate armor?
Jim Zub: Red Skull fights back against Tony's new armored heroes by creating a slew of his own enhanced villains. They're amped up with volatile cosmic energy and gunning to destroy everything in their path.
BB: And who ARE the armored big-bads du jour?
Jim Zub: I don't want to tip our hand on all of them yet, but Venom and Loki are definitely in the mix along with Red Skull.
BB: I hope this is a light-hearted action adventure. Sounds like it should be fun to write and to read. And speaking of which, does this take place inside the 616 universe/continuity?
Jim Zub: That's exactly it. It's a big bombastic take on the Avengers done up like a tokusatsu show but with a big beautiful visual budget thanks to Chamba's stunning artwork.
Tech-On uses the current continuity as its launching point, but then deviates off into its own space so we can do wild and unexpected things along the way.
BB: Talk about the pulse-pounding art of Jeff "Chamba" Cruz.
Jim Zub: I've known Jeff for years and worked with him when I was at the UDON Studio, but this is the first time we get to work together on a comic project and I couldn't be happier. When editor Tom Brevoort brought me this concept and then showed me the designs from Bandai Spirits, Chamba was my top choice to draw the series and, thankfully, it all lined up with his schedule to make it happen.
Chamba's comics look like an animated feature film exploding on every panel – exciting, colorful, and kinetic. He's genuinely one of the most underrated and skilled artists in the business and I hope this series brings tons of new fans to his work.
BB: Jim, what other zubtastic but zubstantial projects are coming from you for readers?
Jim Zub: In addition to Tech-On Avengers, I'm still writing the monthly adventures of Conan the Barbarian and have a couple of other new projects to announce this summer. Fun times ahead!
Dynamic Forces would like to thank Jim Zub for taking time out of his busy schedule to answer our questions. Tech-On Avengers #1 from Marvel Comics is slated to be on sale August 11th!
For more news and up-to-date announcements, join us here at Dynamic Forces, www.dynamicforces.com/htmlfiles/, "LIKE" us on Facebook, www.facebook.com/dynamicforcesinc, and follow us on Twitter, www.twitter.com/dynamicforces.
PATHFINDER VOL. 1: DARK WATERS RISING HC - SIGNED BY JIM ZUB
PATHFINDER VOL. 3: CITY OF SECRETS TRADE PAPERBACK
PATHFINDER VOL.2: OF TOOTH & CLAW TRADE PAPERBACK
PATHFINDER VOL. 1: DARK WATERS RISING TRADE PAPERBACK
PATHFINDER VOL. 3: CITY OF SECRETS HARDCOVER
RED SONJA: TRAVELS VOL. 2 TRADE PAPERBACK
PATHFINDER VOL. 2: OF TOOTH AND CLAW HC
PATHFINDER VOL. 1: DARK WATERS RISING HC
---
NEW! 1. 02/10/2022 - SIMON SPURRIER
4. 01/31/2022 - TIM SEELEY & AARON CAMPBELL
5. 01/27/2022 - TYLER BURTON SMITH