TOM PALMER

SEND THIS TO A FRIEND!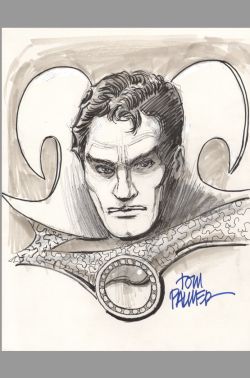 DF Interview: The art of comic book icon Tom Palmer
By Byron Brewer
Things are different today, I know.
There are chat forums instead of letters pages (although they have made a slight resurgence in places, I am glad to see). Art is done on computer screen instead of paper. And an inker really does not have to worry anymore about anything liquid spilling and ruining days and days of previous work.
All that has nothing to do with Tom Palmer, but it does with the passage of time, differences of the day and my perspective in doing interviews like these with Mr. Palmer, Bob Layton, Neal Adams and others. These are the giants of comics, and we 21st century types will probably never see their creative likes again.
Embarrassingly, you might learn more about my history in comics than Mr. Palmer's, but he – like Joltin' Joe Sinnott of Fantastic Four fame – was a master of the craft at Marvel Comics back in the day when a creator change on any book was a big deal. HUGE!
With my fan-boy – or fan-old man – suit plainly showing, let's hear less from me and more from one of the comic art greats, Tom Palmer!
Dynamic Forces: Mr. Palmer, my entering into comics as a kid in 1967, '68 and your beginnings at Marvel kind of coincided, so I knew when your name appeared as inker on a Marvel mag (whether it was with Gene Colan, John Buscema or others), it meant quality. (By being an inquisitive fan in the 1970s and '80s, I also learned to tell when you were coloring as well as inking.) I know you dislike reminiscing, but since this is a "life of" interview, tell us about that first Doctor Strange assignment. (I believe Dan Adkins was involved, and Gene came in later …?)
Tom Palmer: My entering comics was not planned, while going to art school in the evening, Frank Reilly School of Art on 57th Street in NYC, I was freelancing in an advertising art studio on Madison Avenue and 40th Street where the illustrator was Jack Kamen, famous from EC Comics but now doing advertising art instead of comic book art.
I enjoyed comic books growing up and started to look at them again on the stands but did not have any plans doing work for them while in art school. My classes with Frank Reilly were concentrated on drawing and painting and the assignments were daunting at times. I was not sure where I was heading but painting was and is still something I enjoy.
Frank J. Reilly became ill in 1967 and within a few months was gone due to a brain tumor. He always had a loyal following of ex-students who tried keeping the school together but his personal touch was so profound it could not continue without him. The closing of the school came as a surprise and it left me with an uncertain future.
Jack Kamen had given me a few clients he had outgrown and I had freelance work at the studio, that and evening classes at art school kept me busy. Jack was reluctant to have me do any comic book work even though he still had friends in the business, he would always say going to Reilly's school was too important and knew I would give it up if I started doing comic books! With Reilly's death and his school disbanding, Jack thought it might be helpful getting work in the comics.
(Jack was right, once in comics it is seductively beguiling and I would have drifted away from my night classes at Reilly's school.)
He called Wally Wood, who had a studio on the upper west side. I went up to see Woody and did a few a few things for him, even penciling my first comic pages, a short Jungle Jim episode for a book he was working on, and some background inking. This was all new to me since up to then I was doing mostly advertising art, but I was familiar with the tools needed to ink with like pen and brush.
Fast forward, Woody gave my name to Mike Esposito who had me do some background inking for him and passed my name along to Sol Brodsky, who was the production manager at Marvel. Showed Sol my portfolio and he gave me an assignment of penciling a Doctor Strange, issue #171.
Stan Lee gave me the plot, or rather acted it out in his office, his secretary, Flo Steinberg, was good taking down notes on the basic plot or I would not have been able to retain any of it from Stan's brief dramatic demonstration. This was my first comic book penciling assignment and I was lucky having Dan Adkins inking me since he kept the good Doctor and his surroundings accurate when I went astray.
I went back up to Marvel the following month and asked if I would be penciling the next issue and Sol said they had a new penciler, [but] would I like to ink the book?
The next issue was Doctor Strange #172 penciled by Gene Colan, which was my first comic book inking assignment. Sol must have liked what I had done because I was asked back on a monthly basis after that along with doing other projects.
While inking Doctor Strange I was also doing advertising art which included painting assignments as well; I was fulfilling that desire from my studio days to remain versatile. I kept those dual careers in advertising and comics for years and enjoyed both but comic books were always my favorite.
DF: My mind always associates you with Gene Colan and your great runs on Doctor Strange and my beloved Tomb of Dracula, but others would bring up your run with John Buscema on The Avengers and probably more. Who have been some of your favorite artists to work with, and why, if you'd care to tell us?
TP: I started inking over Gene and worked with him every chance I got, his pencils were not traditional comic book penciling, they were more halftone renderings, each assignment a challenge but a good one finding different ways to interpret them in ink.
Believe the next turn in my career at Marvel was when Roy Thomas asked me to ink Neal Adams on the X-Men run he was writing and Neal penciling. That was a short run of issues but it caught some attention by the fans and helped get further work and getting teamed up with John Buscema and other artists at the time was an enriching experience. Each collaboration had me interpret the pencils in ink and other media while retaining the style. That variety of penciling styles and the experimenting of graphic approaches has always stimulated my interest in the medium to this day.
DF: Over the years, what was your most difficult assignment, be it at Marvel or someplace else? What was the challenge and how did you meet it?
TP: Probably my most difficult assignment was not in comic books but my alternate career as a commercial artist which I worked in at the same time. I was offered an assignment to paint architectural renderings of three Baruch College campuses in New York City. They would be large paintings, 30" x 40" in settings appropriate to their surroundings.
Having never done renderings such as these, the challenge was to gain enough information to do the artwork in a convincing manner so they served the purpose intended. After finishing the paintings, I had them professionally framed and the presentation went quite well with the clients. Think the framing as a final touch helped a great deal and sold the artwork! Lesson learned.
DF: Forgive me but as a still-true fan, I always think of you and Gene as an epic tag team. At the time, and given the tools available and the paper on which your work was printed, Gene and you produced the most realistic PEOPLE I had ever seen. I think Marv Wolfman wrote to that strength in Tomb of Dracula, and that was what made the book so unique. Tell us about developing that style of shadows and Zip-a-Tone, and was it a process learning to ink Gene? (I mean, Buscema looked good but different under a lot of inkers, but Colan was not Colan without Palmer.)
TP: I mentioned earlier that my first inking assignment was over Gene Colan on Doctor Strange and I applied what I knew about rendering black & white art along with its limitations of application. Zip-a-Tone had been around for a long time but not used often. It was applied by hand cutting away unwanted areas which gave the appearance of a halftone effect to the art that could be enhanced with the right coloring.
Gene rendered in a realistic style using a soft lead pencil which gave him a wide range of halftones and I just tried to capture as much as I could with cross hatching, drybrush, and Zip-a-Tone. Gene was the master with his renderings, sometimes so beautiful you knew their look could never be captured in true line art but you had to dig in and do your best. I never thought I captured what he really intended but just trying to do so was an enjoyable pursuit.
DF: There are a lot of one-man bands today writing, drawing and even lettering and coloring their own indie work. How did you get started coloring, did you enjoy coloring, and how did that add to (or subtract from) your inking craft?
TP: Think it is a natural progression for an artist to do as much of the process putting a comic book together but deadlines and publication schedules prevent that. Comic book coloring during that earlier period consisted of hand painting reduced photocopies with color dyes to serve as guides for the printer.
I was doing some painting at the time and thought I could apply some of those color skills to the comics I was working on. The first comic I colored was Doctor Strange #175 and continued on my run. They did not give colorists credit then so you did it for the art.
You had three values of the three primaries so it was a learned technique approximating how the printed comic would appear.
DF: Did you ever have an urge to write a comic book, or did you ever pencil again after those early efforts?
TP: No, I never had an urge to write a comic book, my focus was always on the art.
I did quite a bit of penciling but usually one-shot projects and I always inked my pencils so they may have been lost in the credits. Did a lot of full art with the Star Wars series at Marvel, Walt Simonson would do the storytelling and I would pencil and ink. Believe I did penciling, inking, coloring and cover painting on Star Wars #87 and a 2010 movie adaptation.
DF: It may not be a fair question, but I will ask it anyway: Who are some of your favorite inkers working today?
TP: With so many inkers around, today how do you pick a favorite? Just being in the competitive field indicates a professionalism earned through work.
DF: What is Tom Palmer, inking legend and one of my personal heroes, up to today?
TP: I am still enjoying all the varieties and challenges in art that I have pursued over the years and loving it all.
DF: Is Tom Palmer Jr. still working in comics.? (I believe he used to edit at DC?)
TP: My son, Tom, was always interested in computers and now has his own website design business. He created and has managed my website for almost two years now and all I do is send him scans! Check it out at: www.tompalmerillustration.com
My most sincere thanks to a legend in our industry, Tom Palmer, for taking time during his busy schedule (and over holidays) to answer this fanboy's questions. Thanks again, sir, the interview was my honor. It is appreciated!
For more news and up-to-date announcements, join us here at Dynamic Forces, www.dynamicforces.com/htmlfiles/, "LIKE" us on Facebook, www.facebook.com/dynamicforcesinc, and follow us on Twitter, www.twitter.com/dynamicforces.
SCARLET SPIDER #10 FIRST PRINTING SIGNED BY TOM PALMER!
HIT-GIRL #1 FIRST PRINTING - SIGNED IN BLOOD RED BY TOM PALMER!
KICK-ASS 2 #2 FIRST PRINTING - SIGNED IN BLOOD RED BY TOM PALMER!
---
NEW! 1. 11/25/2020 - STEVE SKROCE
4. 11/16/2020 - RYAN O'SULLIVAN
5. 11/16/2020 - RYAN O'SULLIVAN