ANDREA FORT & MICHAEL CHRISTOPHER HERON

SEND THIS TO A FRIEND!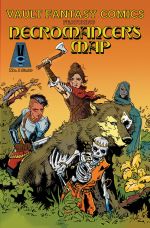 DF Interview: Andrea Fort & Michael Christopher Heron unveil the hidden secrets of 'The Necromancer's Map'
By Byron Brewer
Bethany, the necromancer with a heart of gold, and Elissar, her prone-to-brawling companion, are off to find the Covenant – a sanctuary for Bethany's otherwise reviled magic. Unfortunately, their map makes no sense. Seeking the help of a young wizard named Jonas, whose knowledge may unravel the map's secrets, Bethany and Elissar discover a mysterious illness plaguing The Foggard Temple, home to the ancient order of mages. Double-unfortunately, Bethany and Elissar are not on the best of terms following the recent and violent encounter at Boulder's Envy.
From writers Andrea Fort & Michael Christopher Heron and artist Sam Beck comes this Songs for the Dead story, one in which DF is greatly intrigued. To learn more about it, we sat down with scribes Fort and Heron.
Dynamic Forces: Andrea and Michael, before we get started with Necromancer's Map proper, can you give the uninitiated (you know who you are!) a little background into the world of Songs for the Dead please? Will a new reader be able to jump on here and still understand the saga you are about to unleash?
Andrea Fort: Absolutely! Songs for the Dead is the story of a little necromancer who could. Her name is Bethany, she is a bard with a heart of gold and the ability to raise the dead. She wants to break the stigma surrounding necromancers and prove that they're not all bad by traveling with her mercenary friend Elissar and preforming heroic deeds. Necromancer's Map is a continuation of Bethany's story, but also a new beginning and a perfect place to join in the adventure. At this point in the story, Bethany and Elissar are starting to feel a rift in their relationship; they'll have to find a way to unify with their new friend Jonas and overcome their differences, if they are ever to find The Covenant.
Michael Christopher Heron: Our story takes place in a high fantasy setting where you've got a god king, elite assassins with cool familiars, a friendly undead squirrel, magic butlers ... we've pretty much got it all.
The Necromancer's Map is a perfect jumping on point to get into Songs for the Dead, which is why we saw fit to give it the Issue #1 treatment. You'll meet our friendly necromancer Bethany, her companion Elissar, and quickly get acquainted with their struggles and the world around them.
DF: What was the genesis of this particular story? Was there any inspiration outside the Songs for the Dead universe?
Michael Christopher Heron: Oh, tons! Personally I take a lot of inspiration from some of the 80s fantasy films I grew up with: Dark Crystal, Neverending Story, Willow ... wholesome and moralistic characters thrown into cruel circumstances. That's totally my jam. It was always our intention with Songs that the story get darker and more gray area, and I think our readers saw a bit of that with how the last Songs issue ended (#sorrynotsorry). In Necromancer's Map, you're going to see more of that darkness, both in the universe itself, but also from within some of our heroes.
Andrea Fort: Mike and I both love fantasy stories! I'm sure Mike will say something about the movies he loved in the 80's. Labyrinth was a huge inspiration for me personally, and I have been a lifelong fan of Tolkien's writing. Mike and I set out to tell the kind of story that we wanted to read. We wanted to create a complex world with dynamic characters where nothing was as simple as good vs. evil.
DF: Introduce us, if you would, to protagonists Bethany and Elissar, and describe their relationship and any challenges to that going forward in Map.
Michael Christopher Heron: In Songs, Bethany is this empathetic and wide-eyed young girl, burdened with this power of necromancy that carries a huge stigma. She wants to show people that her powers don't define her, and in doing so meets Elissar, a surly mercenary with her own secret motivations. We see from the previous issues that the two never quite gel the way a pair of adventurers should, which ends up getting them in heaps of trouble, and in Necromancer's Map we see a lot of that fallout.
Andrea Fort: Bethany is an optimist. She's empathetic and desperate to prove herself in the face of the dark power she has. Elissar is a lone wolf and in many ways, a hedonist. They're a real odd couple. Necromancer's Map really tests the strength of their friendship and examines its basis. We also start to introduce new characters that affect their relationship dynamic. I really wanted the reader to feel like Bethany and Elissar's relationship is challenged. I wanted people to question if the relationship can withstand everything we're about to throw at it.
DF: Who is Jonas? Is he just a deus ex machina in the tale, or is his role of real import?
Michael Christopher Heron: Jonas plays a really important part in The Necromancer's Map. I don't want to go into too much detail since I'm really bad at not spoiling things (like Tom Holland bad), but I will say that Jonas' introduction to the story has been in the works for a very long time. The way Map starts, we're already seeing this very different dynamic between Bethany and Elissar, and we liked the idea of having that third voice in there being invested in their quest, and bringing that outside perspective.
Andrea Fort: Jonas is a very special character. Sure, he's super helpful to Bethany, but he is his own character. Jonas is naïve, charming, and eager to please. He has his own path to follow, his own motives, and he is an influential force in the story. Not to mention, his relationship with Elissar is hysterical.
DF: Talk a little bit about the magically delicious art of Sam Beck.
Michael Christopher Heron: I feel like I really can't say enough about Sam. Not only is she a pleasure to work with, undeniably talented, and literally tapped right into our writer brains, but I feel like the three of us all found each other at similar points in our careers. We all came into making Songs with bright eyes and huge ambitions, and it's been an amazing experience to see her grow along with us, and how her aesthetic has developed. Every new issue I'm just blown away by the work Sam is putting in.
Andrea Fort: Sam. Is. Everything. Working with her has been an absolute pleasure! Not only is her art stunning, but she has a strange psychic connection to Mike and I that allows her to know exactly what we mean. I can make the vaguest reference and she gets it 100% of the time! It's kind of disturbing, but also amazing. I think I speak for both Mike and myself in saying that we consider ourselves very lucky to have met and worked with Sam.
DF: Can you each discuss a little bit about your collaboration in creating this adventure?
Michael Christopher Heron: Andrea and I are still relatively new to comics (with Songs for the Dead being the first one we ever created), so we've had our share of growing pains in finding the right rhythm. But I think now, going into our second series, we've developed a pretty consistent back and forth. Some would even call it "healthy"? Maybe?
Andrea Fort: This is my first time writing collaboratively, and let's just say it's been a unique experience. Having a writing partner has made world building a lot of fun. We don't really have a routine, we improvise. One person writes some of the script, the other reviews, and we go back and forth like that. Fun fact, almost all of the Songs for the Dead lore was created on long walks. That seems to be where we do a lot of our best brainstorming!
DF: Michael and Andrea, tell us what projects readers can look for from you, now or in the near future.
Michael Christopher Heron: We have a few pitches in development at the moment, both stuff we're writing together and also separately. Some may or may not even be Songs-related. We'll see. But we're very excited to be putting things into motion.
Andrea Fort: I've just started working on one of my bucket-list projects recently, it's a big undertaking and it will probably consume a lot of my time. I think it's too early to tell you what it is. What I can say is, it's not a comic.
Dynamic Forces would like to thank Andrea Fort & Michael Christopher Heron for taking time out of their busy schedules to answer our questions. Necromancer's Map #1 from Vault Comics hits stores on Aug. 28th!
For more news and up-to-date announcements, join us here at Dynamic Forces, www.dynamicforces.com/htmlfiles/, "LIKE" us on Facebook, www.facebook.com/dynamicforcesinc, and follow us on Twitter, www.twitter.com/dynamicforces.
---
NEW! 1. 11/25/2020 - STEVE SKROCE
4. 11/16/2020 - RYAN O'SULLIVAN
5. 11/16/2020 - RYAN O'SULLIVAN