RAFER ROBERTS

SEND THIS TO A FRIEND!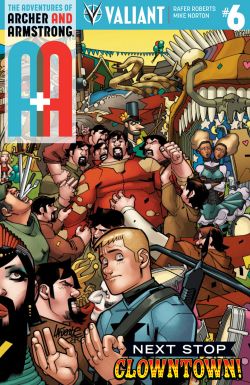 DF Interview: Rafer Roberts takes Archer & Armstrong to center ring in new arc
By Byron Brewer
Archer and Armstrong are bombarding the Big Top to reveal the stomach-churning secrets at the heart of America's most tasteless traveling circus ... and it's no laughing matter!
From Valiant comes A&A: The Adventures of Archer & Armstrong #6 – the first issue of the new arc "Next Stop: Clowntown." Rising star writer Rafer Roberts and Eisner Award-winning artist Mike Norton (Revival) serve as our ringmasters.
Wanna know more? Us too! So under the main tent, DF sat down with scribe Rafer Roberts for a confab.
Dynamic Forces: Rafer, it seems like you have been having fun with Valiant's iconic duo in A&A: The Adventures of Archer and Armstrong. As the writer, how do you describe and perceive the chemistry between these two?
Rafer Roberts: I see Archer and Armstrong as the Yin to the other's Yang. They joined forces due to a similar disdain for the strange and secret societies who control the world, but it is their differences that make them stronger. The entire series to an extent is about Archer and Armstrong coming to terms with their own flaws and past mistakes, all while bickering like an old married couple. They are on the road to self-improvement, helping each other along the way, and making the occasional pit stop to battle (in this case) a circus full of half-Armstrong hybrids under the control of a trio of Cold War era scientists, one of whom is a bear.
DF: The new arc "Next Stop: Clowntown" starts in issue #6. Clowns? Any inspiration from Stephen King's Pennywise here? What was the inspiration for this setting? Perhaps clowns frightened you as a child?
Rafer Roberts: Clowns ARE terrifying, especially when they travel in groups. Pennywise never really got me, though. The Killer Klowns From Outer Space, however … well, that's a whole 'nother pants-crapping story!
The clowns in this tale, and the entire circus in fact, come from the very real conspiracy theories surrounding Russian experiments into human cloning. I wanted to do something where scientists were trying to replicate Armstrong's immortality, but in a more entertaining way. Throwing in the Russian circus angle just seemed like it would be fun to write, as well as a throwback to the kind of comics I grew up reading.
DF: Tell us more about the scientists as they bring in the clones … er uh, so to speak. (laughs)
Rafer Roberts: Well, they've been after Armstrong for a very long time, trying to capture him and learn the secrets behind his immortality. They will be pulling out all the stops now that they've found him. Plying him with endless pints of vodka, distracting him with Soviet propaganda, and cutting him open with their Communist science.
Not only will Armstrong have to fight these weirdoes, but he also has to contend with Archer, who is trying a new tactic for defeating super-villains: talking to them and working out their differences through non-violence and mutual understanding.
DF: Were you a fan of the circus as a kid? Will there be any fun homages to real life- circus acts (Flying Wallendas, Siegfried & Roy, etc)?
Rafer Roberts: I had a few giant picture books of 1970s era Ringling Bros that I loved looking at as a kid. My folks also took me to one, back when the big draw was that unicorn they purported to have. (I think it was just a goat that they glued a horn onto.) So there are definitely some homages to the traditional circus acts you mention, but maybe not specific performers.
Probably the most direct homage takes place in the Freak Show part of the circus. Most of the freaks come straight from Tod Browning's Freaks. My favorite is Gub Gub the Geek, a three-foot tall monster version of Armstrong with the personality of a mentally-disturbed Pomeranian who once ate the corpse of its dead owner to survive.
DF: I love that film; 1932. Very strange … Hey, Davey the Mackerel is back for the beginning of this new arc! Whatever info he might have (say, about Armstrong's satchel), how important is that to the future of this book (if not this arc)?
Rafer Roberts: Davey the Mackerel IS back and out in the world! He's teaming up with the other entity who escaped the satchel in issue #2 and is doing his best to keep that maniac from destroying the world. It's a different type of buddy comedy, more akin to a Yogi and Boo Boo relationship if Yogi was interested in bending people to his will and the creation of fine designer handbags.
DF: What's the story behind Armstrong's missing wife, and why is he determined to find her?
Rafer Roberts: Her name is Andromeda and myths have been written about her. How true those myths are remains to be seen, but she is a near-immortal like Bacchus from the "In The Bag" storyline, and was a part of his group. Armstrong forgot about her almost immediately after the wedding, writing off her and her band of "doofuses with powers and a penchant for cosplay" as hallucinations.
As part of his newfound empathy for his fellow man, something that his relationship with Archer has helped to bring about, Armstrong is trying to make amends for his past mistakes. Reconnecting with the wife he abandoned a few thousand years ago is part of that mission. Stopping at this weird circus is him putting off that meeting for a little while longer.
Rafer Roberts: Rafer, any other projects you'd like to mention while we're here?
Rafer Roberts: Yes! I am writing the new Harbinger: Renegades series for Valiant with artist Darick Robertson. We're already hard at work on the first arc, telling the story of a group of dysfunctional friends who failed to save the world once, but are determined to learn from past mistakes and try again. It's going to be the biggest and loudest comic I've ever written, but with the same emotional center that makes it feel real and important.
Dynamic Forces would like to thank Rafer Roberts for taking time out of his busy schedule to answer our questions. A&A: The Adventures of Archer & Armstrong #6 from Valiant hits stores Aug. 10th!
For more news and up-to-date announcements, join us here at Dynamic Forces, www.dynamicforces.com/htmlfiles/, "LIKE" us on Facebook, www.facebook.com/dynamicforcesinc, and follow us on Twitter, www.twitter.com/dynamicforces
---
NEW! 1. 11/25/2020 - STEVE SKROCE
4. 11/16/2020 - RYAN O'SULLIVAN
5. 11/16/2020 - RYAN O'SULLIVAN