DAVID PEPOSE

SEND THIS TO A FRIEND!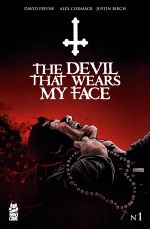 DF Interview: David Pepose unleashes a harrowing tale of terror, action and body-swap intrigue in 'The Devil That Wears My Face'
By Byron Brewer
The year is 1740, and the Vatican is in turmoil. Grappling with a profound crisis of faith, outcast exorcist Father Franco Vieri is dispatched on a mission of grave importance — to rescue a Spanish nobleman from the clutches of the sadistic demon known as Legion. But when the exorcism goes tragically wrong, Vieri finds himself trapped in a stranger's body… and learns what horrors lie ahead when the Devil wears his face.
Equal parts Face/Off and The Exorcist, Ringo Award-winning writer David Pepose (Moon Knight: City of the Dead, Savage Avengers) and Bram Stoker Award-nominated artist Alex Cormack (Sea of Sorrows, The Crimson Cage) conjure a horrific story filled also with awesome action and body-swap intrigue in The Devil That Wears My Face.
As soon as I saw David's name, I was on board. Check out what my friend the scribe tells me about his FIRST book for Mad Cave Studios.
Byron Brewer: David, before we get to your coming book proper, how does it feel to make your Mad Cave Studios debut? And with a property like The Devil That Wears My Face?
David Pepose: I'm thrilled to be teaming up with Mad Cave Studios, and couldn't be happier to be doing it with a book like The Devil That Wears My Face. Mad Cave's CEO Mark London and publisher Chris Fernandez have been incredible supporters of mine since some of my earliest series, and getting to team up with editor-in-chief Mike Marts after our work together on Scout's Honor made this a really exciting opportunity for me. Mad Cave has been working with tons of creators who I really respect, such as Steve Orlando, Chris Sebela, and Cullen Bunn, and it's a real honor to be joining those ranks.
Byron: What was your inspiration for this horrific supernatural series?
David Pepose: As we kept running into each other at various conventions, Mark, Chris and I have been talking about collaborating together for quite some time, and as we were batting around potential ideas, we all really got excited about The Devil That Wears My Face. I've wanted to write a horror comic for ages, and given that Face/Off and The Departed are two of my all-time favorite movies, being able to take a body-swap, cat-and-mouse approach to an exorcism-gone-wrong made this concept feel even more exciting to me.
For those who aren't familiar with our premise, The Devil That Wears My Face follows Father Franco Vieri, an 18th century Vatican priest who is grappling with a profound crisis of faith. Dispatched to Spain to rescue a Spanish nobleman from the clutches of the sadistic demon Legion, Vieri's exorcism winds up backfiring… leaving him stranded in a stranger's body, while Legion has hijacked Vieri's body to wreak havoc on the Vatican. Needless to say, both leads are going to be way out of their element, and are going to have to scramble if they want to survive their respective missions.
Byron: The year is 1740 and the world could not be more different. I know this is a difficult request, but could you set the table as best as you can for the beginning of this saga? Can you describe the canvas we are to be sit down on, the atmosphere of what we are about to enter?
David Pepose: Because I knew this story worked best as am historical period piece, I did a lot of research on the Vatican and the various Popes over the ages to figure out the right sweet spot for this story. And in 1740, things were not great for the Catholic Church — Pope Clement XII was blind and bedridden shortly before his death, the Vatican's finances were in poor shape, and there was growing pushback from factions like the Freemasons. I saw these conditions as very much a potential political powder keg, which will be sparked in some new and dangerous ways in The Devil That Wears My Face.
Byron: Further introduce us to Father Franco Vieri. Can you clue us into his backstory and what challenges await him that will push the book forward. Also please discuss Legion and his role in this horror.
David Pepose: Left on the steps of the church as a child, Father Franco Vieri has grown up to become the Vatican's most accomplished exorcist, in an era where the practice has been consistently frowned upon. But even as an experienced supernatural troubleshooter, Vieri's been plagued by doubts about his past… which winds up putting him in a tough spot when he goes head-to-head with the sadistic demon Legion.
Legion, meanwhile, is pure vicious id — when we first meet him, he's possessed the body of a Spanish nobleman, and is perfectly content with causing murder and mayhem within the confines of his dungeon. However, once Vieri and Legion face off for the first time, both of these characters will find their circumstances change dramatically — and Legion is going to have the time of his life trying to bring the Vatican down from within.
Byron: While I am a big fan of it as well, you do not see a lot of body swapping in comics – even supernatural ones. My favorite use of it is in the Anne Rice novel, The Tale of the Body Thief. How does body swapping work its way into this tale of exorcism?
David Pepose: While we'll get into the specifics of the rules as the series goes on, I'd say that the body-swapping conceit really is the spine of our storyline. In Vieri's case, it's a matter of whether or not anyone will actually believe his harrowing story, while Legion is going to be struggling to stay in character as this allegedly heroic priest. That said, because of the supernatural angle we're taking in this story, we're able to play around with the rules and conventions of exorcisms and demonic possession in a really fun way.
Byron: Can you give readers an overview of the story please, a view as to where we will be going with the good father on his journey?
David Pepose: The Devil That Wears My Face is very much a two-hander, in that we'll see both Vieri and Legion as fishes out of water, each dealing with the other's world in ways that are going to challenge them deeply. Vieri's journey is going to be particularly harrowing, as he's going to be operating in secret to stop Legion from bending the Vatican to his own nefarious ends, but watching how Legion himself navigates the fractious ranks of the Church is a particularly fun throughline of the series.
But ultimately, this series is also about doubt, truth, and finding yourself in the world — things aren't always as they seem, and the falsehoods that surround Vieri are what ultimately lead to him falling in this predicament. For Legion, lies and treachery are his greatest weapons, as his "undercover" operation starts yielding a bigger and bigger body count — but for Vieri, it'll be whether or not he can embrace the truth that will determine whether he makes it home in one piece.
Byron: Talk a little about working with Alex Cormack. What does that artist bring to the table? And, if you would, could you mention any favorite set pieces through the series designed by Alex?
David Pepose: Alex Cormack is one of the most talented artists I've ever had the pleasure to work with — I've been a huge fan of Alex's since I first saw his work in Comixtribe's Sink, and I've been consistently blown away by his horror work in books like Road of Bones, Sea of Sorrows, Breath of Shadows, and The Crimson Cage. There's such a textured, visceral nature to Alex's work, which is even more shocking when you see how inhumanly fast he is. Combine that with his unflaggingly warm and humorous demeanor, and this has been one of the most fun collaborations I've had to date.
As far as the best things that Alex has drawn… boy, there's so much to choose from. Demonic exorcisms, daring sword fights, over-the-top chase scenes? Honestly, I'd say that Alex's greatest strength is simply his acting — Vieri and Legion both have very strong and defined personalities, and I think that Alex's work is a big part of that.
Byron: David, what other projects on which you are working can you tell readers about?
David Pepose: My new Marvel series Moon Knight: City of the Dead will be hitting comics shops everywhere on July 19 with artist Marcelo Ferriera, and I'll be signing copies of that for San Diego Comic-Con. I'm very excited about that series, which pairs really well with The Devil That Wears My Face, as both of them take sort of a street-level approach but with a supernatural twist.
We're also gearing up for our third and final Kickstarter for my Ringo Award-winning series The O.Z. — me and artist Ruben Rojas have been working hard on our grand finale, and along with Devil, it's one of the books I'm proudest of across my entire career. Beyond that, I've got a few other projects percolating — I'm pretty sure you'll be hearing about at least one of them in the months to come. I've been very busy this past year — and that's exactly the way I like it!
Dynamic Forces would like to thank David Pepose for taking time out of his busy schedule to answer our questions. The Devil That Wears My Face #1 from Mad Cave Studios is slated to be on sale October 4th!
For more news and up-to-date announcements, join us here at Dynamic Forces, www.dynamicforces.com/htmlfiles/, "LIKE" us on Facebook, www.facebook.com/dynamicforcesinc, and follow us on Twitter, www.twitter.com/dynamicforces.
---
NEW! 1. 11/28/2023 - CULLEN BUNN
4. 11/08/2023 - OLIVIA CUARTERO-BRIGGS
5. 11/02/2023 - ETHAN SACKS & NAOMI SACKS