JOEY McCORMICK

SEND THIS TO A FRIEND!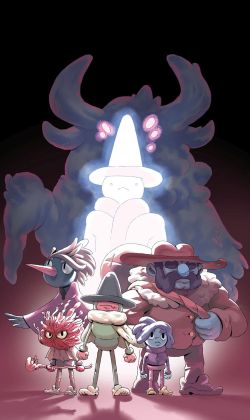 DF Interview: Joey McCormick brings disparate characters together to save world from darkness in The Great Wiz and the Ruckus OGN
By Byron Brewer
Red, a blind Wiz, is tasked with finding the Wiz's of the realm so that they can destroy the Ruckus, a darkness that is threatening to take over the world once again! On this journey, he brings together some of the strongest Wiz's around – Bog Wiz, Sad Dad and Feather Duster – but soon they realize that their fate will fall on the shoulders of a young Wiz named Bean who is too strong, too hot-headed, and completely untested to be of any real help.
But even if Bean isn't quite ready to be the hero the world needs, Red must bring the young Wiz and an odd group of heroes together to save the day or the Ruckus will plunge the world into darkness! Now if only these heroes can find a way to get along…
From BOOM! Studios and its acclaimed KaBOOM! imprint, The Great Wiz and the Ruckus is an all-new original graphic novel by cartoonist Joey McCormick (Adventure Time), with colors by Whitney Cogar (Steven Universe). To get the full 411, DF went straight to the source of this wiz-y wonderment: Joey McCormick.
Dynamic Forces: Joey, before we get into the book proper, tell us a little about how you got into cartooning and how that brought you into comics?
Joey McCormick: I've always drawn. In school I'd doodle in the corner of my papers, or on the back of tests. When it came time to pick a college, it made sense to keep going with art. Animation was my first interest and I've been a designer in animation most of my career. As much as I love what I've been doing, I also wanted to tell my own stories. The easiest way to do that was through comics. It was something I could do on my own.
DF: I know BOOM! Studios' KaBOOM! Imprint is home to comics for middle grade and younger readers, but with The Great Wiz and the Ruckus it certainly does not seem you're writing down to any age group. From what I have seen, this is an enthralling book in the spirit of Tolkien, in its way. Explain your thoughts on the world you are creating with Great Wiz.
Joey McCormick: I never wanted to write down to the audience. The stories I loved when I was younger, and still love, had a real threat to them. Creating a world with this sense of doom but hanging on to a sliver of hope to keep the readers rooting for our characters was always the story idea. This story (and I'll gladly take the Tolkien reference!) is intended to bring these disparate characters eventually together to become something bigger than themselves. Not a brand-new concept, but a significant one in my opinion, considering the intended audience. I hope so, anyway.
DF: Kudos for making a vision-challenged sorcerer, Red, our POV character, or at least that is what I understand. Tell us a little about Red – good points and bad.
Joey McCormick: Red, the blind wiz, is a guy just trying his best. He's had this huge weight dropped on his shoulders. The Ruckus is on the move and it's his time to step up and be the leader. He has serious doubts in himself. He's trying to balance his fear/anxiety with his duty. Red's hope is that by following the ways of his old masters he can help win this thing.
DF: Who are some of the other characters in this OGN?
Joey McCormick: The first Wiz we meet after Red is Bog. He's a little salty, but a true friend. Bog can see the insecurity in Red and is trying to help him without sugar coating the reality of the situation.
There are other non-magical characters in this world. We meet up with Brick, a commander in the Capital Forces. She's a strong character that cares deeply about the realm and its inhabitants. There's a growing fear in her that something in the Capital is not right…something is off. And she's right, of course.
The Ruckus isn't the only threat in the Realm. Brute, the marauder leader, has a lot to gain if the Ruckus succeeds. Brute and his followers are a vicious gang that has been pushed to living off scraps taken from the villages. If the Ruckus succeeds, there could be a new life for him and his followers.
DF: You draw a great contrast between Red and young Wiz Bean. Can you discuss this?
Joey McCormick: Bean's all confidence, she knows who she is, and she's excited for this journey. On the other hand, you have Red. He's putting on a brave face to keep the group strong. Red is trying to be a master and teach Bean, but Bean's a very different student than Red was. Red was the student eager to learn and trusted his instructors obediently. Bean's the type that challenges her teacher and pushes herself every bit as much as an instructor does. It's something Red has to adapt to.
DF: Is doing a book as artist and writer preferable to you more than working as either in collaboration? For you, what are the pros and cons of both?
Joey McCormick: Working as the writer and artist is a totally new experience. This is my first time writing something. I think for a first time it helped also being the artist. There were times I couldn't figure out how to describe the imagery I had in mind, but I knew once I got the art side figured out I'd be fine. It does feel like a big task to take on for a first OGN. Having a partner to share the load with is something I hope to do in the future.
DF: Talk about the palette of colorist Whitney Cogar and how it affects your art.
Joey McCormick: Whitney's colors are so fresh and wild. She's using a really bright and colorful palette. It brings another layer of whimsy and magic to the panels. When approaching each section of the story, I'm trying to keep her style in mind. Leaving room for her to push that emotion.
DF: Joey, what other projects are you working on now or in near-future you can tell readers about?
Joey McCormick: Currently I'm working on Season 1 of Amphibia as a background designer. In July, you can catch some of my work in Teen Titans GO! To the Movies! I worked as a background designer and painter on that last fall.
Dynamic Forces would like to thank Joey McCormick for taking time out of his busy schedule to answer our questions. The Great Wiz and the Ruckus OGN from BOOM! Studios/KaBOOM! hits stores in February 2019!
For more news and up-to-date announcements, join us here at Dynamic Forces, www.dynamicforces.com/htmlfiles/, "LIKE" us on Facebook, www.facebook.com/dynamicforcesinc, and follow us on Twitter, www.twitter.com/dynamicforces.
---
NEW! 1. 01/14/2021 - MARIA LIOVET
3. 01/07/2021 - DARICK ROBERTSON
4. 01/04/2021 - CONOR MCCREERY
5. 12/31/2020 - BRANDON GRAHAM