DEREK HUNTER

SEND THIS TO A FRIEND!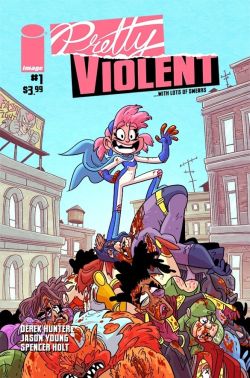 DF Interview: Derek Hunter brings us one young girl's quest to be a superhero amid a family of super-villains in the mature comedy 'Pretty Violent'
By Byron Brewer
Gamma Rae wants to be a superhero, and why shouldn't she? She's been strong since she was a baby. The only problem is, all her siblings are notorious hero-murdering criminals!
From artist and co-writer Derek Hunter (DuckTales, Adventure Time) and co-writer Jason Young (I Hate Fairyland) comes Pretty Violent, an all-new ongoing, gore-filled, laugh-out-loud comedy for mature readers that explores one girl's journey through the rift between personal and family identity. DF wanted to get the full 411 for you, the reader, so we sat down with Derek Hunter.
Dynamic Forces: Derek, tell readers how your new series Pretty Violent came to be, the genesis of the Image Comics book.
Derek Hunter: There's a complicated answer to that question!
I first developed the little pink haired hero "Gamma Rae" for my contribution to Image Comics' first Popgun Anthology in 2008; initially she was sort of a monster fighting Power Puff Girl analog, cleaning up a world overrun by giant creatures after the monster apocalypse. A number of years later, when I started exploring the idea of what a superhero growing up in a family of super-villains would be like, my rambunctious/headstrong/well-meaning-but-often-misguided daughter was growing into her own as a person. I observed her struggling with what it means to be a good friend, the importance of listening and being mindful of others; trying real hard to be good, but not always succeeding. Haha.
I felt like these behavioral shifts and struggles I was witnessing in real time created a great foundation for the character of Gamma Rae in Pretty Violent: a super-powered kid growing up in a family of villains that wants to be a hero, even though she has no frame of reference for what that really looks like.
After that, it was just a matter of fleshing out the cast of characters, writing some scripts, drawing a handful of pages, and sending off the pitch to Image Comics!
DF: Wow, that easy, huh? LOL! … Just to be straight with readers, as many other works today the art looks cartoony but the contents are for mature readers, correct? And it is a comedy?
Derek Hunter: Correct on both counts! I work in animation and love all the colorful fun of the medium, but I also like to explore the more adult/gory/violent/irreverent aspects of storytelling that isn't appropriate for the shows I've worked on, like DuckTales or Adventure Time.
DF: So tell us about the overall storyline for Pretty Violent as we hit issue #1 in August.
Derek Hunter: Issue #1 drops us right in the middle of Gamma Rae's first outing as a superhero and shows us just how spectacularly unprepared she is to navigate the already-established world of heroes vs. villains of the city in which she lives. Having grown up in a family of questionable moral character, Gamma Rae has to be reminded that killing is not something a hero does. Destroying a city just to defeat one bad guy…? Also not a thing a hero does. Asking your siblings to create chaos and destruction just so you can come in, save the day, and look like a hero is also something heroes don't do. Throughout the series, we follow Gamma Rae as she navigates her way through the confusing world of being a superhero, and observe her frustrations as she comes to grip with the fact there are a lot more restrictions to being a hero than there are to being a villain.
DF: Tell us more about Gamma Rae? (No Incredible Hulk tie-in here, correct? LOL)
Derek Hunter: I'm legally obligated to say no. No, she isn't. Heh.
Gamma Rae is just a little girl obsessed with superhero culture, in becoming a famous hero just like the ones she's seen on TV and in the movies. The only problem is, she's not great at it yet, so she's always trying to find shortcuts to success that rarely work in her favor. "Slow and steady wins the race" is a concept she is unfamiliar with.
DF: What other characters do readers need to know going forward? Can you introduce a few of them here?
Derek Hunter: Her siblings, Merc, Necrosis and Sludge are the three most powerful and feared villains of Bay City, and while supportive and loving (just like any family worth being a part of), they don't understand her desire to be a do-gooder. And while they want to help Gamma Rae achieve her stupid dreams, their familial bond becomes strained when she begins to actively disrupt their evil plans. Pretty much everyone else introduced in issue #1 is brutally murdered, so there's not much else to say about anyone else at this point.
DF: Just FOI, how violent is Pretty Violent? I read on the solicit "gore-filled" then saw the main cover by you, Derek. As they would say in Britain, "bleedin' bloody!"
Derek Hunter: Decapitations, bludgeoning, immolation, vivisection… these are all present in the first issue alone. It's…pretty violent (hence the name).
DF: You are writer and artist on this book. Tell us about Jason Young's role.
Derek Hunter: I had done a rough outline of the first few issues and completely drawn the first issue when I realized that working on this book alone for long hours at night after the kids go to bed (and on weekends) was not something I was super excited about. I'd written a number of mini comics with Jason in the past and had a great time collaborating with him, plus, having moved out to Los Angeles a few years prior, I missed hanging out with him regularly, so I saw this book as an opportunity to not only collaborate with someone whose work I greatly admire, but to have regular hangouts over Skype and Facetime with a friend I missed seeing almost every day. Jason contributed in making some edits to the scripts for issues #1 and 2, and then after that it's been a 50/50 split on writing duties.
DF: Derek, what other projects of yours can you tell readers about?
Derek Hunter: Most of my comic work has only been available in self published mini comics and zines, although I did have a short comic series, Pirate Club, that Slave Labor Graphics put out in the early 2000's. Outside of comics, people may have seen my work on Adventure Time, DuckTales, Bravest Warriors, or Pig Goat Banana Cricket as a background designer.
Dynamic Forces would like to thank Derek Hunter for taking time out of his busy schedule to answer our questions. Pretty Violent #1 from Image Comics hits stores on Aug. 21st!
For more news and up-to-date announcements, join us here at Dynamic Forces, www.dynamicforces.com/htmlfiles/, "LIKE" us on Facebook, www.facebook.com/dynamicforcesinc, and follow us on Twitter, www.twitter.com/dynamicforces.
DOODLE JUMP #6 VIDEO GAME HOMAGE EXCLUSIVE VARIANT COVER
DOODLE JUMP #4 VIDEO GAME HOMAGE EXCLUSIVE VARIANT COVER
DOODLE JUMP #3 (OF 6) VIDEO GAME HOMAGE EXCLUSIVE VARIANT COVER
---
NEW! 1. 11/30/2020 - SKYLAR PATRIDGE
5. 11/16/2020 - RYAN O'SULLIVAN