DAN WATTERS

SEND THIS TO A FRIEND!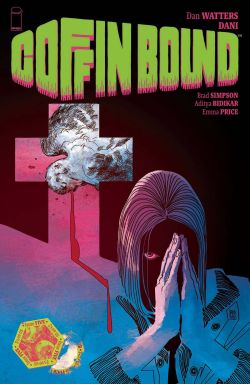 DF Interview: Dan Watters launches a quest to prove the existence of The Divine in 'Coffin Bound' #5
By Byron Brewer
Taqa found solace in God—and that God lives in a syringe. With the city about to ban the holy narcotic, she vows to prove the existence of The Divine, setting her on a path straight to the murderous EarthEater's door.
From Image Comics comes the return of Coffin Bound! In issue #5 are deadly killers, dirt sandwiches, and a new story arc written by Dan Watters with art and cover by Dani. DF wanted a deep dive into this coming chapter, so we sat down with scribe Dan Watters.
Dynamic Forces: Dan, were you surprised by the great fan reaction that Coffin Bound has garnered? Seems there was a definite readers niche you helped fill!
Dan Watters: I'm definitely pleased that the book has worked for people – some people have told me, "This feels like it was made specifically for me", and I can't imagine a higher compliment than that.
We knew from day one we were making a book that was potentially risky, and there's always that old-hat sort of cliché where we've made the book that we wanted to see on the shelves that wasn't there, and that's true. But when you're creating something and putting it out into the world, you're hoping that it speaks to people. Of course you are. I've even had a few direct messages from Izzy herself, which is probably a little concerning. But so it goes.
DF: So the title returns with issue #5 and a new arc. Were there any seeds planted in the first arc of the mag that lead directly to what you have planned for this second go-round?
Dan Watters: The story of Book 2, "Dear God", is affected by the ripples of what happened in the first story, certainly. But each volume of Coffin Bound is about examining death through a different lens, so we're actively turning away from the first story to peer into ever dingier and darker nooks and crannies.
I mean, we're making art about the absurdity and downright ridiculousness of going to all the trouble of being born onto this Earth only to go ahead and die all over again. So going any predictable route would do the plot a disservice – as would not delivering on the book's title. If our characters are indeed coffin bound, there's going to have to be something of a turnover.
DF: For the uninitiated (and you know who you are), tell us generally about the book and what new readers may (or may not) need to know about your first tale.
Dan Watters: The first volume of Coffin Bound is "Happy Ashes", the story of Izzy Tyburn, who found out an unstoppable hitman was on her tail, and decided to erase all evidence of herself from the world before she was taken from it. She wanted to disentangle herself from life, but this inevitably caused pain for others – and one of these was Taqa. It's Taqa we'll be following through "Dear God".
That all sounds quite dour, doesn't it? It may be worth adding that this all happens with the assistance of a skeletal vulture in a robot suit, and amongst shootouts with plastic surgery obsessed, body-part stealing biker gangs. If we've done it right, Coffin Bound should be a blast. Alright, admittedly a mildly dour blast.
DF: Can you introduce you main protagonists for our readers and provide a little summary as to where we find them with issue #5 (and perhaps forward)?
Dan Watters: After the events of "Happy Ashes", Taqa has found solace in God, a narcotic that emulates – or perhaps engulfs the user in – nothingness. This void is something she seeks and craves, away from the pain that is life. The only problem is that government legislation is about to ban God from her world.
DF: Without utilizing the solicit (because I've already purloined it for elsewhere), can you clue us in a little as to the happenings of this second arc please?
Dan Watters: Taqa sets out on a quest to do nothing less than prove the existence of The Divine to the world… which means bringing herself as close as possible to death, and into the crosshairs of many of this world's batsh*t insane assassins. Which includes a gang who quite literally kill with compassion, a woman who is decay incarnate and, of course, everyone's favorite EarthEater: the soil-devouring hitman.
DF: Talk about the awesome inspiration and your collaboration with artist Dani.
Dan Watters: I think it's pretty evident at this point that Dani is one of those artists whose work will be studied in years to come. What she can do with nothing more than white paper and CD markers is absolutely outrageous, and she has only grown more outrageous as we've worked on Coffin Bound. She has this ability to carve away everything that doesn't need to be on the page, which is exactly what the book is about.
The two of us work very closely on the story before either of us put pen to paper, and particularly as we've moved into this second story more of our own lives have leaked into Coffin Bound.
DF: So is Coffin Bound #5 a good place for new readers to jump on the wagon, and what can they expect?
Dan Watters: Absolutely! "Dear God" is its own story with its own cast of characters. Even the returning ones aren't necessarily going to show up where and how you might expect from volume 1. We take a lot of influence from theater for the book – I'm a Samuel Beckett and Harold Pinter nerd – and I think of it kind of in that respect. It's almost like we've cast some of the same actors for the second act of the play.
DF: Dan, hit us up with any other projects, inside or outside comics, that may be coming up from you.
Dan Watters: Lucifer volume 3 comes out July 28th from DC Black Label and the Sandman Universe. It's the story of Lucifer vs. Odin as each tries to claim the myth of the Wild Hunt, and is one of my favorite things I've written. It also contains a two-issue John Constantine cameo that's really good fun. He'd never actually met the Devil before. Volume 4 should follow hopefully not too long after.
I also have two books coming soon that haven't quite been announced yet. The first is with Caspar Wijngaard, who I made my first comic, LIMBO, with. We've been looking for the right project to reconvene on, and the book we've landed on is an absolute joy. It couldn't be much further away from Coffin Bound.
The other is drawn by Kishore Mohan, who was one of the artists on Ram V's wonderful Black Mumba. I can't say much more than that, but the book is part of the second wave of White Noise/Vault titles, and is going to be a gorgeous watercolor affair. Lockdown slowed us down on both a tad, but look out for announcements very soon.
Dynamic Forces would like to thank Dan Watters for taking time out of his busy schedule to answer our questions. Coffin Bound #5 from Image Comics is slated to hit stores August 5th!
For more news and up-to-date announcements, join us here at Dynamic Forces, www.dynamicforces.com/htmlfiles/, "LIKE" us on Facebook, www.facebook.com/dynamicforcesinc, and follow us on Twitter, www.twitter.com/dynamicforces.
---
NEW! 1. 11/23/2020 - CHUCK BROWN
3. 11/16/2020 - RYAN O'SULLIVAN
4. 11/16/2020 - RYAN O'SULLIVAN