ROB WILLIAMS

SEND THIS TO A FRIEND!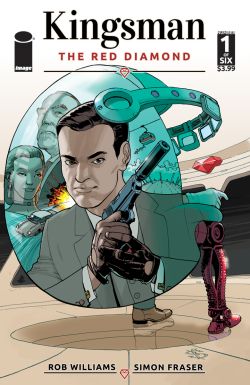 DF Interview: Rob Williams brings the super-spy action and violence in Kingsman: The Red Diamond
By Byron Brewer
As Kingsman: The Golden Circle (starring Channing Tatum and Colin Firth) hits cinemas in September, Image Comics is launching a sequel to the source comic book series by Mark Millar and Dave Gibbons with Kingsman: The Red Diamond.
Working-class super-spy Eggsy follows in his mentor's footsteps but is still rough around the edges for a Kingsman agent. Rejected by his high school crush and hot on the heels of a rescue mission to save Prince Phillip, he embarks on an international terror plot in a story that starts where James Bond draws the line. Rob Williams (Suicide Squad, Action Comics) and Simon Fraser take the helm for this 6-issue miniseries.
More, you say? Well, to do just that DF covertly communicated with scribe Rob Williams. Here's what we were able to get out of him.
Dynamic Forces: Rob, Kingsman is going to be a busy property this fall. Not only is the franchise returning as a new feature film, Kingsman: The Golden Circle, but as a new Image Comic as well, Kingsman: The Red Diamond. Which beggars the question, how came Rob Williams to Millarworld and this 6-issue miniseries?
Rob Williams: Mark asked me. That was unexpected and very flattering. I really enjoyed the initial series and I felt the tone suited me. From there it was the usual case of my having to pitch something that Mark and Rachael Fulton, our editor, liked.
DF: Is The Red Diamond a brand new take on the property, or is it a sequel to the 2012 mini The Secret Service from Mark Millar and Dave Gibbons? (I understand Image is reprinting the 176-page Kingsman: The Secret Service trade paperback in September as well.)
Rob Williams: It's a sequel. So Eggsy's now a full-fledged Kingsman agent, driving the flash sports car, dating the Hollywood actress. It seems, at our opening, that he's got it made. But you can't escape where you come from. As one character says to him along the way, he's moved from one world to another and now finds he sort of belongs in neither. There's subversive spy hijinx and high action, of course, but at its heart this is a story about Eggsy defining his new existence.
DF: If you can, tell readers a little bit about the storyline.
Rob Williams: Without giving too much away, our bad guy is called The Red Diamond and he - from his hidden secret base, natch - wants the world to descend into chaos so he can profit in his own... unique way. The clue's in his name. Eggsy has to try and save the world before the poor eat the rich and vice versa. The thing with Kingsman is it's not just a Bond pastiche. At its heart it has as much to do with the working class streets as it does the Saville Row tailors.
DF: What characters will be returning from The Secret Service? Can you give us a rundown of the prime protagonists in your series?
Rob Williams: You'll see Eggsy, his mum, his brother Ryan. Sir Giles shows up. Apart from that, we've got a cool new cast, including a brand new Kingsman handler for Eggsy - Le Fay. There's an agent of SASS (real organization, honest) and a henchman that's a hunchman. You'll have to read to find out more.
DF: The super spy genre usually involves international intrigue. Will Eggsy be traveling to any exotic locales? If so, did you and/or artist Simon Fraser do any research on these climes?
Rob Williams: Absolutely. The Red Diamond travels from Peckham to New York, Hunan Provence in the wilds of China and one of the most deep, dark and deadly places on the whole of planet Earth. And Si Fraser and I traveled to them all, personally. Well, I've been to Peckham and Si lives in New York. After that, there's Google images.
DF: Speaking of Simon, and knowing that you guys are frequent collaborators, tell us why he is THE artist for this book.
Rob Williams: I've worked with Si for 2000AD and on Doctor Who for Titan Comics and he's got this great open accessibility about his work. I think Si draws the type of comics that a non-comic reader might consider reading. That's something true of Dave Gibbons' style too, and as Si's following on in Dave's world here, that's appropriate. Si also does gorgeous looking women, which I'm sure will please Eggsy.
DF: Mark Millar series usually have three things: violence, satire and violence. Will this be found in The Red Diamond?
Rob Williams: Yeah, if you read The Secret Service that's definitely the DNA. I think there's something in the British comics lineage that hardwires those things into us. It might be because Mark, Dave, Si and I all came up through 2000AD and black comedy and brutality are what they feed us there. Social commentary too. A lot of the themes of Kingsman are currently front and center in British life. Feed all those into the meat mincer and you get some fun, provoking comics.
DF: Rob, are there any projects current or near-future you'd care to tell readers about?
Rob Williams: I'm writing Suicide Squad for DC still. In August I'm on Action Comics for a two-issue story with Guillem March and I start a four-issue run on Trinity for DC with Ken Marion. That's all sorts of fun, writing Superman, Batman, Wonder Woman, Lex Luthor, Deadman, Zatanna and John Constantine.
Dynamic Forces would like to thank Rob Williams for taking time out of his busy schedule to answer our questions. Kingsman: The Red Diamond #1 from Image Comics hits stores Sept. 6th!
For more news and up-to-date announcements, join us here at Dynamic Forces, www.dynamicforces.com/htmlfiles/, "LIKE" us on Facebook, www.facebook.com/dynamicforcesinc, and follow us on Twitter, www.twitter.com/dynamicforces.
SUICIDE SQUAD #1 MIDTOWN COMICS EXCLUSIVE BLACK AND WHITE COVER BY TYLER KIRKHAM
DOCTOR WHO: THE ELEVENTH DOCTOR #1 MIDTOWN COMICS EXCLUSIVE!
MISS FURY VOL. 2: WALK THROUGH THE VALLEY TRADE PAPERBACK
MISS FURY VOL 1: ANGER IS AN ENERGY TPB
---
NEW! 1. 11/25/2020 - STEVE SKROCE
4. 11/16/2020 - RYAN O'SULLIVAN
5. 11/16/2020 - RYAN O'SULLIVAN