ZAC THOMPSON

SEND THIS TO A FRIEND!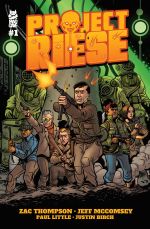 DF Interview: Zac Thompson brings new pulp fiction series set in aftermath of WWII with 'Project Riese'
By Byron Brewer
It's 1952. The wound WWII inflicted on the world is still fresh. Sam Safdie and his ragtag group of treasure hunters have been searching for the fabled map of the Owl Mountains for years...and they finally found it. Their journey leads them to a massive war complex that hides both unknown horrors and a fortune in gold. However, the deeper they travel, the more they realize the complex has developed a life of its own and that some secrets are better left buried in the past.
Project Riese is an action-packed adventure/sci-fi tale perfect for fans of Uncharted, Overlord, and The Keep from writer Zac Thompson and artist Jeff McComsey. Here is what my buddy, writer Zac Thompson, told me about the book.
Byron Brewer: Zac, how you keep pushing out excellent book after book is quite beyond me. It takes me quite a bit of planning for three meals a day! That aside, what was the genesis of this latest mag from the Zac-o-matic, Project Riese?
Zac Thompson: Project Riese was actually a concept that Mad Cave brought to me. We were workshopping something new after the conclusion of Nature's Labyrinth and after looking at a few concepts that didn't feel right for me, I had mentioned wanting to do something in the historical pulp adventure genre. Luckily, they had just the thing! Project Riese is more than just a story concept, though. It's something that exists peripherally in the lore of occult history. So when they mentioned doing a project around the rumored Nazi war complex – I was all in.
Byron: What can you tell readers about the canvas we will soon be setting foot on here, the atmosphere of a 1950s land still in shock over a second and debilitating world war?
Zac Thompson: Yeah, you pretty much nailed it. I wanted to look at the world after WWII but show the lingering shadow of the war. The idea that everyone in the story is still very much recovering from the trauma of the world war and the egregious human rights abuses that took place. Also I wanted to deal with the fact that the Nazis didn't just disappear, some of them were still around, just calling themselves different names.
Byron: Introduce us to Sam Safdie. Who is he when first we meet him and how did he come to be here? What part of this protagonist represents a bit of Zac Thompson?
Zac Thompson: Sam Safdie is a treasure hunter. He's always got a smile but hardly ever has a plan. He didn't participate in WWII. In fact, he dodged the draft to travel the world and keep his head in the sand chasing treasure. Now he's dealing with immense guilt about that. He can't seem to shake the idea that he failed the world in some way. So that's effectively what's driving him here. When we meet him, he's trying to atone for his past and in his own weird way correct history. So that's when he set out to find Project Riese and uncover the treasure he believes lies inside the facility. But correcting history uhhh never really goes well. If there's a part of me in Sam, it's the willingness to fall flat on your face in the pursuit of doing the right thing.
Byron: What is the backstory of Safrie's group of treasure hunters? In a non-spoilery manner and without a hearty "read the book" (LOL), what are you able to tell readers about them and who is involved in this band aside from Sam?
Zac Thompson: Well, you're going to have to read the book to get everyone's full story. That's just the way these things work. But! The group was pulled together from people who are old friends, new faces, and uneasy alliances. I wanted to ensure the cast was international and all had different reasons for getting involved with this adventure. But more than that I wanted to make sure everyone was just a normal civilian person, so to speak. I feel as if a lot of WWII adventure stories of this type focus on secret agents or soldiers and frankly I just don't find that kinda stuff interesting. So it was important to me that everyone here just witnessed WWII and has some kind of guilt for why they didn't get involved. This idea that you watched this horrific thing happen with apathy and now you're trying to atone for it really resonates with me these days.
Byron: What is it the adventurers are seeking in the Owl Mountains? Treasure, yes, but is there a specific MacGuffin they are seeking (Ark of the Covenant, Excalibur in the Stone, etc.)?
Zac Thompson: They are looking for the legendary Nazi Gold Train. It's sometimes called the Wałbrzych gold train. It's this urban legend about a train laden with gold and treasure that was hidden by the Nazis in southwest Poland during the last days of World War II. The apocryphal tale claims the train full of valuables, including artwork, was concealed in a sealed-up rail tunnel or mine in the Central Sudetes by retreating Nazis.
Byron: Zac, you have never been – what is the word? – "preachy" or heavy-handed with any subliminals, but with this action-packed science fiction adventure are there any take-aways you are hoping readers will pick up on?
Zac Thompson: So first and foremost, this is an adventure book through and through. There are themes about disturbing history and letting the past lie. But like I mentioned, it's very much about atoning for past apathy. The idea that the best way to clear your conscience is to get involved and get your hands dirty.
Byron: Talk about the awesome art of Jeff McComsey.
Zac Thompson: Jeff really is one of the best comic artists working today. His storytelling in this series is unreal. There are painfully human moments of emotion and huge moments of action storytelling and both are executed with deft precision. He's taken my scripts and really elevated every single page to something that's better than I could've possibly imagined it. There's a truly stunning DPS in issue #1 that really came from him going "we can do even better with this" and he pushed the whole thing into this sequence that commands the back half of that issue. He's the best collaborator and constantly pushing for better and more innovative ways to tell our story.
Byron: Zac, what other projects with which you are involved can you tell readers about?
Zac Thompson: In September, I'm doing an adaptation of the seminal paranormal novel The Hunt for the Skinwalker at BOOM! Studios. Which will come out monthly alongside Project Riese. I've also got a few more things in the works, but they'll be announced in the Fall. So I've gotta remain tight-lipped until then!
Dynamic Forces would like to thank Zac Thompson for taking time out of his busy schedule to answer our questions. Project Riese #1 (of 6) from Mad Cave Studios is slated to be on sale August 2nd!
For more news and up-to-date announcements, join us here at Dynamic Forces, www.dynamicforces.com/htmlfiles/, "LIKE" us on Facebook, www.facebook.com/dynamicforcesinc, and follow us on Twitter, www.twitter.com/dynamicforces.
---
NEW! 1. 11/28/2023 - CULLEN BUNN
4. 11/08/2023 - OLIVIA CUARTERO-BRIGGS
5. 11/02/2023 - ETHAN SACKS & NAOMI SACKS