DAN JURGENS

SEND THIS TO A FRIEND!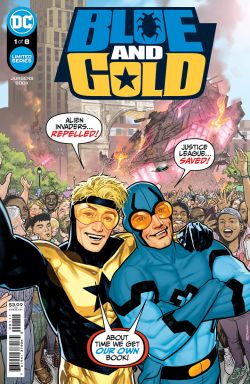 DF Interview: Dan Jurgens brings back DC's best buddies as they tackle social media in 'Blue & Gold'
By Byron Brewer
Desperate to regain the spotlight, Booster Gold looks to attract the public's (and Justice League's) attention the same way any washed-up, second-rate hero would: social media. The not-so-tech-savvy hero from the 25th century enlists the help of his best friend, Blue Beetle, who possesses both the money and the brains to help his old pal navigate the scary world of internet influencers.
Watch out, evildoers, our heroes are live and online! Don't miss Dan Jurgens' triumphant return to Booster Gold with the help of all-star artist Ryan Sook (Legion of Super-Heroes), telling a tale filled with heart and maybe even redemption for DC's two favorite underdogs! Looking forward to the return of the best buddies in comics, I eagerly chatted up Blue & Gold with my old pal, author Dan Jurgens.
Byron Brewer: Dan, before we get to the book proper, what's it like to be reunited with your co-creation, Booster Gold? And – AND – in his own series (sorta)?
Dan Jurgens: I always enjoy the chance to work on Booster. In this instance, it's kind of fitting because there have been a couple of other times I was supposed to do a Blue & Gold series. I believe the first was back in 1986 or 1987 so it's good to finally have it become a reality!
BB: Whenever I see Blue Beetle (Ted Kord iteration) and Booster Gold together, I get that warm, supportive yet zany "buddy cop movie" vibe, one you don't see anymore hardly. (Well, at least until The Falcon and the Winter Solider began airing, much to its credit.) Is it as fun to write that dialogue and design those situations as it is to read?
Dan Jurgens: Absolutely. Their friendship is part of what makes the book so unique. Plus, in terms of comics, we always remember those partnerships because it tells a bit more about who those characters are. It started with Superman and Batman and has stretched through Hawkman and the Atom and then Green Lantern and Green Arrow.
BB: For those readers under a rock for awhile (and after last year, who could blame them? LOL), briefly intro your main protagonists please: Blue Beetle Ted Kord and Booster Gold Michael Carter.
Dan Jurgens: Booster, of course, comes from the 25th century where he was something of a disgrace. He "liberated" a few items such as a time sphere, Legion flight ring, exoskeleton and forcefield to come back to our time to be a hero.
And, if he makes a few bucks at it, so much the better.
The Blue Beetle, a.k.a. Ted Kord, is something of a social introvert who's trying to overcome the loss of his father, who was killed by Lex Luthor.
They first met during their time in the Justice League, which they still remember well, and are looking to establish themselves as the hottest new thing in superheroics.
BB: Tell us a little bit about the overall storyline of this limited series.
Dan Jurgens: After going off on their own for a couple of years, Booster and the Beetle have reunited with the idea of forming a true partnership that gives them the chance to help people. Not as heroes for hire, but as heroes whose mission is supported by crowdfunding, as they seek to help those who don't have access to Superman, Wonder Woman and the rest of the heroic pantheon.
BB: I know this is tough to do in this sort of interview and not to have spoilers, but can you describe a situation or two these underdog heroes will get into on the way to making themselves better known as heroes… to the public, and to the Justice League?
Dan Jurgens: For those two, social media is the only answer. It's actually something that will be of prime importance to the series.
BB: Please tell me Skeets is in this one!
Dan Jurgens: Absolutely!
And we may even have an all-new addition of—oh, wait.
I can't mention that yet.
BB: Talk about the jaw-dropping art of Ryan Sook.
Dan Jurgens: Ryan is doing herculean work on the series. It's stunningly gorgeous. And it's solely his because he's handling pencils, inks AND colors. Not to mention the covers!
BB: Dan, what other projects of yours, inside or outside comics, can you tell readers about?
Dan Jurgens: I'll have a story coming up in the Aquaman 80th Anniversary Special where Steve Epting and I reunite for a nice story. We last worked on Aquaman back in the early 2000s so it's really great to be back at it!
Dynamic Forces would like to thank Dan Jurgens for taking time out of his busy schedule to answer our questions. Blue & Gold #1 from DC Comics is slated to be on sale July 20th!
For more news and up-to-date announcements, join us here at Dynamic Forces, www.dynamicforces.com/htmlfiles/, "LIKE" us on Facebook, www.facebook.com/dynamicforcesinc, and follow us on Twitter, www.twitter.com/dynamicforces.
BLUE & GOLD #1 ELITE GOLD SIGNATURE SERIES SIGNED BY DAN JURGENS
BLUE & GOLD #1 SIGNED BY DAN JURGENS
BLUE & GOLD #2 ELITE GOLD SIGNATURE SERIES SIGNED BY DAN JURGENS
BLUE & GOLD #2 SIGNED BY DAN JURGENS
AQUAMAN 80TH ANNIVERSARY SPECIAL #1 SILVER SWORDFISH SIGNATURE SERIES SIGNED BY DAN JURGENS
HEROES REBORN: MARVEL DOUBLE ACTION #1 ULTRA-LIMITED DOUBLE SIGNED EDITION SIGNED BY TIM SEELEY AND DAN JURGENS
INFINITE FRONTIER #0 SIGNED BY DAN JURGENS
GENERATIONS: FORGED #1 SIGNED BY DAN JURGENS PLUS 1
BATMAN BEYOND #50 SIGNED BY DAN JURGENS
NIGHTWING #71 ALAN QUAH VARIANT SIGNED BY DAN JURGENS
DETECTIVE COMICS #1000 DYNAMIC FORCES EXCLUSIVE WRAPAROUND ART VARIANT COVER BY DAN JURGENS AND KEVIN NOWLAN CGC GRADED
---
NEW! 1. 10/21/2021 - JOE BENITEZ
3. 10/14/2021 - MATTHEW ROSENBERG
5. 10/07/2021 - CULLEN BUNN & HEATH AMODIO