CULLEN BUNN

SEND THIS TO A FRIEND!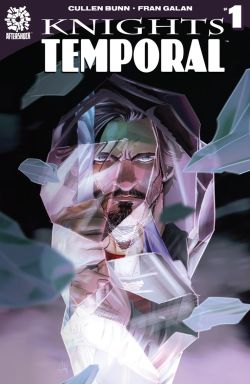 DF Interview: Cullen Bunn brings a shell-shocked Crusader to 2019 in 'Knights Temporal'
By Byron Brewer
When Auguste de Riviere returned from the Crusades, he was ashamed and horrified by the things he had done. Hoping to reclaim his soul, he pledges to root out evil wherever it might be found. But when he pursued a vile sorcerer into a forbidden forest, his life was shattered. Auguste ventured into the dark forest, but emerged in the modern world. Accompanied now by the enigmatic Jane Fool, Auguste hunts a madman while trying to piece together the mystery of his very existence.
From AfterShock Comics comes Knights Temporal, by writer Cullen Bunn and artist Fran Galan. To get to the heart of this time travel tale, DF sat down with scribe Cullen Bunn.
Dynamic Forces: Cullen, there's an interesting mix of the Crusades, Arthur and The Time Machine in Knights Temporal. Tell readers the genesis of the book please.
Cullen Bunn: I'm not sure I have any idea where this book came from. A strange fever dream, maybe? I wanted to do an action adventure book with weird cosmic mind-twist elements. It's a book that seems on the surface like it is a time travel story, but that's actually not right at all. Without giving too much away, this is the story of a medieval knight who ends up cast through time. In various time periods, he pursues a vile necromancer. But there's a little more to it than that. There are bizarre twists of fate that turn this book into something… very different.
DF: Describe the man who is Auguste de Riviere as we first meet him, post-Crusades but before his visit to the forbidden haunted forest. Knights are always held up for being noble and true, but you don't usually read about any who actually was haunted by regret for the duties and death they were responsible for in war. Who is Auguste?
Cullen Bunn: Auguste is inspired by legends of Robert the Devil, a knight who returned from the Crusades with overwhelming guilt. Trying to figure out why he committed such terrible acts during the Crusades, he visited his mother for answers. The answer he received was that he was indeed the son of the Devil. Robert then dedicated his life to kindness and good deeds in order to make amends for the things he had done. While Auguste is not the son of the Devil, he is haunted by his actions, and he wants to make things right. His quest, of course, leads him to a very strange place in the service of very strange forces. Auguste has some interesting "powers" as well, but you'll quickly find that every power comes with a cost.
DF: Staying with the last question, and recalling my era of growing up was the 1960s and '70s, there is a lot of reflection in how you describe Auguste that reminds me of many returning Vietnam War soldiers. And if they did NOT remember, there were several thousand young people who were here and glad to remind them. Is our warrior's undertone of regret a major part of this adventure, and might it find reflection as he time-travels?
Cullen Bunn: Absolutely. Auguste is searching for something he may never find—redemption. The possibility that he will not find peace haunts him as much as any horrible beast he faces. That possibility takes on a very real shape in the third issue of this series.
DF: Anything you can clue us into about this enigmatic companion of our knight, Jane Fool?
Cullen Bunn: Jane is also based on medieval legends—a brightly clothed female jester. Of course, that's where it ends with Jane. She's wild and free and strange, and she serves masters who are more floating geometric shapes than flesh and blood. Jane understands more of the weird mission than she dares to let on, and she plays a very important role in Auguste's life.
DF: What can you tell us about the sorcerer Auguste is pursuing?
Cullen Bunn: Like Auguste, the necromancer is lost in time. He also serves a supernatural force that is difficult to understand. It's more than just "a dark master." He is accompanied by fiendish Homunculi that serve his every whim, and he has a very sinister agenda.
DF: I think it is clear that our protagonist not only appears in modern times, but in MANY times. Can you tell us what some of those eras might be over the course of the story, and did you or artist Fran Galan do any research on these periods?
Cullen Bunn: There are so many times and places. I'm pretty sure one of the recent scripts I sent to Fran had a dozen different times mentioned. The Dark Ages, of course. Modern times. The Roaring 20s. The Age Of Piracy. The Old West. The Far Future. There are so many possibilities, really. As always, I try to do enough research to make the settings feel authentic, but the most important thing is pulpy fun.
DF: Speaking of Fran, talk about your collaboration and what the artist brings to this book.
Cullen Bunn: Fran was one of several artists recommended by AfterShock when I brought this concept to them. As I looked through all the samples, his work immediately struck me as something that could set Knights Temporal apart visually. I loved the idea that he would not only make the book look amazing, but he would also make it look unlike anything else on the shelves! Fran's awesome to work with. He sends me questions all the time, showing that he's really thinking in a meaningful way about every artistic choice he makes.
DF: Cullen, what else is heating up in the Bunn broiler for eagerly-awaiting fans?
Cullen Bunn: Well, specifically on the AfterShock front, I have another new book that has just been announced! Dark Ark: After the Flood is a new series that follows my recently completed Dark Ark. It's the story of the SECOND Biblical Ark, the one that housed all the most terrible monsters. The first series is in trade, if you haven't read it, and the new series starts in October, I believe.
I have two other creator-owned books coming in July, too. Unearth from Image and Manor Black from Dark Horse. Along with Knights Temporal, those books should make for an interesting summer!
Dynamic Forces would like to thank Cullen Bunn for taking time out of his busy schedule to answer our questions. Knights Temporal #1 from AfterShock Comics hits stores on July 31st!
For more news and up-to-date announcements, join us here at Dynamic Forces, www.dynamicforces.com/htmlfiles/, "LIKE" us on Facebook, www.facebook.com/dynamicforcesinc, and follow us on Twitter, www.twitter.com/dynamicforces.
VAMPIRELLA VS. REANIMATOR #1 ATLAS EDITION - SIGNED BY CULLEN BUNN
DEADPOOL: SPECIAL MISSIONS #1 SIGNED BY CULLEN BUNN
VENOMVERSE #1 ULTRA-LIMITED SYMBIOTE SILVER EDITION - SIGNED BY CULLEN BUNN
X-MEN: BLUE #1 SKOTTIE YOUNG VARIANT ULTRA-LIMITED BLUE SIGNATURE SERIES SIGNED BY CULLEN BUNN
X-MEN: BLUE #1 ULTRA-LIMITED BLUE SIGNATURE SERIES SIGNED BY CULLEN BUNN
---
NEW! 1. 11/30/2020 - SKYLAR PATRIDGE
5. 11/16/2020 - RYAN O'SULLIVAN