BRIAN WOOD

SEND THIS TO A FRIEND!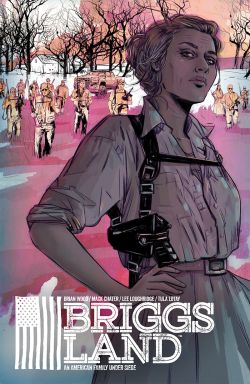 DF Interview
: Brian Wood's Briggs Land comic in development at AMC as TV series
By Byron Brewer
Dark Horse and Brian Wood are set to launch a new comic book series this summer titled Briggs Land. The creator/writer is also developing the book to become a television series at AMC.
The series tells the story of Briggs Land, nearly a hundred square miles of rural wilderness that harbors the largest and most secretive anti-government secessionist movement in the United States. When matriarch Grace Briggs wrests control of the operation from her incarcerated husband, she sparks a war within the community—and her immediate family—that threatens to bring the full power of the federal government down on their heads.
So now, DF talks comics and television (two of our favorite pastimes) with author Brian Wood.
Dynamic Forces: Brian, I cannot guess how you must be feeling. You will be launching a new comic book with Dark Horse in August, but before that comic ever hits stores it is already in development at AMC, the TV network of Walking Dead and Preacher. So how DO you feel? (laughs)
Brian Wood: I feel good! This is honestly great; it feels like the start of a new career. Maybe it is the start of a new career… certainly a new aspect of it. I'm quickly coming up on my 20-year anniversary of making comics professionally, and after so many scripts and so many weekly deadlines it's easy to start to feel a little tired, a little burned out. This is a spark of excitement, the chance to use some different muscles. The chance to stay curious and engaged and learn something new.
I do like to specify that it was a show before it was a comic, just so people understand how unusual this is. I had written the comic book pitch, but showed it to my guy at AMC first. They bought it, even before I showed it to Dark Horse, or thought about an artist, or anything like that. So in a very real way I am telling the story in two different ways for two different mediums, simultaneously. So you ask me how I feel, and I do feel great. I also feel slightly mentally unhinged.
DF: Let's talk comics first: Tell us the story behind the series Briggs Land. How did you create it, what inspired it?
Brian Wood: I had this folder of research that I had been building from the rejects of my DMZ and Rebels research, and after a while I started to eyeball it thinking there was probably a story to be found in there somewhere. Rebels was about a 1776-era American militia, and Briggs Land is about a 2016-era militia. These are two very different things, one being associated with honor and freedom, the other with nativism and guns and illegality. I was fascinated at how we went from one to the other, how our culture has changed.
DF: Right from the political headlines! … As if I had to ask: what is the storyline?
Brian Wood: We jump right into the instigating scene, where Grace Briggs, on a routine visit to see her husband and Briggs family patriarch in prison, announces she is taking control of the family enterprise. That being the ownership and control of the physical Briggs Land real estate, as well as the crime syndicate operating out of it. The reasons for this are all in the first issue, but suffice to say this declaration of Grace's independence has a ripple effect across the community, and in the eyes of her three male sons, each of which could lay claim to the title of "head of family". Grace has to deal with that.
I call it a rural DMZ, or a Sopranos set on a militia compound. The blend of family drama with a socio-political epic. A bit of crime drama in there too.
DF: Tell us more about Grace.
Brian Wood: She's an American mother balancing the needs of her family against her own needs, and trying to chart a moral path forward and ensure happiness and stability. In that, she is immensely relatable to anyone who picks up this book. But she wears a shoulder holster under her barn coat, and runs the largest anti-government community in American history. Suffice to say, there will be conflicts.
DF: Brian, you have never shied away from bringing socially conscious and politically charged themes to the comic book page. Briggs Land certainly has that edge. How will this present itself going forward?
Brian Wood: Probably the same way I always do, finding that sweet spot between the bad kind of "ripped from the headlines" and making these stories feel real and relevant. You use current events as a launch pad, not as a story outline. I think readers can tell the difference right away when it's just lazy writing.
DF: What does artist Mack Chater bring to the table you are setting in the comics series?
Brian Wood: A gritty realism. He helps cement the title as a crime drama, something that I don't have a ton of experience with. He made these characters feel real, he gives them weight and gravitas.
DF: Let's talk TV: What do you know about the AMC deal, and will Brian Wood be working on that series in some form? If so, what? How much control (if that is the term) will you have over your creation?
Brian Wood: I know everything about the deal! Remember, the TV thing came first, so there is no case of a comic creator's rights being hijacked, or executives excluding me from crucial talks. The deal is between me and AMC, and I'm the creator of the show, I'm writing the pilot, and I'm an executive producer. Assuming all goes well and we start filming the series, I'll be on set. I'll be in the writer's room.
That said, I'm not a showrunner, and there will be a showrunner at some point soon, and there are other producers in the mix, so it's not like I'm the king of the whole thing. But I'm as involved as I think it's possible for me to be involved.
DF: Fans of both iterations of Walking Dead know how different the TV series is from the comic; it's usually almost a given. Can you tell us what the gap would be between Briggs Land, comic and TV?
Brian Wood: At this early point, it's hard to define that exactly, but yeah, there will be differences. The two mediums are fundamentally different, and what works on paper doesn't work on screen, and vice versa. Part of the creative challenge, and the fun, of this for me is figuring all that out.
DF: As a writer, does one medium have any advantages over the other? Disadvantages?
Brian Wood: Comics moves much faster than TV does, and there's less people in the mix giving me notes. TV is slower, but that added time allows you to think more, refine more, and get more input to make it better. Comics has no special effects budget, as creators like to say, but there are also real restrictions in the 22-page comic format in terms of time, physical space, and the fact it's static. I could keep going back and forth. Right now I'm just enjoying the experience and what it's teaching me as a writer.
Dynamic Forces would like to thank Brian Wood for taking time out of his busy schedule to answer our questions. Briggs Land #1 from Dark Horse Comics hits stores Aug. 17th!
For more news and up-to-date announcements, join us here at Dynamic Forces, www.dynamicforces.com/htmlfiles/, "LIKE" us on Facebook, www.facebook.com/dynamicforcesinc, and follow us on Twitter, www.twitter.com/dynamicforces
X-MEN #1 DEADPOOL VARIANT SILVER SIGNATURE SERIES SIGNED BY BRIAN WOOD!
X-MEN #1 DF EXCLUSIVE GOLD SIGNATURE SERIES SIGNED BY BRIAN WOOD!
X-MEN #1 DF EXCLUSIVE SILVER SIGNATURE SERIES SIGNED BY BRIAN WOOD!
X-MEN #1 DF EXCLUSIVE SIGNED BY BRIAN WOOD!
---
NEW! 1. 11/25/2020 - STEVE SKROCE
4. 11/16/2020 - RYAN O'SULLIVAN
5. 11/16/2020 - RYAN O'SULLIVAN