MICHAEL USLAN

SEND THIS TO A FRIEND!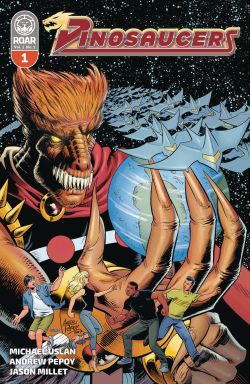 DF Interview: Michael Uslan brings a threat from the far side of the sun in Dinosaucers
By Byron Brewer
Reptilon has just found its sister planet – Earth – complete with water, fauna and a billion pieces of MEAT.
The Voyager has been peacefully traveling through space for years when, unexpectedly, it's attacked by an alien, laser-shooting space shuttle. The attackers?
Fully evolved, advanced humanoid dinosaurs who've destroyed their home planet and are now on the hunt to commandeer a new one to expand their empire.
From Lion Forge comes Dinosaucers, created and written by Michael Uslan with art by Andrew Pepoy. To discover the secret behind the resurgence of this animated '80s fave, DF sought out one of the folks who knows Batman best: Michael Uslan.
Dynamic Forces: Dinosaucers was a late 1980s animated series that, sadly, lasted only one season, but which was created by you, Michael. How comes the series now to Lion Forge's ROAR brand? Can you give us the 411 on the series' revival as a comic?
Michael Uslan: I created Dinosaucers in the mid-1980s in order to tell my son, David, bedtime stories that would combine the two subjects that absolutely fascinated him since he was a toddler: dinosaurs and outer space. I realized that the same was true for me and seemingly for every boy no matter what generation he grew up in. So one morning while shaving, I kept thinking, "How can I combine dinosaurs and outer space?" I hit on the title… "Dino – saucers." I just did not know what it meant. So from there I created a backstory beginning with the planet Reptilon as an identical planet to Earth exactly 93,000,000 miles from the sun, only Reptilon is exactly 93,000,000 miles from the sun on the other side of our star and we rotate at the same times so that we have never seen Reptilon and they have never seen Earth. Till now. On Reptilon, an asteroid never struck the planet and so the dinosaurs have continue to evolve over another 66 million years until today they are walking, talking creatures who have conquered space travel. Unfortunately, they have also been destroying their planet at the same time due to global warming and climate change. They are just about out of water, the population is dying off, they are almost out of food, their atmosphere is becoming more and more poisoned, so they turn their attention to the natural resources of Earth which they find include billions of pieces of fresh meat. That's our old friends, the evil Tyrannos, led by Rex, a tyrannosaurus or tyrant king of the first order! The good dinosaurs are the Dinosaucers, led by Allo. For this revival, I have aged up the characters, tone and stories. The objective here has been to place it more into the Transformers tone and use it as the basis for a potential live action feature film that would feel something like G.I. Joe versus Jurassic Park.
DF: Before we get on with the book proper, can you tell us a little about the universe you world-built here?
Michael Uslan: On Earth, the times now reflect changes in our polarized views toward government, which has become increasingly one of suspicion. That kind of makes the "authorities" or "officials" something akin to the guys who were after ET in that movie… or after Matthew Broderick in War Games, two movies that I still think hold up brilliantly to this day.
Reptilon is a mess! It is a crumbling, once-magnificent kingdom that is 66 million years ahead of us in terms of evolution and technology. Unfortunately, they did not learn the lessons that we are just beginning to learn now on Earth about climate change and global warming. As a result, they are managing to destroy their own world and have realized it too late. It appears that their only option is to take to their spaceships once they discover the existence of Earth and invade us for our natural resources as well as for slave labor they need to replace their own dying population.
DF: Introduce your primary protagonists to us in Dinosaucers (love that name!).
Michael Uslan: Every Dinosaucer and Tyranno from the old cartoon series is present! We are following all the great discoveries about dinosaurs that have been made since the mid-1980s and are making all changes to reflect the new science in paleontology. Therefore, our dinosaurs will now have feathers and be colorful, many will use their tails as body leverage rather than dragging them, we are adding previously unknown dinosaurs to the story mix, such as deinonychus, ultrasaurus, supersaurus, gigantasaurus and more! The original secret scouts are still involved, although they are now several years older and are either in college or have joined the workforce. In addition, the secret scouts have expanded on an international basis, the most prominent new member being from Beijing, China. It is China where the majority of all the latest dinosaur discoveries have emerged.
DF: Is there a big-bad(s) such series usually have to confound and perplex our heroes? If so, tell us about him/her/them please.
Michael Uslan: The villains here include a very murky, dark, authoritarian government force. Also, of course, we have the evil Tyrannos who are out to take over Earth. It involves a global invasion that can't simply be stopped by the military of each country. It requires technology, stealth, brains, strategy and a willingness on the part of our Secret Scouts organization (think Greenpeace) to partner with the good Dinosaucers even though they look different than us and look threatening to us. There's an important lesson to be learned here.
DF: What is the main storyline as Dinosaucers #1 begins?
Michael Uslan: Our good old satellite Voyager, first launched in the days of Jimmy Carter and carrying with it a recording all about Earth, is seized in outer space by a tiny Renno spaceship. When it discovers there is a sister planet that still has water and food and is inferior in terms of technology and evolution, they target Earth for a massive invasion. That is where our story begins. Paul, an original member of the Secret Scouts, happens to be on his first day on his first job, which is manning an important computer at NASA when all hell breaks loose!
DF: How does it feel to be playing in this great sandbox you created again?
Michael Uslan: I love every second of it! I really enjoy my creative partnership with Andrew Pepoy, who is doing a brilliant job helping me re-design so many characters and bring the murky, steamy, dying kingdom of Reptilon to life. Wait till you see how many characters, spaceships, space suits, weapons, military jets, hardware and soldiers this poor man must draw! Sometimes I think he is Jack Kirby reincarnated. The coloring is awesome by Jason Millett and the good folks at Lion Forge have been wonderful creatively to work with.
DF: As well as a comics guy, you're known for your broad film connections (Batman, anyone?). Any plans for media beyond comic books for Dinosaucers?
Michael Uslan: Yes! Our intention is hopefully for this to lead us to a live-action feature film in the tone of Transformers. In addition, we are hoping for the release of the original 65 half hours of the animated TV series on home video and streaming, as well as the possibility of new episodes. There are a couple of dozen websites out there devoted to Dinosaucers. It warms my heart to see how many people were impacted by this show and how it was an important part of their childhoods! I would love to give them all an opportunity now to share Dinosaucers with their children and grandchildren. I've also learned from all the dozens of websites devoted to Dinosaucers that perhaps the most popular character of all was our female Dinosaucer, Teryx, based on an archaeopteryx, which for so long was the missing link between dinosaurs and today's birds.
DF: Michael, tell us what you might be working on, either inside or outside comics, at present.
Michael Uslan: Look for Teen Titans GO! To the Movies! in theaters on July 27. The good folks at Warner Animation have done a brilliant job and it is written on two levels, a la The Lego Movie so adults and especially fanboys can appreciate it on a completely different level than kids can. It is loaded with very funny stuff and some huge surprises! And importantly, remember that next year is not only the 80th anniversary of Batman, but it is also the 30th anniversary of our very first Batman film, which changed the world in which we live!
Dynamic Forces would like to thank Michael Uslan for taking time out of his busy schedule to answer our questions. Dinosaucers #1 from Lion Forge hits stores Aug. 8th!
For more news and up-to-date announcements, join us here at Dynamic Forces, www.dynamicforces.com/htmlfiles/, "LIKE" us on Facebook, www.facebook.com/dynamicforcesinc, and follow us on Twitter, www.twitter.com/dynamicforces.
THE LONE RANGER/GREEN HORNET: CHAMPIONS OF JUSTICE PAPERBACK
THE LONE RANGER / GREEN HORNET #1 (OF 6) RARE JOHN CASSADAY "VIRGIN ART" EDITION
THE SHADOW/GREEN HORNET: DARK NIGHTS #1 (OF 5)
JUSTICE, INC. VOL. 1 TRADE PAPERBACK
THE SHADOW/GREEN HORNET: DARK NIGHTS VOL. 1 TPB
---
NEW! 1. 11/25/2020 - STEVE SKROCE
4. 11/16/2020 - RYAN O'SULLIVAN
5. 11/16/2020 - RYAN O'SULLIVAN