DAVID HEDGECOCK

SEND THIS TO A FRIEND!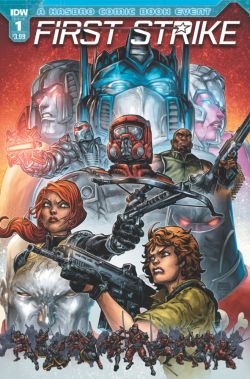 DF Interview: IDW EiC David Hedgecock tells of warfare looming in Hasbro universe with 'First Strike' event
By Byron Brewer
A new era of peace is dawning as Earth formally joins the Cybertronian Council of Worlds. That is… until Baron Ironblood joins Destro, Storm Shadow and other nefarious villains in a terrorist attack on Iacon! As chaos takes hold on Cybertron, it will be left to Scarlett and the rest of G.I. Joe on Earth to discover the true purpose behind the attack before both worlds descend into all-out war!
In August, IDW Publishing's shared universe of Hasbro properties is rent asunder in "First Strike"! To learn more, DF went to the Editor in Chief of IDW himself, overseer of the coming event: David Hedgecock.
Dynamic Forces: David, in 2016 following IDW Publishing's "Revolution" event, all of the publisher's Hasbro properties were united in one shared universe. Is "First Strike" the crossover that tears that universe apart?
David Hedgecock: First Strike is the event that marks the beginning of some very significant developments in the Hasbro shared universe. Definitely. Going into this event, we're making a concerted effort to ensure our books are accessible, fun and new-reader-friendly. Coming out of the event, there will be even more reasons for fans to come on board and get in on what promises to be a non-stop thrill ride through the rest of 2017 and beyond.
DF: It is so hard to have peace in any comic book universe, but the IDW/Hasbro Earth was on the verge of joining the Cybertronian Council of Worlds … not unlike the Earth of the Star Trek universe when it was initiated into the United Federation of Planets, to my mind. What goes wrong here?
David Hedgecock: The Transformers are members of a massively powerful ancient alien race that have been warring amongst themselves for millions of years. As the Transformers have spread out across the stars, that war has spread with them. No matter where the Transformers go, they bring death and destruction. The "peace" that the Transformers currently enjoy is but a breath in the grand scheme.
There are people on Earth who understand this. People who feel that Optimus Prime, by initiating Earth into the Council, has done nothing but paint a big red target on the planet and that our destruction is a foregone conclusion if something isn't done. First Strike is about one man's mission to save his planet from what he feels is the greatest threat to humanity in its entire history, and his solution to save all of humankind... is to destroy all Transformers.
®
DF: Before we discuss the heroes, who are the principal big-bad(s) involved here? It would take a powerful foe to cause this amount of turbulence among the powers of this created cosmos.
David Hedgecock: Like any good comic book, the "villains" don't necessarily think of themselves that way. That said, there are some "classic" characters from the legions of Cobra, M.A.S.K., and the Micronauts that will have their hands in this insurgency, but their leader may surprise you!
®
DF: I recall reading somewhere, and probably thinking it myself, that First Strike will be like your childhood toy box exploding (and mine often looked the part, lol) onto the comic book page. We have the G.I. Joes, the Transformers, M.A.S.K. teams and probably others. Can you clue us in as to how our heroes will line up, and who is against who?
David Hedgecock: When it comes to the destruction of an entire species of aliens (the Transformers), there are plenty of heroes that are going to be willing to step up to the plate and try to save the day. Chief among them, though, is Scarlett, the leader of G.I. Joe. For reasons that will be revealed in the story itself, Scarlett has a very personal, vested interest in this cataclysmic event. I don't want to say more for fear of giving some of the fun (and "feels") away!
DF: First Strike obviously presents a definite danger to the Transformers, but do I hear correctly that the G.I, Joes and the Autobots will be allied with … the Decepticons??!
David Hedgecock: The IDW Transformers universe has been moving away from the Autobots vs. Decepticons brand of storytelling for years now. In the current stories, Soundwave is one of Optimus Prime's most important allies, Starscream is the (somewhat benevolent) ruler of Cybertron and Megatron is off in deep space searching for a "holy grail" of sorts with all form of Autobot and Decepticon alike. I think this makes for a much richer storytelling experience. Again, the concept of a "villain" being bad just to be bad is a slightly outdated mode of storytelling. I think fans of comic books these days want more complex, rich characters in their comic books and we aim to please!
®
DF: David, there certainly seems enough action for two or three "events" in First Strike, but what can you tell us about the personal side of all of this? Who are the real POV characters here and what is/will become their motivations? What will give First Strike its heart?
David Hedgecock: Scarlett is really going to be the "heart" of this story. In the midst of all the chaos and destruction that will ensue, it's Scarlett's personal battle that may determine the true outcome and fate of two planets. I'm so amazed by what Mairghread Scott and David Rodriguez have been able to accomplish in this regard. These two writers have put together an event book worthy of the name, with all the explosions, destruction, and cyborg ninjas one would expect while still delivering a really compelling, heartfelt character piece with resonance and meaning. I'm in awe of both of them, truly!
®
DF: As August and this epic crossover approaches, is it possible to give readers new and established a road map of sorts as to where it starts and where it will go, title-wise?
David Hedgecock: August will see the "Season Finale" of several of our titles— G.I. Joe, M.A.S.K., Micronauts: Wrath of Karza, and Rom. These books are all coming to their natural conclusions and making way for the big First Strike event. We had several reasons for this but chief among them were two things— 1. All the stories were coming to their natural end for the "Season" and we needed to clear the decks for brand new material coming out of the event. 2. We didn't want to ask our fans to buy more than what they were already comfortable with buying. With the event and its surrounding one-shots, we felt we had enough books in the market and didn't want to ask our fans to buy MORE than what they might normally buy to be able to enjoy the "big" story we've created.
®
DF: David, as awesome as First Strike will be, I'd like to offer the opportunity here to tell us what else is coming to IDW?
David Hedgecock: Oh, man! Thanks for asking! Outside of First Strike, we've got an amazing 5-week event in August—"Teenage Mutant Ninja Turtles: Dimension X," which sets up a HUGE storyline running through issue #75. We've also got a little property called Star Wars Adventures coming in September that a few people might be interested in. I hope you check them all out!
Dynamic Forces would like to thank David Hedgecock for taking time out of his busy schedule to answer our questions. The First Strike event hits IDW's shared Hasbro universe in August!
For more news and up-to-date announcements, join us here at Dynamic Forces, www.dynamicforces.com/htmlfiles/, "LIKE" us on Facebook, www.facebook.com/dynamicforcesinc, and follow us on Twitter, www.twitter.com/dynamicforces.
IDW'S REVOLUTION #1 SIGNED AND REMARKED BY KEN HAESER WITH A GI JOE SKETCH
IDW'S REVOLUTION #1 SIGNED AND REMARKED BY KEN HAESER WITH A TRANSFORMERS SKETCH
IDW'S REVOLUTION #1 SIGNED BY CULLEN BUNN
TRANSFORMERS VS GI JOE #1 BLANK VARIANT EDITION SIGNED & REMARKED BY KEN HAESER WITH A WRAPAROUND HAND-DRAWN GRIMLOCK SKETCH!
TRANSFORMERS VS GI JOE #1 BLANK VARIANT EDITION SIGNED & REMARKED BY KEN HAESER WITH A HAND-DRAWN OPTIMUS PRIME SKETCH!
TRANSFORMERS VS GI JOE #1 BLANK VARIANT EDITION SIGNED & REMARKED BY KEN HAESER WITH A HAND-DRAWN SNAKE EYES SKETCH!
GI JOE #1 (2013) FIRST PRINTING SIGNED BY FRED VAN LENTE!
---
NEW! 1. 11/23/2020 - CHUCK BROWN
3. 11/16/2020 - RYAN O'SULLIVAN
4. 11/16/2020 - RYAN O'SULLIVAN