CHRISTOS GAGE

SEND THIS TO A FRIEND!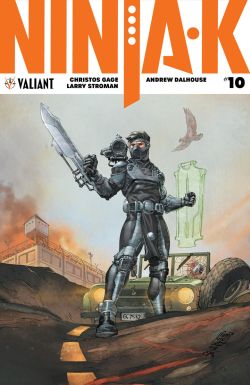 DF Interview: Christos Gage tells of the rise and fall of MI6's one-man strike force in Ninja-K
By Byron Brewer
From the encrypted files of The Ninja Programme, another secret chapter revealed! The Cold War is in full swing and the United Kingdom's top-secret intelligence unit has come to a crossroads. As their once-elite collection of secret agents finds itself outmatched by the escalation of the United States' H.A.R.D. Corps division, the spymasters of MI6 are about to develop a new kind of soldier for their never-ending war of global gamesmanship and international intrigue. Part man, part machine, and bound together with the most extreme technological enhancements that the 1980s has to offer, NINJA-H is faster, stronger and deadlier than any who have come before.
Now, in Valiant's Ninja-K, for the first time, the metal-crunching saga of MI6's one-man, super-powered strike force -- and his tragic fall from grace -- can finally be told as writer Christos Gage (Netflix's Daredevil) teams with comics legend Larry Stroman (X-Factor) to declassify the next standalone shadow-laden chapter in the history of Ninjak's fellow Ninja Programme agents!
Wanna know more? Us too! Scribe Christos Gage lays it out for DF below.
Dynamic Forces: Christos, how has it been working with the concept behind one of Valiant's most popular characters, Ninjak? In doing these secret chapters from MI-6's Ninja Programme, you've been revving up the Bond-like super-spy aspect in spades! Is that a genre of adventure you enjoy?
Christos Gage: It is. I loved series like Master of Kung Fu and Nick Fury, Agent of S.H.I.E.L.D. – as well as the Bond movies, of course – and this has really been my first chance to play in that genre.
DF: What can you tell us -- in a non-spoilery manner, of course – about Ninja-H?
Christos Gage: It occurred to me that in a world including psiots and H.A.R.D. Corps, at some point there would have been an experiment with trying to give a Ninja agent superhuman abilities. That was Ninja-H. Turns out there were unforeseen problems.
DF: With Ninja-K (as well as other works), you have always had a great feel for the time and backgrounds you have been presenting. For part of issue #10, we are back in Margaret Thatcher's Britain of the 1980s with the spy game changing rapidly and the Cold War peaking. What type of research do you do – and to what extent, if any – on such things in your stories regarding period pieces?
Christos Gage: The bulk of the issue takes place in the present, but we do flash back to the '80s. Unfortunately, I'm old enough to remember that far back! I did research certain wars and conflicts going on at the time and tried to provide [artist] Larry [Stroman] with links to appropriate reference whenever it was needed so he can focus on just delivering his awesome art.
DF: Taking a cue from the previous question, how would you describe the situation in MI6 at the time of this adventure and its global spying efforts? Likewise, the United States' H.A.R.D. Corps division?
Christos Gage: There was that feeling of the arms race with the Soviets – that we HAVE to stay ahead of them, or it's game over. With that mentality, you can justify a lot of unpleasant things. Likewise, there was competition between allies, like the U.S. and Britain. MI6 would be willing to go to great lengths to see if they could match the likes of America's H.A.R.D. Corps.
DF: Stepping a little aside from Ninja-K proper but knowing your expertise in writing both comic books and television (Daredevil on Netflix, anyone?), can you tell us the greatest differences from the scribe's point of view, please, for the aspiring?
Christos Gage: In TV and screenwriting, it's more dialogue-oriented. Talented actors can get a lot more across with a look or a gesture or body language than even the best artist can depict in two dimensions. On the flip side, I can't tell you how much of TV and screenwriting is about what you CAN'T do, either for reasons of budget or logistics. In comics, you can do ANYTHING!
DF: Christos, what other projects are you currently working on about which you can tell us?
Christos Gage: I've got the Buffy: The Reckoning miniseries and Batman: Sins of the Father coming out now, along with (for adults only) Crossed +100. And coming up, a couple of Incredibles miniseries, and the "Spider-Geddon" event!
Dynamic Forces would like to thank Christos Gage for taking time out of his busy schedule to answer our questions. Ninja-K #10 from Valiant Entertainment hits stores Aug. 15th!
For more news and up-to-date announcements, join us here at Dynamic Forces, www.dynamicforces.com/htmlfiles/, "LIKE" us on Facebook, www.facebook.com/dynamicforcesinc, and follow us on Twitter, www.twitter.com/dynamicforces.
RED SONJA VOLUME SIX HARDCOVER
RED SONJA: TRAVELS VOL. 2 TRADE PAPERBACK
---
NEW! 1. 11/25/2020 - STEVE SKROCE
4. 11/16/2020 - RYAN O'SULLIVAN
5. 11/16/2020 - RYAN O'SULLIVAN