LATOYA MORGAN

SEND THIS TO A FRIEND!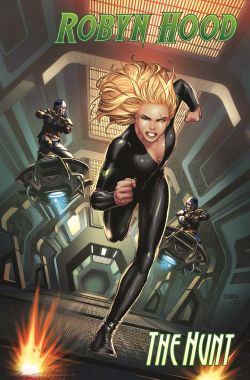 DF Interview: LaToya Morgan takes Robyn Hood into a hellhole of foes old and new
By Byron Brewer
Robyn has finally taken down the monsters and villains that have plagued New York for far too long. Now, with the streets safe again, Robyn unfortunately isn't going to get to enjoy them.
TV writer and producer LaToya Morgan (Turn: Washington's Spies, Into the Badlands, Shameless) will be handling writing duties for Zenescope Entertainment's newest Robyn Hood six issue miniseries entitled Robyn Hood: The Hunt with Salvatore Cuffari (Grimm Fairy Tales) providing artwork for the series.
For all your 411, DF spoke to LaToya Morgan.
Dynamic Forces: LaToya, tell us how you came on board this new iteration of Robyn Hood from Zenescope Entertainment.
LaToya Morgan: I was already a fan of the work Pat Shand had done on Robyn Hood. He was my editor when I wrote my first series for Zenescope, Goddess Inc. During our time working on that book, we realized we had a lot in common and enjoyed the same kind of storytelling. So when my publisher Ralph Tedesco told me Pat was leaving and asked me if I'd be interested in doing a miniseries for Robyn Hood, it was an easy decision to make. It was even easier knowing I had Pat's blessing to take the baton and run with it. Robyn Hood is a special series. I'm excited to be a part of it.
DF: What can readers expect to find when they pick up "The Hunt"? Can you give us an idea of the storyline please?
LaToya Morgan: I'm never one to give up too many spoilers but I think it's okay if I say that Robyn finds herself in a tough situation. She is tricked into a maximum security prison and comes face to face with some of the very dangerous enemies she locked up over the course of the series. They've got grudges to settle. There's a dark magical force behind the prison complex trying to exterminate her and she isn't sure who she can trust. It's a pretty juicy set-up for a very fun series.
DF: What is your take on Robyn Locksley? Is there some part of the protagonist that is reflective of her writer by chance?
LaToya Morgan: What I love most about Robyn is her toughness. She's a fighter at her core. She's smart and sarcastic too. I've been accused of that many times in my life. Robyn is the kind of heroine I think we need more of. She fights for what's right and isn't afraid to get a little dirty while doing it.
DF: Longtime Robyn fans will probably enjoy the knowledge that she will be meeting up (in a kind of novel way) with some of her old foes. Can you tell us about what characters we may be seeing from the past?
LaToya Morgan: She'll encounter Red Death, De Silva and several other monstrosities from her past along with a few new ones, including a mysterious character named Zoe who she isn't sure she can trust.
DF: Since you have worked in television as well as in comics, can you tell us the difference of writing for those two mediums … the process, how it is for you?
LaToya Morgan: I always start a script by thinking about what the best way into the story might be and how to communicate that visually. It's the same process I use for writing television and film scripts. The two mediums are closely related so my process works well for both. Aside from comic scripts being significantly shorter, the biggest difference is how involved I can be as the creator with how things lay out on the page. I've been lucky enough to work with some very collaborative artists. It's great to really talk to them about how to tell a compelling story in the most visually engaging way possible.
DF: LaToya, it must be gratifying to have been twice nominated for an NAACP Image Award and also be a part of both comics and television in an era when both are striving for more equal gender representation and diversity – in material, in creators. Any thoughts?
LaToya Morgan: The worlds of comics and television are making progress in showcasing the talents of women and people of color but there's still so much work to be done. There are simply not enough women and people of color getting opportunities to become creators and innovators. It makes me sad when I see things like Marvel canceling the runs of books like The Crew and World of Wakanda. We have to have diverse creators behind the titles, in the books, and we have to support those titles. Comics, with few exceptions, are still mostly male and white. The challenge is to make sure a broader spectrum of voices gets a seat at the table.
DF: What other projects present or future might you want to tell our readers about?
LaToya Morgan: First and foremost, readers should check out the Robyn Hood: The Hunt series! First issue comes out in August and I hope they stay on board all the way to the badass conclusion.
On the TV front, people can catch the fourth and final season of Turn: Washington's Spies this summer on AMC, airing on Saturdays at 9pm. It's been great working on that show for the past four years and we're wrapping up the series with a bang. Season 2 of Into the Badlands is on demand and all over the internet, so catch up on that if you haven't had a chance. We're deep into writing Season 3 right now and it's gonna be even more epic than the last.
Dynamic Forces would like to thank LaToya Morgan for taking time out of her busy schedule to answer our questions. Robyn Hood: The Hunt #1 from Zenescope Entertainment hits stores Aug. 2nd!
For more news and up-to-date announcements, join us here at Dynamic Forces, www.dynamicforces.com/htmlfiles/, "LIKE" us on Facebook, www.facebook.com/dynamicforcesinc, and follow us on Twitter, www.twitter.com/dynamicforces.
---
NEW! 1. 11/25/2020 - STEVE SKROCE
4. 11/16/2020 - RYAN O'SULLIVAN
5. 11/16/2020 - RYAN O'SULLIVAN