RYAN CADY

SEND THIS TO A FRIEND!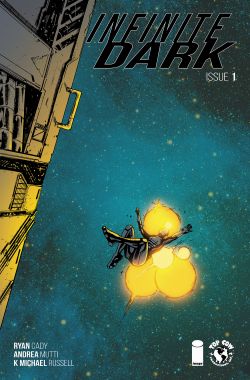 DF Interview: Ryan Cady brings horror, science fiction together in Infinite Dark
By Byron Brewer
The universe has ended, but humanity has survived. For years, the passengers and crew of the vessel Orpheus found the endless void between realities to be a surprisingly peaceful home. Then they found a body—bloodied, brutalized and surrounded by inscrutable runes. As Security Director Deva Karrell investigates the Orpheus' first murder, she'll come face to face with a horror from beyond the confines of time itself!
Infinite Dark, an all-new sinister science fiction series from Top Cow and Image Comics, is by the creative team of writer Ryan Cady, artist Andrea Mutti and color artist K. Michael Russell. DF wanted to explore deeper into the confines of the Orpheus, so we beamed aboard and sat down with Ship's Scribe Ryan Cady.
Dynamic Forces: Ryan, when I think about bringing horror and sci-fi together, my mind always flashes back to the films Alien and the rare better-than-original sequel Aliens. Before we talk your series proper, tell me about the balance of using both these genres at once as a comics writer.
Ryan Cady: Alien is always my signpost for sci-fi horror. It's easily one of my top 5 movies of all time and a masterful mix of the two genres, so ideally…I'm always aiming for Alien, haha.
For me, sci-fi horror is all about tapping into the semi-plausibility of sci-fi to power the frights. There's less comfort in a world populated with scientific horrors than supernatural ones. Ghosts can be comforting – they imply an afterlife. But the xenomorph? Entropy? Cosmic nothingness? That's just scary.
DF: What was the genesis of Infinite Dark? Is this something that has been brewing on the back burner for awhile?
Ryan Cady: I've kind of always wanted to tell a story about the Heat Death of the Universe – because it scares the bejesus out of me – and I'd tried working it into other pitches before. Infinite Dark actually came to me in my favorite way – I picked up a new album from a favorite artist, and while listening to it, the story just sort of started forming. I love receiving inspiration that way.
I had this half-formed idea from that eureka moment, and I just took a few days last year to dive in headfirst and map as much of it out as I could. By the time I approached Andrea about it…the pitch was coming to life.
DF: Describe the world you and Andrea Mutti are building in the series, if you would.
Ryan Cady: Sure! It's relatively easy, because there isn't much of one. The world, the universe, reality – it's all over. Everything dissolved into entropy and stopped existing, except for the Orpheus, a special space station that can project "pseudoreality" around itself and keep people alive. The Orpheus was designed to hold tens of thousands of people, in order to keep humanity around until another Big Bang, but because of rushed construction and poor timing, only about two thousand people made it on board. It feels, to some of its residents, like a big, empty ghost town.
I've taken some liberties with the science, obviously, but hey – it's comics. It all serves the story, I promise.
DF: Tell us about Security Director Deva Karrell and the crew (?) of the Orpheus.
Ryan Cady: Deva is…well, she's fundamentally a good person. A protector. But because of that, she's dealing with terrible survivor's guilt. It makes sense – you outlive an entire universe, you might be a little messed up – but because of that, Deva has a lot of friction with her fellow Directors, and is determined to preserve life at all costs.
The support cast is rounded out with Directors Lynn Tennant and Ike Chalos – a pragmatic, somewhat stuffy manager and a space hippie psychologist, respectively, and a nigh-omniscient AI with a British accent called "SM1TH." Mix in some well-meaning assistants like Deva's right-hand-man Sebastian, and a couple thousand anxious, depressed, existentially-distraught staff members, and you've got the Orpheus.
That and the murderer. And the reason he's murdering. Which is…a little bit of a spoiler.
DF: What can you tell us – no spoilers … well, if you want (laughs) – about the storyline of Infinite Dark?
Ryan Cady: I don't want to go into too much, because mystery is always tricky to craft and I want to keep some mystique alive until the first issue is in stores, but the straightforward beats are easy enough.
Two years into the Orpheus' voyage, there's a murder. This has never happened before. And the murderer's motives are…not normal. Deva and her crew are spread thin, and the things the murderer wants to show them will make them question just about everything they hold dear.
DF: Following is a question that should not have been asked: Any clue at all you can give us about the "horror from beyond the confines of time itself" [Top Cow promo]?
Ryan Cady: Hahahaha. See, this is why I didn't go too in-detail on the last question! I'll say this – there appears to be something outside the Orpheus, something out of the nothing, and what it is, when it shows up, what it has to do with the murder…
That'll become clearer as the story unfolds.
DF: What do Andrea and K. Michael Russell bring to this collaboration?
Ryan Cady: Everything. I put this pitch together with Andrea because we'd been wanting to work together for awhile – I'd seen his Prometheus pages for Dark Horse and knew I wanted to do something with a similar aesthetic. We chatted back and forth for awhile, talked about some ideas, and then I sent him Infinite Dark – I wrote it with him in mind, no question – and we just clicked on it. It was raring to go.
There were a couple of colorists I'd wanted to approach – K Michael very much being one of them – and like fate, one day I was at Top Cow meeting with the team, and they'd had some email exchange with him, saying he was open and ready for a new series…I emailed him right away. He's really brought the whole thing together. Brilliant aesthetic sensibilities.
DF: Ryan, what else is happening in the way of projects for you?
Ryan Cady: Well, I'm working on two other creator-owned things right now, one of which I think will be announced in the next few months. Both are actually not traditional single issue monthly books, which is kind of interesting, but why I'm very grateful and excited to have Infinite Dark.
And I just completed my first for-hire work for the Big Two companies…which should have been announced by the time this interview is live? I don't want to jinx it!
Thanks so much, man. I really appreciate talking to you about the series!
Dynamic Forces would like to thank Ryan Cady for taking time out of his busy schedule to answer our questions. Infinite Dark #1 from Top Cow and Image Comics hits stores in October!
For more news and up-to-date announcements, join us here at Dynamic Forces, www.dynamicforces.com/htmlfiles/, "LIKE" us on Facebook, www.facebook.com/dynamicforcesinc, and follow us on Twitter, www.twitter.com/dynamicforces.
---
NEW! 1. 11/25/2020 - STEVE SKROCE
4. 11/16/2020 - RYAN O'SULLIVAN
5. 11/16/2020 - RYAN O'SULLIVAN