JASON HOWARD

SEND THIS TO A FRIEND!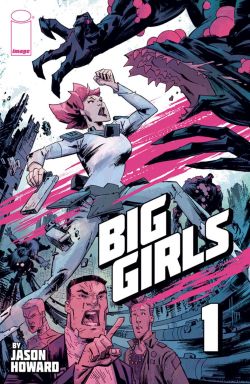 DF Interview: Jason Howard hands the fate of the world to 'Big Girls'
By Byron Brewer
When men become giant monsters hellbent on destroying the world, only girls can stop them—Big Girls! Meet Ember—she writes poetry, loves to read, and she's a 300-foot-tall full-time monster killer. She and the other Big Girls are all that stand in the way of our world's complete annihilation!
Critically-acclaimed artist Jason Howard (Trees) takes full creative control as the writer and artist of Big Girls, a forthcoming action series from Image Comics. DF took our biggest shovel and dug up the full 411, all for you.
Dynamic Forces: Jason, what can you tell us about the genesis of this new series that is being touted as Pacific Rim meets Paper Girls? Is it something that has been with you awhile?
Jason Howard: It has been with me awhile! The other day I realized one of my early writing documents for Big Girls was from 2015! The idea started from two places. On the drawing side, I keep a sketchbook where I explore ideas or just sketch the kind of things that maybe I'm not getting to draw in whatever book I'm working on. At the time, I think I was drawing Trees which is a more visually grounded series, so my sketchbook was leaning more fantastical. I did a couple of drawings of giant soldier women fighting monsters and it inspired the name "Big Girls". As I began to imagine the world surrounding them, I became excited by both the visuals and the story potential. The artist in me really likes the B-movie flavor mixed with gun battles and giant monsters. It gives me a chance for dynamic action, big scale destruction and even a little heart!
From a writing place, one of the things I wanted to explore is the idea of sides. How the 'side' someone takes on an issue is often affected by things outside their control. How maturing as a person might mean looking at the things we hold to be true and questioning why, developing the ability to see someone else's experience as valid even if it's different from our own. This all seemed to fit perfect with the story of Big Girls, where the main character Ember is a soldier and starts the story with a very clear 'side'.
DF: What brought the decision for you to take the writer's reins on this one?
Jason Howard: My biggest inspirations to make comics at all were the original Image founders. The idea of creating your own world and writing and drawing your own stories has always been the brass ring. So far in my career, I have been fortunate to have the opportunity to co-create books with talented writers and I expect I will one day work with other writers. But there is something special about being completely in charge of what appears on the page. The process of storytelling as a whole thing, not split into business segments. I'm very excited to have Big Girls finally coming out, and having that Image "I" on the cover makes it even better!
DF: Tell readers the overall storyline of Big Girls.
Jason Howard: In the recent past there was a Mistake, now a Megaorganisim is loose in the world and the small percentage of the population affected by it became giant! Men become monsters bent on destruction, and only the giant women can stop them. Our story focuses on the Preserve, a massive city protected by Big Girls. A city safe from the suffering of the rest of the world, but what is the cost of that safety?
DF: Introduce us to Ember. Who is she, what is she all about, and what challenges face her as Big Girls begins?
Jason Howard: Ember is one of the Big Girls who guards the Preserve. She is one of the newer Girls and is still learning what it takes and the hard decisions they have to make. At the start of the story, she has a purpose: she is protecting people and killing monsters. But she soon realizes that she doesn't fit, literally due to her size but also because of her past and the unique viewpoint that gives her. The story is really about Ember growing up and realizing there is a cost to standing up to power … but what if you are also in a power position over someone else?
DF: What other characters should readers be on the lookout for? Can you introduce a few of them here?
Jason Howard: Sure.
High Marshall Tannik is Ember's commander and is responsible for the safety of the city. He is a true believer and maybe he's right.
Martin Martinez is a single father whose life is affected by the Megaorganisim. In many ways, Martin is the opposite of Ember and their stories parallel each other.
Apex is the best of the Big Girls. She could probably protect the city on her own, and she lets everyone know it.
DF: Tell us more about the monsters!
Jason Howard: Men gone wild! The monsters are known as Jacks and their selfish greed has literally ruined the world. They are big bubbly muscle monsters and are a blast to draw.
DF: For you, is it an advantage or disadvantage to work as artist AND writer on the book? Do Artist-Jason and Writer-Jason ever have any disagreements during the creative process?
Jason Howard: It's the absolute BEST thing when it's working and the WORST when it's not. But overall I find it's a little easier to draw from my own scripts. I've already pre-imagined the scene as I wrote it and if I think a visual change improves it I just make the change, or re-write parts to work with my new ideas. The writing and art push and pull against each other more. I'm maybe too close to be able to judge the result but the process of MAKING IT is fluid and enjoyable.
DF: Jason, what other of your projects, in or out of comics, can you tell readers about?
Jason Howard: I'll always preach the Super Dinosaur animated series! We worked really hard on that show and I had a lot of fun being involved in the production. If you've got kids around ages 5-9 and are looking for a Saturday morning-style action show, check it out. Currently streaming on Amazon Prime.
In comics, I am writing more Big Girls and have a couple of other projects I've developed to write and draw. Hopefully enough people buy and dig Big Girls that I get to keep doing it!
Dynamic Forces would like to thank Jason Howard for taking time out of his busy schedule to answer our questions. Big Girls #1 from Image Comics is slated to hit stores on Aug. 12th. Keep watching DF News and comics-related social media for more information.
For more news and up-to-date announcements, join us here at Dynamic Forces, www.dynamicforces.com/htmlfiles/, "LIKE" us on Facebook, www.facebook.com/dynamicforcesinc, and follow us on Twitter, www.twitter.com/dynamicforces.
BLACKCROSS #1 (OF 6) RARE JASON HOWARD "VIRGIN ART" EDITION
BLACKCROSS #1 (OF 6) EXCLUSIVE SUBSCRIPTION VARIANT COVER
TREES #1 SIGNED BY JASON HOWARD!
---
NEW! 1. 11/23/2020 - CHUCK BROWN
3. 11/16/2020 - RYAN O'SULLIVAN
4. 11/16/2020 - RYAN O'SULLIVAN