CULLEN BUNN

SEND THIS TO A FRIEND!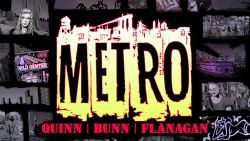 DF Interview: Cullen Bunn talks new OGN Metro and its road to Kickstarter
By Byron Brewer
At last year's San Diego Comic-Con, writers Brian Quinn and Cullen Bunn along with artist Walt Flanagan introduced their newest project, a dark, gritty and violent urban drama called Metro.
Now, in the month before SDCC again opens its doors to fanboys and fangirls, the trio has taken their graphic novel to Kickstarter.
DF talked with the ever-busy Cullen Bunn about the OGN and its Kickstarter details.
Dynamic Forces: Cullen, what can you tell readers about the graphic novel Metro that you, Brian Quinn and Walt Flanagan have up on Kickstarter? How did this book come together?
Cullen Bunn: Brian and I became friends a few years ago. Our friendship started through a mutual love of comic books (and, if I remember, Brian giving me trouble over the revamped version of Lobo). We talked comics and books and movies quite a bit after that. At some point, I asked Brian if he would be interested in collaborating on a comic. I knew from our many conversations that we had very similar interests in storytelling. We talked about a number of books that we might work on together, but when Brian mentioned Metro, a book he had been brainstorming for some time, I realized we had our project ready to go!
DF: On first glance, this seems to be a VERY dark urban saga. Can you give us the elevator pitch for the OGN?
Cullen Bunn: It is very dark! Metro is the story of Hunter Murphy. A few days ago, he was a junkie with a dark fate ahead of him. He overdosed and died. But not long after that, we woke up again. Now, he has no memory, but he is exhibiting a strange connection to the city around him. He also seems to be connected to a recent murder investigation. And he's drawn the attention of a particularly vicious group of conspiracy theorists called the Wide-Eyed Three. This first arc follows Hunter as he discovers the truth about his resurrection. It's not what anyone is expecting.
DF: Introduce us to Hunter Murphy, if you will.
Cullen Bunn: Hunter will actually be discovering a lot about himself along with the reader. When he wakes up in the morgue, he remembers nothing about himself. The only reason he knows his name is because of the toe tag on his foot. In fact, his enemies seem to know a lot more about him than he knows about himself.
DF: What more can you tell us about the Wide-Eyed Three? What connection do they have to the late Mr. Murphy?
Cullen Bunn: Charlie Bones, one of the members of the conspiracy theorist group known as the Wide-Eyed Three, was in the morgue when Hunter awakened. Seeing someone come back from the dead might startle some people, but not the members of the Wide-Eyed Three. You see, they have been peddling bizarre supernatural conspiracies for some time. No one takes them seriously. And it has driven them quite mad. Now, they see Hunter as the key to being taken seriously. And they will kill to be taken seriously.
DF: Talk about the art of Walt Flanagan. From what I have seen, it looks like he has created a very gritty atmosphere that almost seems to become a character in and of itself.
Cullen Bunn: Walt was the first artist Brian and I talked about for this project. And I think he is the perfect fit. With a book like this, the setting is a very important character. And Walt brings the setting to life. I am so proud to be working with him on this book!
DF: What can you tell us about any incentives for readers ordering Metro, how do they do it, and any timetables?
Cullen Bunn: We have many incentive levels for Metro. Whether a reader wants a digital edition of the book, a trade paperback, or a limited-edition hardcover, we have something for them! We have also achieved some of our stretch goals, so anyone who gets a physical copy of the book will be getting an autographed book plate and a set of prints. We have more stretch goals waiting to be unlocked! We also have some amazing add-on items available to our backers, including additional copies of the book or additional autographed book plates or (my favorite) a special edition Wide-Eyed Three Manifesto, which is a booklet of rantings and ravings from the conspiracy theorists!
Here is a link to the Kickstarter:
kickstarter.com/projects/230418948/metro-a-very-dark-urban-fantasy-graphic-novel
DF: Did you enjoy your collaboration with Brian and Walt? Seems like a great team!
Cullen Bunn: Absolutely! This project has been a blast! We're already working on the second story arc for the series!
Dynamic Forces would like to thank Cullen Bunn for taking time out of his busy schedule to answer our questions. Keep your eyes on DF NEWS for updates on Metro!
For more news and up-to-date announcements, join us here at Dynamic Forces, www.dynamicforces.com/htmlfiles/, "LIKE" us on Facebook, www.facebook.com/dynamicforcesinc, and follow us on Twitter, www.twitter.com/dynamicforces.
DEADPOOL: SPECIAL MISSIONS #1 SIGNED BY CULLEN BUNN
VENOMVERSE #1 ULTRA-LIMITED SYMBIOTE SILVER EDITION - SIGNED BY CULLEN BUNN
X-MEN: BLUE #1 SKOTTIE YOUNG VARIANT ULTRA-LIMITED BLUE SIGNATURE SERIES SIGNED BY CULLEN BUNN
DARTH MAUL #1 ULTRA-LIMITED CRIMSON RED SIGNATURE SERIES EDITION SIGNED BY CULLEN BUNN
MONSTERS UNLEASHED #1 SIGNED BY WRITER EXTRAORDINARE CULLEN BUNN
DEADPOOL BACK IN BLACK #1 SIGNED IN BLOOD RED BY CULLEN BUNN
DEADPOOL BACK IN BLACK #2 RARE FIRST PRINTING CGC GRADED!
MICRONAUTS REVOLUTION #1 SIGNED BY CULLEN BUNN
IDW'S REVOLUTION #1 SIGNED BY CULLEN BUNN
DEADPOOL'S SECRET SECRET WARS #1 ULTRA-LIMITED EDITION SIGNED IN BLOOD RED BY CULLEN BUNN!
HELLBREAK #1 - MASTER SET OF ALL FOUR COVERS SIGNED BY CULLEN BUNN!
NIGHT OF THE LIVING DEADPOOL #1 FIRST PRINTING CGC GRADED 9.8!
---
NEW! 1. 11/30/2020 - SKYLAR PATRIDGE
5. 11/16/2020 - RYAN O'SULLIVAN