JOE CASEY

SEND THIS TO A FRIEND!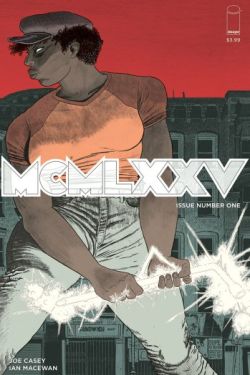 DF Interview: Joe Casey introduces a tough-as-nails monster fighter of mythic greatness in MCMLXXV
By Byron Brewer
Meet Pamela Evans. Much more than a typical Manhattan cab driver, she also happens to be a badass monster fighter who wields an enchanted tire iron. Welcome to the year of her greatest adventure.
Joe Casey and Ian MacEwan team up for MCMLXXV: modern mythology for a new generation. Want to know more? We did, so DF searched out and sat down with "man of action" Joe Casey.
Dynamic Forces: Joe, what can you tell us about the genesis of MCMLXXV? It certainly seems to cross a lot of genres.
Joe Casey: The act of genre-splicing is like breathing to me. Or binge-watching Studio 60 On the Sunset Strip. It's just one of those things that I tend to do without thinking. When you engage in the kind of plate-spinning that I tend to do in my career, you're always looking for interesting conceptual mash-ups and MCMLXXV is no different. The elements that form the idea just seemed to fit together in a meaningful way. It's not a conscious act by any means… but, at the same time, it's completely planned down to the last, dramatic molecule. The best projects are usually marked by their contradictions.
DF: For the unknowing, the Roman numerical title of your new series corresponds to the Arabic numeral 1975. Why that year and why NYC, where everything seems to go down?
Joe Casey: It just felt right. The year that marked the mid-point of the Seventies. A time before Manhattan morphed into the Disney-fied tourist playground that it's since become. A moment when the city could've gone either way and become a haven or a hell. In MCMLXXV, we see just how close to the brink it came to going straight to hell.
DF: I can tell off the bat that this atmospheric stage, this haunted Manhattan is gonna be as much a character in the series as your protagonist. Seen you do this, it's a hard tool to utilize for some. How do you (and artist Ian MacEwan, natch) bring about that mood on the page for the reader?
Joe Casey: Part of why this story exists in its current form is because I knew Ian was going to draw the sh*t out of it. He'd done a fill-in on my ongoing Image title, SEX, and nailed the look of Saturn City about as well as any artist who wasn't Piotr Kowalski was able to, so I knew he'd be perfect when it came to building this world -- it needed to be grounded and believable while also having a sense of the grand and the mysteriously mythic.
DF: What can you tell us about one Pamela Evans?
Joe Casey: Pamela Evans is our attempt at creating a modern folk hero. She's a lifer in the taxi driving business. She also kicks major monster ass with the help of her trusty enchanted tire iron. Beyond that -- and there's a lot -- you'll have to read the book.
DF: To return to something for a moment, I know one of your stated reasons going into this is to create "a new kind of folk hero that speaks to where we all are right now." [Image Comics promo] Can you expound on that theme here please?
Joe Casey: This is probably not something that anyone wants to hear from the likes of me and I don't blame them one bit, but since you asked… as a medium and as an industry, we've created enough fictional, white men superheroes to last us for quite awhile. A lot of them were built to last and they continue to make their mark on popular culture. Fair enough. But, y'know, that ain't the only game in town. With a lot of the characters I've created over the chaotic course of my career -- from America Chavez at Marvel to Destra and Empty Vee in The Intimates to two of the main leads in SEX, Keenan Wade and Annabelle LaGravenese -- I've tried to maintain the kind of diversity and identity representation that seems to be all the rage now (and way past due). But I always thought reflecting the world outside our window was just an accepted part of the gig. I've always accepted it, anyway. With Pamela Evans, we're trying to take it to another level. This is more like modern mythology, a folk tale for the ages… and she's the center of it all.
DF: Joe, what else have you got on the comics shelves now and in the near-future? Or outside comics?
Joe Casey: Way too much to list here. Like I said, there's a lot of plate-spinning going on at the moment, but I honestly wouldn't have it any other way. My other new Image series, New Lieutenants of Metal with artist Ulises Farinas, drops any week now and there's another major graphic novel project that'll be announced before the end of the year. And that's on top of all the work I do with Man Of Action Entertainment (my company with partners Duncan Rouleau, Joe Kelly and Steve Seagle). We're up to our eyeballs in televised animation as well as live action projects flying every which way. Needless to say, it's a good time to be in the business of making sh*t up to try and entertain people.
Dynamic Forces would like to thank Joe Casey for taking time out of his busy schedule to answer our questions. MCMLXXV #1 from Image Comics hits stores Sept. 12th!
For more news and up-to-date announcements, join us here at Dynamic Forces, www.dynamicforces.com/htmlfiles/, "LIKE" us on Facebook, www.facebook.com/dynamicforcesinc, and follow us on Twitter, www.twitter.com/dynamicforces.
THE DEATH-DEFYING 'DEVIL #1 - SIGNED BY JOE CASEY
THE DEATH DEFYING 'DEVIL #2 - SIGNED BY ALEX ROSS
THE DEATH-DEFYING 'DEVIL #1 - HIGH END FOIL (ROSS COVER)
CAPTAIN VICTORY AND THE GALACTIC RANGERS TRADE PAPERBACK
PROJECT SUPERPOWERS MEET THE BAD GUYS TPB
THE DEATH DEFYING 'DEVIL TRADE PAPERBACK
---
NEW! 1. 11/25/2020 - STEVE SKROCE
4. 11/16/2020 - RYAN O'SULLIVAN
5. 11/16/2020 - RYAN O'SULLIVAN