KYLE STARKS

SEND THIS TO A FRIEND!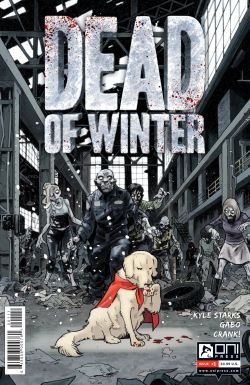 DF Interview:
Kyle Starks brings tabletop action to panelgraphic literature in Dead of Winter
By Byron Brewer
From the tabletop smash hit and Oni Press comes this new series starring beloved characters from Plaid Hat Games' Dead of Winter, written by Kyle Starks (the Eisner-nominated Sexcastle) and illustrated by Gabo (The Life After).
In the pantheon of heroes, none are more lovable and loyal than everyone's beloved good ol' dog, Sparky. Surviving in the wintery apocalypse of the undead, this former TV star turned zombie killing machine just wants to make friends and be a good boy. As his fellow survivors scavenge for supplies in the frigid wasteland, will Sparky be able to protect his companions from threats both undead and not yet undead?
To find out, DF asked scribe Kyle Starks.
Dynamic Forces: Kyle, this brand new series is based on characters from the Plaid Hat Games' Dead of Winter. Tell us about how this tabletop smash has found life in a new medium: comics!
Kyle Starks: I mean, I can't speak for the process for how we got from there to here - I mean there's probably a lot to be said about how much the board game audience has grown over the years, but I think the number one reason is that Dead of Winter is a great game that is full of narrative and great characters and a ton of fun. What better group of qualities to adapt into a comic?
DF: Are you a fan of the game? How did you become involved in the new series from Oni Press?
Kyle Starks: I love the game. I was actually introduced to it by our editor, Charlie Chu, at Gen-Con last year and I was DEFINITELY not a fan of board games before I saw it. My idea of what board games are or could be was stuck basically back in Monopoly and Sorry! and boy was I wrong. Dead of Winter was my gateway game into the boardgame universe - because it's SO good, it's sort of unbelievable if you don't know modern board games. I think that Charlie wanted to do a non-traditional game from the beginning and wanted something fun but still full of action so I think that whole thing was a setup from the beginning to get me on the book.
DF: Will this series be adaptations of the "stories" of the game, or brand new stories based on the characters? If new, can you tell us a little about the world you and artist Gabo are creating here?
Kyle Starks: They are brand new stories. The game has Crossroads Cards that have a great soft narrative to the game and gives it a real life but we're bringing some new characters, new problems for the cast that the fans will recognize and non-fans will dig on, I think.
What I wanted, more than anything, was to tell a story that was clearly a product of the game - lots of reference, narrative that draws from basic mechanics - but also make it SEAMLESS to a new reader. This is the best dog fighting zombies story, you don't need to know the game for that. But, I would say otherwise the trappings are pretty par for a fan of zombies or even survival or even action-comedy.
DF: Tell us about Sparky, and the challenges he faces in this wintry apocalyptic realm. (Any resemblances to a certain Kryptonian canine going on here? lol)
Kyle Starks: Sparky is the John McClane of dogs. He's literally the best possible hero...but a dog.
Basically, Sparky is the Rin-Tin-Tin of this universe, a dog star who, like everyone else, finds himself in this zombie apocalypse. Seriously, I think Sparky is maybe the most fun character I've written. It's such a twist - he's handedly the most heroic, most competent character in the book.
DF: Who are some of the other characters readers might want to keep an eye out for?
Kyle Starks: There are a bunch, especially in issue #1 in the background but the primaries that fans of the game will know are Gabriel Diaz the fireman, Carla Thompson the police dispatcher and Annaleigh Chan the lawyer. And Sparky, obviously. But there are a bunch of dudes in the background and a new dude and a human antagonist. OH, and a surprise appearance at the end of issue #1 that fans of the game are going to be VERY stoked about. Dare to say the most popular character after Sparky?
DF: We know it's a zombie-filled world but are there any specific big-bads?
Kyle Starks: There's a big bad for sure, a human antagonist, that shows up at the end of issue #1, and becomes the major source of trouble for the rest of the series. I don't want to spoil it but I think they're great and a lot of fun and scary in a human way.
DF: What would you tell fans of the game to encourage them to try the comic? And conversely, what would you tell comics fans unfamiliar to the game to bring them to this new title?
Kyle Starks: Well, if you love the game the reasons you love the game are in the comic. Seriously. I love the game and this is completely a love letter to it. I promise I won't let down the high standard set by the game.
Alternately, you don't need to know the game at all. Why should a non-Dead of Winter fan read it? It's Air Bud vs The Walking Dead. It's going to be SO MUCH FUN. It's a zombie action movie where the star is a dog. Like, there is definitely something in there for everybody.
Also, if you don't know the game you should REALLY check it out - it's legitimately the best fun.
DF: Tell us a little about working with Gabo. Why is this the artist for Dead of Winter?
Kyle Starks: Gabo is great, real easy to work with. I think what makes him suited for this is that he has a real unique vision and I think it being the first time a lot of people see his work and they're going to be in to it.
DF: Kyle, what other projects are you involved in about which you can tell readers?
Kyle Starks: Oh man, I gotta pimp Rock Candy Mountain which I write and draw from Image Comics - it's very good, I'm very proud of it. I have been writing Rick and Morty from Oni Press since #16 and we're about to put #26 on the shelves. I'm looking to be on it for the long run and if you like that cartoon but haven't checked out the comic you're doing yourself a disservice, we're doing episodes on paper and it's a lot of fun. I also have Kill Them All coming out from Oni in September which is a 200 page OGN love letter to '90s action movies and early John Woo films. I'm bringing that action-comedy fun.
Dynamic Forces would like to thank Kyle Starks for taking time out of his busy schedule to answer our questions. Dead of Winter #1 from Oni Press hits stores Aug. 2nd!
For more news and up-to-date announcements, join us here at Dynamic Forces, www.dynamicforces.com/htmlfiles/, "LIKE" us on Facebook, www.facebook.com/dynamicforcesinc, and follow us on Twitter, www.twitter.com/dynamicforces.
---
NEW! 1. 11/25/2020 - STEVE SKROCE
4. 11/16/2020 - RYAN O'SULLIVAN
5. 11/16/2020 - RYAN O'SULLIVAN