DAVID BOOHER

SEND THIS TO A FRIEND!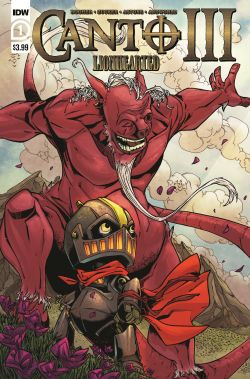 DF Interview: David Booher sets his clockwork hero on a quest to find allies for the looming war in 'Canto III: Lionhearted'
By Byron Brewer
The saga of Canto continues! The tiny clockwork knight in search of a heart has found his people's freedom and has saved them from the curse of the Shrouded Man, but is he ready to face his enemy on the battlefield? After making the ultimate sacrifice, Canto bears a weapon that could defeat the Shrouded Man and free all the inhabitants of the Unnamed World. Now, he races to find a hidden settlement of his former slavers to enlist them as allies in the coming war. That is... if the Shrouded Man doesn't find them first.
From co-creators David Booher and Drew Zucker comes Canto III: Lionhearted! I have followed Canto since its inception and, along with readers, marveled at the adventures. This time around, I am talking with my friend, author David Booher.
Byron Brewer: David, having covered Canto from its beginning, I am just amazed at how this little tin soldier took off. We're now at Canto III, and that does not count some in-between adventures. And the character is also crossing over into other media. Is it unreal for you?
David Booher: Absolutely unreal. We set out to tell a story about a little knight we adored. To see the story grow and readers love Canto as much as we do is frankly incredible. Now that Canto is going to be a movie… it's been a fantastic journey.
BB: Don't think I am ignoring your mention of the film, I'm not... But staying right now with the comic… For those under a rock this past year or so (and who can blame them), tell readers about Canto. Who is this little soldier?
David Booher: Canto is a little clockwork knight in search of a heart. His people have been enslaved and their hearts replaced with clocks. When Canto's beloved has her clock damaged, Canto must venture into his fantastical world to bring her heart back to save her. In the process, he confronts the evil wizard who has taken their hearts and… well… you'll have to catch up on the story to find out what happens next!
BB: As said, we've had major story arcs with Canto as well as embellishing tales. Where do readers find Canto as Canto III opens and where is he going adventure-wise?
David Booher: Spoiler alerts! If you haven't read Canto or Canto II: The Hollow Men, you should probably skip this part…
In Canto III, Canto now carries the Shrouded Man's heart. Canto knows the final war is coming and he has one chance to free the Unnamed World from the Shrouded Man's enslavement. But first, he needs allies—allies Canto finds in the most unlikely place. In this arc, we'll see who will stand with the clockwork knight and who will stand against him.
BB: Is the Shrouded Man still the big-bad for Lionhearted? I get the feeling there is some other evil afoot even beyond what Canto knows.
David Booher: The Shrouded Man is always present, but yes, we'll see some new evil. There are some familiar faces who have evolved into new, more fearsome foes. And we'll learn that even the most vile creatures may still be redeemed.
BB: I know Canto is now an expert in recruiting allies, but how does one with his past go to his former slavers to enlist their aid in the coming war?
David Booher: That's the big question we explore in this arc. How do you trust someone who has been your enemy for generations? The answer lies in understanding. Canto won't ask his people to forgive the slavers, but he will ask them to understand their history. After all, the slavers were once themselves enslaved.
BB: How does it feel to be reunited with co-creator, artist Drew Zucker? Talk a little about your longtime collaboration.
David Booher: Drew and I are ride-or-die on Canto. We created it together. We've ridden the highs and lows together. He took a brief hiatus on Canto & The City of Giants to work ahead on Canto III: Lionhearted. We've released the first preview pages and I can tell you, he's done career-defining work alongside Vittorio Astone on colors and AndWorld Design on letters.
BB: Now, David, back to your mention of the film: Any news that you can relate about the proposed Canto animated theatrical feature?
David Booher: We're very early in the process so there aren't many details to share. We're thrilled to work with the folks at Westbrook Studios, who are as excited about Canto as we are. Since Drew and I are executive producing and I'm writing the screenplay, readers can feel confident the movie will be true to what we all love about the tiny clockwork knight.
BB: What other projects, inside or outside comics, can you tell readers about?
David Booher: I have lots of fun projects in development, most of which are still early in the process. I brought together an all-LGBTQ creative team for a queer pulpy space adventure called Killer Queens coming out in August from another major publisher. Some other projects are in the pipeline as well. Stay tuned!
Dynamic Forces would like to thank David Booher for taking time out of his busy schedule to answer our questions. Canto III: Lionhearted #1 (of 6) from IDW Publishing is slated to be on sale July 14th!
For more news and up-to-date announcements, join us here at Dynamic Forces, www.dynamicforces.com/htmlfiles/, "LIKE" us on Facebook, www.facebook.com/dynamicforcesinc, and follow us on Twitter, www.twitter.com/dynamicforces.
---
NEW! 1. 07/26/2021 - JIM ZUB
2. 07/22/2021 - PETER MILLIGAN
4. 07/15/2021 - SKOTTIE YOUNG AND JORGE CORONA
5. 07/12/2021 - JOHN ZUUR PLATTEN