CHIP MOSHER

SEND THIS TO A FRIEND!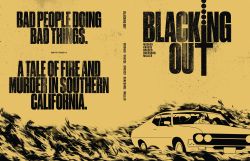 DF Interview: Chip Mosher unleashes classic noir amid California wildfires in the 'Blacking Out' OGN, up on Kickstarter
By Byron Brewer
Disgraced ex-cop Conrad Sauer seeks redemption by unraveling an unsolved murder during Southern California's fire season. Connie follows a lone clue—a discarded crucifix—to unravel the death of Karen Littleton, whose body was found amid a blaze that scorched 10,000 acres. The search leads Connie to clash with the victim's father and prime suspect, Robert Littleton, as well as hostile former colleagues on the local police force. All the while, Conrad combats his consuming alcoholism and fading faculties.
Comics industry veteran and writer Chip Mosher and legendary artist Peter Krause (The Power of Shazam!, Irredeemable) present Blacking Out, a 56-page graphic novel presented in a deluxe oversized hardcover in the European album tradition. Blacking Out also showcases the amazing talents of colorist Giulia Brusco (Scalped, Django Unchained), letterer Ed Dukeshire (Buffy the Vampire Slayer, Mighty Morphin Power Rangers), and designer Tom Muller (X-Men). DF wanted to take the deep dive into this crowdfunded OGN, so we spoke with scribe Chip Mosher.
Dynamic Forces: Chip, I think it is safe to say one of the comic book companies NOT idle during the ongoing pandemic was comiXology. As its head of content, how have you had time to assemble a complex book like your Blacking Out OGN?
Chip Mosher: (Laughs) Well, as Head of Content, I oversee the comiXology Originals—comiXology's exclusive content initiative that runs the gamut of creator-owned OGNs and series and manga that hasn't been translated before or unfinished in English… In any case, Pete and I started working together before the comiXology Originals program was spun up. So it's been a long time in gestation. But, yeah, the day job has been one of the reasons this has taken so long.
But Blacking Out has been a blast to work on when I'm not busy with the day job, and working with Pete, Giulia, Ed, and Tom has certainly made me more aware of what it's like to be on the other side of the comic creation process and helped me be better at my job.
DF: Why take the Kickstarter route?
Chip Mosher: A couple of years back, I helped my wife with the Kickstarter for a book on Femme Fatales. We like our noir in this family. I'm a big fan of Kickstarter and wanted to have a direct avenue to get the book in the hands of fans without compromising the creative vision for the book. So this was the best way to do it.
DF: First trope question of the interview (I'm sure there will be more, LOL): Tell readers the genesis of this story. With COVID-19 and the worldwide protests, I am very glad someone has touched on the previous Big Thing, the Southern California wildfires. The fact that it is a noir tale makes it just that much better.
Chip Mosher: I'm a huge fan of crime fiction and noir, and have thought forever that the two dominant elements of SoCal life are fire and water. With Chinatown, you have the ultimate noir based around water. But there wasn't any SoCal crime fiction that took place during the Southern Californian wildfire season. There's a weird normality to it, a banality, that I find interesting, and it's a great character in the book… a character that Giulia Brusco with her colors really brought alive.
DF: Introduce us to former police officer Conrad Sauer. Can you give readers a little background on the character and his challenges past and current?
Conrad Sauer is a drunk ex-cop looking for redemption… by figuring out who really killed Karen Littleton. All the while, a fire threatens the town of Edendale, where Connie is working the case. Will he solve the murder in time? You'll have to read the book to find out.
DF: Any other characters readers need to keep an eye out for? Can you introduce a few of the more interesting ones here?
Chip Mosher: There's Mattie, the mechanic. Anita, the love interest, or is Conrad her love interest? There's the lawyer, Lund, who just wants a win. Browder, Conrad's ex-partner. And then there is Karen's Dad who's been fingered for the murder. They are all guilty as sin, but not guilty of what you think they are.
DF: What is it that fascinates you about the crime lore of Los Angeles, your adopted hometown?
Chip Mosher: It's funny—growing up in Houston in the '80s, there were about two murders a day. But nothing that really stuck. With LA, you have these crimes that make the headlines and inhabit the imagination. Maybe it's because LA is where the dream factory of Hollywood resides or something else. But I just find it oddly fascinating and oddly comforting.
DF: A great move on this OGN is the selection of artist Peter Krause. What can you tell us about that selection and the collaboration on Blacking Out?
Chip Mosher: This project wouldn't exist without Pete. The collaboration has been really great. I gave Pete a script without traditional panel breakdowns, so he got to really set the pace of the story from a sequential-art perspective, using his storytelling expertise. Pete's known in comics for his work on The Power of Shazam! and Irredeemable, but his bread and butter is storyboarding. Having been friends with Pete over the years, I knew that he could kill this story in the way I wanted to work. I can't imagine anyone else pulling this book off.
DF: Chip, tell us where we can find out more about the Kickstarter campaign and any other information pertinent on the graphic novel.
Chip Mosher: Just go here https://www.kickstarter.com/projects/blacking-out/blacking-out-a-graphic-novel-by-chip-mosher-and-peter-krause?ref=qr01qi and check the project out!
DF: Any other projects you might have, current or future, that you can tell readers about?
Chip Mosher: I'm the least prolific person in comics… my last project circa 2007 was Left On Mission with Francesco Francavilla, which recently reverted to Francesco and myself. So I'll probably do that in a vastly upgraded edition at some point.
Dynamic Forces would like to thank Chip Mosher for taking time out of his busy schedule to answer our questions. The Blacking Out OGN is currently up on Kickstarter. Keep watching DF News and comics-related social media for more information.
---
NEW! 1. 11/30/2020 - SKYLAR PATRIDGE
5. 11/16/2020 - RYAN O'SULLIVAN