VASSILIS GOGTZILAS

SEND THIS TO A FRIEND!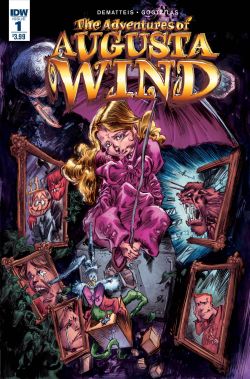 DF Interview: Artist Vassilis Gogtzilas draws 'Last Story' for Augusta Wind
By Byron Brewer
Coming from writer J.M. DeMatteis, artist Vassilis Gogtzilas and IDW Publishing in August (when else?) is the five-issue conclusion of the epic, all-ages fantasy, The Adventures of Augusta Wind.
With a malevolent entity about to un-tell every story ever told, erase every character ever imagined (including you!), it's up to Augusta Wind, Mr. Snabbit, the Omniphant and Upton Snuff to stop the Story Killer and save the Storiverse. But weird worlds, bizarre creatures and terrible dangers await them – and (again) YOU!
Let's open our big storybook to Page 1 and find out what DF has learned from the artist about what is being called "The Last Story."
Dynamic Forces: So, Vassilis, the natural question coming from the title of this new all-ages Augusta Wind epic is: Is this REALLY the last story for this beloved character? And if so, why?
Vassilis Gogtzilas: Not all stories need the same amount of time to be told. Some of them might be as short as a poem but still full of meaning, while others need to spread out a lot before they reveal their depth. This gentle handling is mainly the decision of the storyteller. There are also other more practical factors which have a share in this decision but as artists and storytellers, we're more accustomed to dealing with intentions and creativity rather than sales and predictions. In real life, every end has a start and this could or could be not be reflected in the imaginary.
Which means this could very well be Augusta's last adventure…it's written as a grand finale and if there's never another story, this one will be very satisfying…or the ending could be a new beginning!
DF: I can image the differences when involving a writer, but as an artist what are the differences between illustrating an all-ages comic book saga like Augusta Wind as opposed to something a bit stronger in content?
Vassilis Gogtzilas: There are certainly differences in the way an illustrator approaches a story told for all ages. For example, lines become more clear, shapes more defined and the visual narrative more easy to comprehend. Besides these general decisions, I personally had to go a lot further to establish my own point of view. Technically speaking, I put aside quills and the brushes took charge. I really love the softness and the warmth of their impact. It is almost like they gradient into the actual story sequences. Choices like these ease the illustration process but the main principles of my art remained the same. As I view it, there was really not a necessity for a more cartoonish representation of Augusta Wind's world, in order to become more child-friendly. This derives from my own perception of youngsters as having even stronger capabilities for filtering the absurdity and magic of fairy tales.
DF: What can you tell us of the storyline behind this five-issue mini coming from IDW?
Vassilis Gogtzilas: The second book picks up exactly where the first one left off. What actually happens though is that it expands both to new imaginary scenes and to real ones. The storyline resembles a gorgeous tapestry full of details, patterns, absurdity and colors. I think the best way to enjoy this fairy tale, no matter how old you are, is on a cold night by the fireplace with a [mug of] hot cocoa. The only detail depending upon age would be a drop of rum in your cocoa.
DF: This isn't your first go-round with Augusta Wind. What is it about this character that makes her such fun to illustrate for you? Do you enjoy working with writer J.M. DeMatteis?
Vassilis Gogtzilas: What fascinates me with Augusta Wind is that it opens a door to a new untold reality with its own characteristics, characters, creatures and places of the imaginary. As much as I enjoyed illustrating the first book, this second one is a total jewel! The beautiful storyline has now taken new leaps to more haunted and almost gothic landscapes, but in such a delicate way that it's despite the apparent darkness, it's still filled with hope. And this achievement could only be made by a craftsman in storytelling such as J.M. DeMatteis. I have chosen a seventies feeling for my illustration style, with a lot of references to the magnificent works of Bernie Wrightson, Arthur Suydam and Mike Ploog. All these artists made their mark in the 70's, a decade of astonishing comic book art that happens to be my favorite. What they all had in common is that they were all masters in cool brushwork! I have been following J.M. DeMatteis books years before I had the honor to illustrate for him. It is the kind of literature I love to read: witty, challenging, emotional and deeply philosophical. Now that I've gotten to work with him, I had the chance to have a glimpse of the backstage thinking and I'm in awe of him. My collaboration with him has been excellent. There is a great amount of mutual understanding involved in the creation process and also in terms of communication.
DF: So, after all this time with the saga, do you have a favorite character in this story? If so, why?
Vassilis Gogtzilas: In this beautiful realm I was called upon to draw, every character I have sketched had his or her own charming impact on me. Augusta Wind was a pleasure to draw since I very often draw kids (my sketchbook is full of childhood pictures) and illustrating a kids' story is something I really wanted to do. When I drew Snabbit, I realized that the character came out resembling Roger Rabbit. Upton Snuff on the other hand has this Tin Tin looks to him. Omniphant is a creative mixture of elements of Hulk combined with a werewolf presence.
DF: What can you tell us, if anything, about the big-bad here: the Story Killer?
Vassilis Gogtzilas: This figure made its first appearance in the first Augusta Wind series, but we knew little about the Killer in terms of origins and what he (or is it she?) really stands for. The Story Killer has a crazy origin of fallen grace and that is all I can say for the sake of not making any spoilers.
DF: Was there any new design work you did for Last Story?
Vassilis Gogtzilas: In this book, we are introduced to new intriguing characters. The Pumpkin Twins (you'll see who they are when you read the story) were extra fun to draw as a bipolar manifestation of the same essence. They also had an organic look that had me draw endless root tentacles. Plus their costumes had me looking through Victorian costumes (and boy, I love that era). Besides those more defined from the previous series, some others have come out of rough initial sketches of various creatures that inspired J.M. to include them in the story. Most notably the Castle Giant. I sent a sketch, and later a painting, to J.M. and he instantly incorporated him into the story. There is also a whale-like creature that we'll meet later on in the narrative that was a delight to draw. Since all these additions were made a new world has arisen to accommodate them all. A new world full of melancholy, wonders and kept secrets.
DF: Vassilis, what else might you have coming up that you can discuss?
Vassilis Gogtzilas: This year has been very busy for me creatively-speaking. I've been working on three projects, two of them sequels—Augusta Wind and The Bigger Bang—and one more for Titan. All of them have been so different in their demands. This fact is a great challenge for an artist and a blessing. In my spare time (a figure of speech), I paint and present my art in galleries.
Dynamic Forces would like to thank Vassilis Gogtzilas for taking time out of his busy schedule to answer our questions. The Adventures of Augusta Wind: The Last Story #1 hits stores August 3rd!
For more news and up-to-date announcements, join us here at Dynamic Forces, www.dynamicforces.com/htmlfiles/, "LIKE" us on Facebook, www.facebook.com/dynamicforcesinc, and follow us on Twitter, www.twitter.com/dynamicforces
---
NEW! 1. 11/30/2020 - SKYLAR PATRIDGE
5. 11/16/2020 - RYAN O'SULLIVAN