ANTONY JOHNSTON

SEND THIS TO A FRIEND!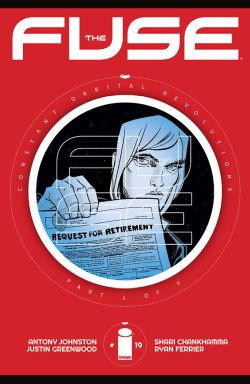 DF Interview: Antony Johnston begins intriguing new storyline in The Fuse
By Byron Brewer
With the coming issue #19, writer Antony Johnston begins a brand new arc in his popular murder/sci-fi mash-up, The Fuse.
Dynamic Forces discussed this with the scribe, as well as where the Image Comics series has been and where it is going. Hold on for more murder mystery in space!
Dynamic Forces: Antony, I have always loved The Fuse because it puts a real imaginative twist on the normal murder drama. For the uninitiated, can you tell us what the concept of the book is please?
Antony Johnston: The Fuse is a sci-fi murder mystery series, set 22,000 miles above the earth on a five-mile-long orbiting energy platform stuffed with too many people and not enough cops.
We follow two homicide detectives, Klem Ristovych and Ralph Dietrich, as they solve murders in Midway City, the sprawling, jury-rigged city at the centre of The Fuse itself. Permanently understaffed and overworked, being a murder police on board The Fuse means working a new frontier where the law struggles just to be heard, let alone obeyed. As they say on Midway, "22,000 miles up, there is no backup."
DF: Tell us about your protagonists.
Antony Johnston: Klem Ristovych is a dinosaur; the oldest cop on The Fuse, someone who should have retired years ago, but she doesn't know how. Klem was one of the engineers who actually built the station forty-odd years ago, and simply decided she preferred life in space to back down on Earth. So she's seen just about everything in her time in the MCPD…
…Except a cop like Ralph Dietrich, a young wunderkind who volunteered to a transfer from Munich, Germany. In many ways, Ralph is everything Klem isn't — a career cop, an idealist, a young hotshot — but what they share is a sense of justice, and a devotion to the truth.
Well, mostly. Thing is, homicide on The Fuse is a dead-end job, with little support, and no real career prospects. Nobody volunteers for MCPD Homicide… except Ralph. And he won't tell anyone his reasons.
DF: As issue #19 hits in July, The Fuse goes into a new arc, "Constant Orbital Revolutions." What does this particular adventure entail for Klem … and for young Ralph?
Antony Johnston: "Constant Orbital Revolutions" is our fourth story arc, the one where we burn everything down and then dance around the flames.
It's where the truth about Ralph, and why he volunteered for Fuse Homicide, will finally come out; where Klem will finally put in her retirement papers; and where what seems like a simple murder spirals out into a terrorist conspiracy that threatens to completely upend the status quo.
You know how comics often say, "Nothing will ever be the same again!" — well, for once that's actually true…
DF: Wow! … What element do you enjoy more about The Fuse, Antony, its criminal solving aspects or the SF atmosphere?
Antony Johnston: Honestly, both. The Fuse was always conceived as 'cops in space', so you can't remove either of those aspects — they both have to be present for it to really feel like the world we've built.
One of my favorite things about it is using the SF setting to show that people, fundamentally, don't change that much; and one of the best ways to do that is through crime, so again, they're both equally important. And as a reader myself, I love all kinds of both SF and crime, so combining the two is just a bonus.
DF: How is it working with artists the caliber of Justin Greenwood and Shari Chankhamma?
Antony Johnston: It's wonderful, of course. Justin's art has such energy and a sense of movement to it, it's kinetic and exciting without ever sacrificing storytelling. And Shari's colors are so focused on the story, and clarity, while also bringing the world to life. Even more than that, though, they're also both great people, and thorough professionals. There's a reason the team has stuck together for so long.
DF: Antony, tell us about any other projects present or near future you might be working on.
Antony Johnston: The second book in the Coldest City series is currently in production, and I'm about to start planning the third. I'll also soon start work on Codename Baboushka's second mission, "Ghost Station Zero". A couple of video games I worked on, Blackwood Crossing and The Assembly, will debut later this year. And then as usual there's a bunch of stuff I'm not ready to talk about yet; a fantasy story with Christopher Mitten, a new novel (or two!) and some more video games.
As always, anyone who wants to keep up with my work should check my website [antonyjohnston.com] and follow me on twitter [@antonyjohnston]
Dynamic Forces would like to thank Antony Johnston for taking time out of his busy schedule to answer our questions. The Fuse begins a new arc when #19 hits stores July 6th!
For more news and up-to-date announcements, join us here at Dynamic Forces, www.dynamicforces.com/htmlfiles/, "LIKE" us on Facebook, www.facebook.com/dynamicforcesinc, and follow us on Twitter, www.twitter.com/dynamicforces
---
NEW! 1. 11/30/2020 - SKYLAR PATRIDGE
5. 11/16/2020 - RYAN O'SULLIVAN