JEFF LEMIRE

SEND THIS TO A FRIEND!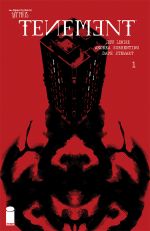 DF Interview: Jeff Lemire expands his Bone Orchard Mythos with the coming horror limited series, 'Tenement'
By Byron Brewer
From the Eisner-winning creative team behind Gideon Falls, Primordial and Ten Thousand Black Feathers comes the biggest and most essential project yet in the bold and ambitious new shared horror universe of The Bone Orchard Mythos!
In the extra-length first issue, creators Jeff Lemire and Andrea Sorrentino bring you Tenement, the story of seven residents in a building and the dark secrets that bind them together… beginning with a death that feels much more sinister than natural.
As soon as I heard the words "Lemire" and "Bone Orchard Mythos", I was in contact and later interviewing the author and co-creator of the horror universe, my friend Jeff Lemire. Here's what he told me about this stop on the road of the Bone Orchard Mythos...
Byron Brewer: Jeff, before we get directly into this new extension of your groundbreaking Bone Orchard Mythos – the Tenement miniseries – explain please to the uninformed (you know who you are!) the function and intricacies of your overall shared horror universe.
Jeff Lemire: The idea was that Andrea Sorrentino and I would have total freedom to create a bunch of darker horror stories, and let them each be whatever length or format that best suited each story. But all of these separate stories would exist in the same world or universe and share an underlying mythology.
Byron: Give readers a little background on how Tenement came about and what niche for BOM the miniseries fills. I understand it was the first book you began developing?
Jeff Lemire: After we finished The Passageway and Ten Thousand Black Feathers, the first two Bone Orchard projects, we wanted to do a story that would be a bit longer, and one where the readers could invest a bit more time into the characters. Tenement was actually a story idea I had before we came up with Bone Orchard, and I revisited it and realized it would be a perfect fit.
Byron: Will we be seeing any other "familiar faces" from the larger mythology we have explored thus far in Tenement? Might we be seeing some connections finally coming about?
Jeff Lemire: There will be no reoccurring characters from previous series in Tenement, but this is probably the most immersive story we've ever done and this is the book that begins to connect all the threads and ideas we've introduced in the previous books.
Byron: Can you introduce the seven individuals who live in the "tenement" in question, and hint at any connections between these protagonists?
Jeff Lemire: The book follows the residents of a high-rise apartment building, who all live in proximity to one another, but otherwise have nothing in common…or so it seems. It's a pretty eclectic cast. There is ISAAC, a 10-year-old loner; BOB, a gambling addict who is trying to win enough money to take care of his sick wife; TANYA, a troubled musician and artist; JUSTIN, a drug dealer looking after his Mom; GARY, a cranky parking lot attendant who hates everyone; AMANDA, a nurse; and FELIX, a mysterious old hermit.
Byron: Without spoilers, can you just hint at what will be developing between this ensemble cast and what horrific yet human challenges may be coming up?
Jeff Lemire: A terrible incident kicks off a series of nightmarish events and these strangers are pulled together on a quest for survival.
They will have to traverse a dark, nightmare version of the apartment building, one floor at a time, trying to survive long enough to reach the ground floor. Each issue will spotlight another floor of the building and the unique trials they will face.
Byron: Anything about the house itself you can clue us into here? Is the house a canvas or rather perhaps a "character" all its own in Tenement? Does the residence mean the same for each of our players?
Jeff Lemire: I can't tell. But there are clues in the previous Bone Orchard books.
Byron: Ahhh! … Discuss your epic and longtime collaboration with Andrea Sorrentino.
Jeff Lemire: He is the best. A true visionary. He makes everything I write better. The more we work together, the more daring and ambitious we get. It's a true collaboration in every way. And he contributed equally to the mythology and building the ideas in this world.
Byron: Jeff, what other projects in which you are involved can you tell readers about?
Jeff Lemire: I have a new series that I both wrote and drew called Fishflies launching in July. It's a surreal rural horror story that combines the quiet drama of my books like Essex County with the genre elements and horror of books like Gideon Falls.
Dynamic Forces would like to thank Jeff Lemire for taking time out of his busy schedule to answer our questions. Tenement #1 (of 10) of the Bone Orchard Mythos from Image Comics is slated to be on sale June 21st!
For more news and up-to-date announcements, join us here at Dynamic Forces, www.dynamicforces.com/htmlfiles/, "LIKE" us on Facebook, www.facebook.com/dynamicforcesinc, and follow us on Twitter, www.twitter.com/dynamicforces.
---
NEW! 1. 08/28/2023 - TONY S. DANIEL