JEFF LEMIRE

SEND THIS TO A FRIEND!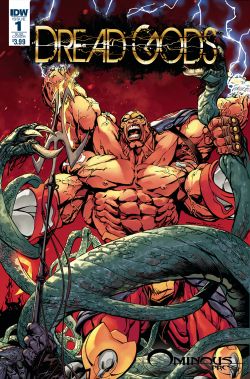 DF interview: 'Big answers, big surprises, big twists' coming to Jeff Lemire's Descender
By Byron Brewer
Tim-22 makes his move on Telsa and Quon, Andy and Effie attack the Machine Moon, and Psius and The Hardwire have Tim-21 in their grips.
As the various factions hunting Tim-21 close in, the galaxy is on the verge of all-out war.
It's all a part of the complex world of Descender, which begins its most important and surprising arc yet in July from the talents of Jeff Lemire and Dustin Nguyen.
DF sat down with scribe Lemire to discuss the longevity of the comic, what has gone before, and the exciting storyline ready to begin in July's issue #22.
Dynamic Forces: Jeff, Descender as a series has been around Image Comics since March 2015. With the constant reboots and rebranding of the industry, that puts it in some unique company. What can you tell us about the creation of this comic book?
Jeff Lemire: I think Dustin and I really believed in making this a long form story. Together we created a very big canvas to tell stories with. Luckily the book has been successful enough for us to expand our plans accordingly. We just really love working together and hopefully that shows when people read Descender.
DF: It was once said that Descender was envisioned to run between 24 and 40 issues. Are we in the end days of this fantastic sci-fi comic?
Jeff Lemire: I'd say we are about at the half-way point now of what I have planned. Dustin is just starting on issue #22 and that seems to be about half way there. So I think we are looking at a 40ish issue run. But you never know, things could continue to expand if the ideas are there that keep us excited.
DF: For readers who have been hiding in the asteroid belt (you know who you are, and so do we), summarize, if you will, the general storyline of Descender.
Jeff Lemire: Descender follows a young life-like android boy named Tim-21 and his robot dog, Bandit, as well as a ragtag group of enemies and allies from across a galaxy that has been ravaged by a near apocalyptic attack, 10 years earlier, by giant robots called Harvesters. In the wake of these attacks, all robots have been banned and are hunted and destroyed. Tim-21 may hold the secrets of who and what the Harvesters are, making him the most sought-after robot in the galaxy.
DF: Tell us about some of the other characters in Descender that new readers should keep an eye on. Can you give us a capsule summary about each of the main supporting characters?
Jeff Lemire: Driller is a big mining robot with a terrible secret.
Telsa is the alien daughter of the head of the United Galactic Council, who has been ordered to bring Tim-21 in.
Dr. Quon created Tim and many other life-like robots right before the attacks using stolen technology
Andy was Tim-21's human "brother", and is now a robot hunting Scrapper.
Queen Between is Andy's cyborg ex-wife.
Psius is the militant leader of the underground robot resistance called The Hardwire.
DF: A new arc begins with issue #22, coming in July. What challenges does "Rise of the Robots" bring to Tim-21 and the rest of the book's cast?
Jeff Lemire: All the storylines we have been setting up since issue #1 come crashing together and the galaxy is put on the bring of total war. This is everything we have been building to. There will be big answers, big surprises and big twists and it will set the stage for the second half of the overall Descender story.
DF: Fanboy time: Tell us about those cool interlocking covers for the five parts of "Rise of the Robots"!
Jeff Lemire: Dustin and I wanted to jam and do some art together. So we have created five interlocking variant covers that, when combined, will create one huge Descender image. I drew all the cast and characters and Dustin did the backgrounds, then we combined it all into these five special covers.
DF: Jeff, what other projects can you tell us about in which you are involved?
Jeff Lemire: I am writing and drawing the Image series called Royal City, the story of one family in a dying factory down and the ghosts that haunt them. I am also launching a new Image series with Phil Hester in the fall called Family Tree and continuing my Dark Horse series, Black Hammer, about a group of superheroes who have been wiped out of continuity and are trapped on a mysterious farm in a small town.
Dynamic Forces would like to thank Jeff Lemire for taking time out of his busy schedule to answer our questions. Descender #22 from Image Comics hits stores July 19th!
For more news and up-to-date announcements, join us here at Dynamic Forces, www.dynamicforces.com/htmlfiles/, "LIKE" us on Facebook, www.facebook.com/dynamicforcesinc, and follow us on Twitter, www.twitter.com/dynamicforces.
---
NEW! 1. 11/25/2020 - STEVE SKROCE
4. 11/16/2020 - RYAN O'SULLIVAN
5. 11/16/2020 - RYAN O'SULLIVAN