PHILLIP RUSSERTT

SEND THIS TO A FRIEND!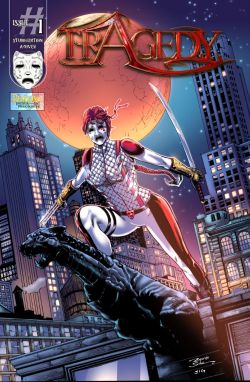 DF Interview: Phillip Russertt is fulfilling his life's dream through 'Tragedy', now on Kickstarter
By Byron Brewer
Tragedy is a gritty, action-packed character study of a young woman who feels trapped in a life she doesn't want. Readers will follow her journey of self-discovery while experiencing intense action scenes that last for pages.
Created and written by Phillip Russertt with art by Ricardo Silva, Tragedy will be a 30-page full color comic book. The campaign for the project is currently running on Kickstarter. I sat down with Phillip Russertt to find out more.
Byron Brewer: Phillip, before we discuss your comic book Tragedy, tell readers a little about your extensive background in comics, what you do.
Phillip Russertt: Hi, Byron. Thanks for this opportunity. I have been an avid comic book collector since I was about seven or nine years old. My first issue off a spinner rack was Uncanny X-Men #115 with Sauron on the cover and Wolverine slashing at Colossus. It was amazing. I had never seen characters like this before and I was instantly intrigued. I later became a fan of original art. I started to amass an extensive collection. This led me to befriend many well-known artists in the industry. I had attended many conventions but more and more it was less about comic books and their creators and more about B-List actors. I am the type of person who will not complain about something but do it the way I want to. It was then that I realized I was going to run my own convention. I have had three successful comic book focused conventions with A-list creators in my artist alley. I love art and artists, so I always incorporate the local and unpublished artists with the "celebrity" artists. They are all A-list to me. I then started my own Live Stream show where I interview independent creators as well as well-known mainstream creators. As if that were not enough, I started my own art repping agency, Legendary Illustrations. I successfully represent inkers, pencilers, colorists and a letterer. It has all come full circle back to my love of comic books and my dream to write and publish my creator-owned comic.
BB: Tragedy came out of a couple of "tragic" incidents: one being the pandemic, the other being your severe illness. Talk a little about that.
Phillip Russertt: In January of this year, I had contracted Covid and from there pneumonia and multiple pulmonary embolisms in each of my lungs. It was a profoundly serious illness and it made me face my mortality in a major way. Despite the severity of the situation, I was sent home and recovering quickly, to my physician's surprise. It was while I was bed ridden that I decided to write. I had a vision of Tragedy, and the Breath of the Dragon's designs in my head with no context to who they were or what the world they lived in consisted of. I just started writing and let it out on the page. Tragedy was born out of a near tragic situation, as you so eloquently said.
BB: Aside from the above, tell readers how you came up with the book Tragedy. I know, at least initially, page by page was popping out by the minute!
Phillip Russertt: Some writers hate when I say this, but there was no preparation or outline or organization of thoughts. I knew what she looked like and her fighting prowess, nothing more. I envisioned the first three pages of action with no idea why or how it would come about. I just started writing and as I wrote, it came to me. I was always a particularly good ad lib storyteller. I do not overthink things as it gums up the works, if you know what I mean? As I started to write the protagonist, I realized I was writing partly my wife and partly me. I have experience with psychology, and I have always been fascinated with the how and why of people's actions and reactions. I simply applied those experiences to her. I soon wrote sixteen issue scripts and developed a rogues gallery as well as our hero.
BB: Introduce us to some of the chief protagonists.
Phillip Russertt: Tragedy is about Grace O'Connor, an Irish American living in Hell's Kitchen New York. Before we go into Daredevil comparisons, I chose that local because my father often told me of the Westies in Hell's Kitchen. They were the Irish Mafia, so it is based on historical fact. Grace's father was the head of the Irish mafia but kept her away from that part of his life. He was a loving father. They had a strong bond and would enjoy the theater together when she was younger. Grace soon became a ballet dancer and just as she was happy, tragedy struck, and her father was murdered. Her father's right hand man Seamus adopted Grace but had other plans for her. She was sent, at the age of 16, away to be trained to be an assassin. There are rival mafia clans that are at odds with one another. The Chinese Mafia boss has an assassin of his own. The Breath of the Dragon is a most formidable opponent and martial artist. He is relentless in combat and does not give his opponent room to breathe. He is impossible to strike as he counters his opponent's every move. There are secrets that will unfold about this mysterious assassin. Grace is a relatable character. How many of us battle with self-deprecation? Self-doubt? How many of us wish for a better life that is more fulfilling, but we have no confidence in attaining that life? Do we even know how to attain that life? Grace will show moments of great strength and triumph and moments of doubt and vulnerability. After all, isn't that life in all its glory?
BB: What is the storyline in the book? Is it expected for your Kickstarter campaign, now underway, to reap multiple single issues? A graphic novel? What?
Phillip Russertt: Tragedy was conceived with an ending in mind, but as I continued to write, I decided to make this an ongoing series. It will at least be ongoing as long as I have a story to tell. It will be released as single issues. This story involves mafia, meta-humans, magic, and Chinese mysticism. It has the villains you hate to love and the villains you love to hate. The story has redemption, self-discovery, layered characters that are not good, are not bad but simply flawed humans. Good people do bad things sometimes and bad people do good things sometimes. It has relatable character development as well as intense and extensive fight scenes. One thing I can promise is that there is no senseless exposition. The pace and flow of the book and the story as a whole move without any lag and without feeling rushed.
BB: You are the writer of Tragedy, but tell us about some of the other amazing talent you have attached to the book.
Phillip Russertt: Ricardo Silva who has credits with Zenescope is the interior penciler/inker. Working with Ricardo has been a wonderful experience and the book looks beautiful. Sigmun Torre makes the pages and Ricardo's art pop with vibrant colors. Jason Meadows is an incredible talent with his sound effects and lettering. We also have seventeen, soon to be eighteen variant covers by Ricardo Silva, M. Zapata, Rob Powers, Will Pleydon, Criss Madd/Shawna Madd, Henry Martinez/Keith Williams, Larry Stroman, Sean Chen, Ian Churchill, the legend himself Whilce Portacio, Mike Mez Phillips, Shelby Robertson, Stef Wilson, Ace Continuado/Adelso Corona, Jim O'Riley, Chris Graves/Russ Cassaday, Geraldo Borges, and Crees. We also have art by my amazingly talented wife, Stephanie.
BB: Personally, what does the publication of Tragedy mean to you, to your life?
Phillip Russertt: This will sound corny to some, but it is the practical application of making my dreams come true and that's a lesson I'm trying to teach my daughters. It's not enough to say something, we as parents must show it through actions and deeds as well. This is me showing my little girls, with hard work, perseverance, and confidence in yourself you can achieve the things you want in life.
BB: Phillip, tell readers a little bit about the ongoing Kickstarter campaign
Phillip Russertt: As of this interview we have fully funded in less than three days with a goal of $5000. It is due to the support and trust the fans have placed in me, and I am grateful. We have 30 or so tiers, including original art sketch tiers by various artists, variant covers, prints, and shot glasses by MOTOGLASS, with Tragedy's mask engraved in them. Those will be for the toast to success, although I am an Irishman that does not drink. The campaign will end on June 17th at 5 p.m. EDT. I am grateful to fund completely but hope to garner more pledges so I may fund the next book and keep the series going.
Tragedy 1: Assassin facing inner demons and the rival mobs by Phillip Russertt — Kickstarter
Dynamic Forces would like to thank Phillip Russertt for taking time out of his busy schedule to answer our questions. Tragedy is on Kickstarter now!
For more news and up-to-date announcements, join us here at Dynamic Forces, www.dynamicforces.com/htmlfiles/, "LIKE" us on Facebook, www.facebook.com/dynamicforcesinc, and follow us on Twitter, www.twitter.com/dynamicforces.
---
NEW! 1. 08/05/2021 - PATRICK KINDLON
5. 07/22/2021 - PETER MILLIGAN