MARK WAID

SEND THIS TO A FRIEND!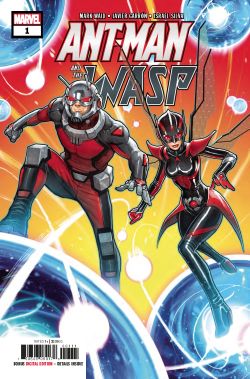 DF Interview: Mark Waid brings us a big adventure in the Microscopic Marvel Manner with Ant-Man and the Wasp
By Byron Brewer
The Wasp was just trying to help Ant-Man get home to Earth to see his daughter… but a little problem got in the way. Very little. Subatomic, in fact, as Scott Lang was lost in the vast spaces between atoms! Now, Nadia is his only hope of rescue… if only he would listen long enough for her to save them. From writer Mark Waid (Avengers, Captain America, Champions) and artist Javier Garrón (Secret Warriors, Star-Lord) comes Ant-Man and the Wasp!
To get to the heart of the atom, DF hit the Pym Particle button, saddled up ol' Emma and buzzed around until we caught up with scribe Mark Waid.
Dynamic Forces: As Stan the Man and later Roy the Boy used to write on the cover captions: Ant-Man and the Wasp – "together again, for the first time!" Mark, tell us about this teaming of Ant-Man Scott Lang (who IS the hero de jure in the Marvel Studios flick by the same title which hits theaters exactly a month from when this comic debuts in stores) and Wasp Nadia Pym (who is NOT Evangeline Lilly's MCU character but rather the long-lost daughter of first Ant-Man Hank Pym). This will be the first time they have met in the good ol' Marvel U, if I am correct?
Mark Waid: That's correct! (And while Nadia's not exactly the Hope Pym of the movies, I gave her the name "Nadia" with purpose – because it means "hope" in Russian.)
DF: Can you give us your take on both characters?
Mark Waid: Nadia is, of course, super-smart – she is her father's daughter. But because she never got to know Hank Pym, on some level she's seeking a father figure and Scott… isn't that. Nor does he want to be. But she's so protective of her father's memory that she can't stop giving Scott a hard time for NOT being Hank, so their alliance is… not smooth.
Scott is pretty smart himself, but being this deep in the Microverse is a whole new level of adventure for him. Dropped off on another world by the Guardians of the Galaxy, all Scott wanted was to get back to Earth in time to celebrate his daughter's birthday, and now he's lost, praying that Nadia can find him and get them both back home.
DF: Kind of interesting that, at least in the Scott/Nadia pairing, it is the Wasp, not Ant-Man, who is the accomplished scientist, no?
Mark Waid: Yep. And, boy, does she not let him forget it. Again, he's a smart man, but she's an expert in quantum physics, so it's good she's there to be his guide to explain it all to him (and us).
DF: What can you tell us about the storyline of this five-issue limited series? (I know you're nuts about the Microverse, Mark, so indulge yourself here!)
Mark Waid: The Wasp sets up a faster-than-light beam to transport Scott back home from his time in space, but something happens – Scott never shows up on Earth. The Wasp takes it upon herself to search the Microverse for Scott to save him, and now they have to get back home somehow. Along the way, they encounter a wild assortment of threats and menaces, all inspired by real-world quantum physics.
DF: Will we be seeing residents of any Microverse stories past? (I'm still looking for Bug since he returned with the Guardians of the Galaxy only to disappear again. Tik!)
Mark Waid: Mmmmmmaybe?
DF: With your handling of Avengers, Mark, you've really been developing Nadia as your character. What's it like to get her… well, not one-on-one but at least away from that team dynamic onto a grand adventure – and a scientific one at that?
Mark Waid: It's just so much fun to write her. She's still a kid, so everything is high opera to her all the time. She's kind but impatient, she's generous but easily irked, and she's looking for love and acceptance but not sure what to do with it.
DF: Scott is always looking for redemption – in Avengers, in Guardians. Will he find it in any sense during this LS? Is that aspect of his character a part of his story here?
Mark Waid: Redemption is always a part of any good Scott Lang story, and that's very much baked into this one.
DF: Talk about your collaboration with artist Javier Garrón.
Mark Waid: Oh, man, what a joy! Javier's crazy good, with the kind of super visual imagination needed for a book like this. His characters are very expressive, and he can handle both dire drama and wild comedy equally well.
Dynamic Forces would like to thank Mark Waid for taking time out of his busy schedule to answer our questions. Ant-Man and the Wasp #1 from Marvel Comics hits stores this Wednesday, June 6th!
For more news and up-to-date announcements, join us here at Dynamic Forces, www.dynamicforces.com/htmlfiles/, "LIKE" us on Facebook, www.facebook.com/dynamicforcesinc, and follow us on Twitter, www.twitter.com/dynamicforces.
ANT-MAN AND THE WASP #1 SIGNED BY MARK WAID
ANT-MAN AND THE WASP #1 SIGNED AND REMARKED BY KEN HAESER
DOCTOR STRANGE #1 SIGNED BY MARK WAID
CAPTAIN AMERICA #700 GOLD SIGNATURE SERIES SIGNED BY MARK WAID
AVENGERS #675 SILVER SIGNATURE SERIES SIGNED BY MARK WAID
CHAMPIONS #1 DYNAMIC FORCES EXCLUSIVE BLACK & WHITE VARIANT COVER BY SUPERSTAR ARTIST JOHN CASSADAY SIGNED BY MARK WAID!
AVENGERS #1 SIGNED BY MARK WAID
ARCHIE #1 DYNAMIC FORCES EXCLUSIVE BY JAE LEE SIGNED BY MARK WAID
PRINCESS LEIA #1 DYNAMIC FORCES EXCLUSIVE ELITE IMPERIAL GOLD SIGNATURE SERIES SIGNED BY MARK WAID
---
NEW! 1. 11/25/2020 - STEVE SKROCE
4. 11/16/2020 - RYAN O'SULLIVAN
5. 11/16/2020 - RYAN O'SULLIVAN