BRYAN HILL

SEND THIS TO A FRIEND!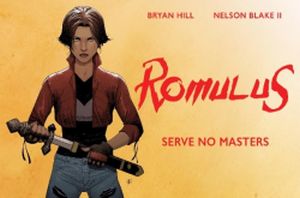 DF Interview: Bryan Hill's martial artist 'serves no masters' fighting evil in Romulus
By Byron Brewer
Set in the near future, Romulus follows the last in a line of near-mystical martial artists as she wages a revolutionary war against the Order of Romulus, the ancient secret society that trained her—a global organization, hidden in plain sight, that's controlled the world since the days of Ancient Rome.
Their plan? Cull the population with genocide and rule a New World Order. Her plan? Kill them all or die angry.
For more 411, DF sought out writer Bryan Hill, who is bringing this book to Top Cow this fall with artist/co-creator Nelson Blake II.
Dynamic Forces: Bryan, how did this new comic get started? What was its genesis as a book?
Bryan Hill: Romulus is something that Nelson Blake II and I have talked about for years. We wanted to create a book that engaged the dark side of world history AND created a take-no-prisoners female hero. I wanted to write something that was confrontational, but also entertaining. I'm an 80's kid, so I grew up with stories, especially comic book stories, about heroes that struggled against near-impossible odds, suffered in the name of their beliefs and found a way to win by digging as deep into themselves as they possibly could.
I believe in people, man. I believe in the goodness inside of people. I also know that it's hard to always strike back at evil from that place. The world makes it hard. Ashlar, the main character of Romulus, is waging that war throughout Romulus by taking on systemic evil that sees itself as above law, above morality and has the global, historical power to executive their will.
Ashlar isn't fighting for herself. Ashlar is fighting for us. She's fighting for our right to BE good in a world that attacks us and exploits us in a lot of ways. When you write a book you start with a blank page and you can put anything on the blank page. I wanted to put down a story about the many evils of the world, and create a hero that's willing to die to fight and destroy that evil…even if that evil was part of her history, part of her personal story.
When I say "Serve No Masters," I believe that. Ashlar fights for critical thought, for independence from trends and institutions that use us and don't care about hollowing us out in the name of their power. We're proud of what we're doing with the book and we're vibrant about wanting to share it with readers around the world.
DF: Tell us more about Ashlar.
Bryan Hill: Ashlar was raised and trained by the Order of Romulus. They have a historic legacy of raising female assassins, training them in an ancient code of violence. Since birth, she's been trained to push herself beyond her limits, but she's also been used as a tool of the Order of Romulus.
She suffers a personal tragedy and that changes her. It shows her the cost of being a weapon in the hands of an organization that doesn't value human life. That change within her births a deep guilt and she battles that guilt by vowing to use what she is, what she's been made to be, to destroy the grip of the Order of Romulus around the world.
Ashlar is not perfect. She's far from it. She is angry and brash and she'll make a lot of mistakes, but she'll learn from those mistakes. Reading Romulus will put you on the roller coaster of her journey, and you'll see her gain the wisdom she needs to do what she's vowed to do.
Ashlar is on a quest, in a classic, mythological sense. I LOVE her and if we're lucky to enough to get readers to invite her into their world, I hope people will grow to love her too.
DF: What is the atmosphere, the overall storyline of this new series?
Bryan Hill: It's a pretty furious action story. I like books that melt faces. Put simply, this is a story about a heroine fighting a war against modern forces backed up by historical power. Our influences are across the board, everyone from Marjorie Liu to Frank Miller to Homer and Shakespeare.
It's an action story that pulls no punches. It's intense, to be sure, but the intensity is rooted in a deep love of storytelling that Nelson and I share.
DF: Ashlar is a martial artist. Is this a field/genre that interests you?
Bryan Hill: Nelson and I are both martial artists, so we wanted to engage not only the technique of hand-to-hand combat, but the philosophy behind it. I've studied shotokan karate, kendo, judo, kung-fu and tae-kwon-do and beyond the movements and the tactics there's a martial philosophy that runs through those arts. There are lessons about discipline and sacrifice and all of that finds its way into Romulus, into Ashlar as a character.
Studying martial arts teaches you that you can do more than you think you can. Ashlar needs to understand that, and be constantly reminded of it because she's fighting a near-impossible battle.
DF: I happen to know that you were once a teacher very interested in history and used to introduce comic books as learning aids in your classes. Now, you are introducing history into this comic, Romulus. Tell us about your fascination with history and some of the things we might be seeing in Romulus.
Bryan Hill: What is past is prologue. That's the proverb, but what is past is also present. We live inside the world the past has built. There's a hidden side to history. You can see it all around you. You can see historical, occult symbols in common architecture. You can see those symbols in corporate logos. America was founded by people with ancient, esoteric beliefs, things that don't wind up in the history books.
Take out a dollar bill. Look at it. Think about what those symbols mean. Think about the origin of those symbols. Rome, in particular, is still with us. That's one of the things, over the course of the ongoing series, that we're going to explore.
DF: I know writers like Anthony Del Col and Conor McCreery (Kill Shakespeare, Holmes vs. Houdini) do vast research for their particular historical periods. Is this one of the things you do for this type of book?
Bryan Hill: Sure. Research plays an important part. I also meet and interview people about the thematics and ideas of Romulus.
The basic question of Romulus is: "How do the darkest ideas of human history still affect us?" To answer that, I've spoken to historians and CEOs and religious leaders and activists and philosophers. I'm always studying something. Being a writer is being a constant student. If you're not learning, then you're not living.
DF: I like that. … How will it be working with artist Nelson Blake? What does he bring to this table?
Bryan Hill: Nelson is one of my oldest friends and he believed in my work before anyone else did. There's a razor blade precision to his art style that's great. It makes sure that no matter how ugly the story gets, his art is always beautiful. He's a brilliant visual storyteller and he brings real grace to his images. In a lot of ways, Ashlar is based on him, on his constant focus on his craft. At this point, he can read my mind so whatever words I write, the art he generates surpasses whatever I imagined when I was typing. Creating with Nelson is like training with a brother. You learn things from each other's work and it makes your own work better.
DF: Bryan, what other works can we be looking for from you in the near future?
Bryan Hill: I'm still working on Postal (with Isaac Goodheart), so that's out there for you right now. I also recently announced that I'm writing a new Aphrodite V sci-fi action series that I'm incredibly excited about with art from Jeff Spokes — that's a modern day re-imagining of that character and it's metal as f&*$. There are more things on the horizon, but I can't talk about them.
In terms of Romulus, there will be TONS of content coming from me leading up until the book's release. The best way to get access to it is to follow me on social media and follow Nelson.
I have come to melt faces. In the future, all faces must melt. Ashlar has her war, and I have my own.
Dynamic Forces would like to thank Bryan Hill for taking time out of his busy schedule to answer our questions. Romulus #1 hits stores this fall!
For more news and up-to-date announcements, join us here at Dynamic Forces, www.dynamicforces.com/htmlfiles/, "LIKE" us on Facebook, www.facebook.com/dynamicforcesinc, and follow us on Twitter, www.twitter.com/dynamicforces
---
NEW! 1. 01/21/2021 - RORY MCCONVILLE
5. 01/07/2021 - DARICK ROBERTSON