BRYAN HILL

SEND THIS TO A FRIEND!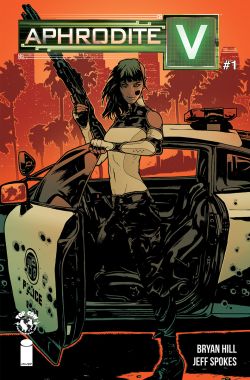 DF Interview: Bryan Hill brings a robotic assassin crashing into our world in Aphrodite V
By Byron Brewer
In the near future, Los Angeles is a city on the brink of evolution, struggling with a new wave of terror fueled by black market technology. Enter Aphrodite V: a fugitive from her masters, seeking individuality and purpose. She is the bleeding edge of biomechanics, and L.A.'s best hope against a new enemy – one that seeks to become a god amongst machines.

One machine wants to destroy the city. Another has come to save it. Only one will survive. Which one? To learn the answer to this (possibly?) and other mysteries in Image Comics/Top Cow's new Aphrodite V, DF spoke with writer Bryan Hill, who is creating this new series along with artist Jeff Spokes.
Dynamic Forces: Bryan, you worked on the Line Webtoon original series Cyber Force: Artifacts, a weekly online free comic, that was intended as a bridge between what Marc Silvestri did with Cyber Force: Rebirth and what Matt Hawkins did with Stjepan Šejić on Aphrodite IX. It received a sizable reading audience. Did this lead to the coming Aphrodite V comic?
Bryan Hill: Well, Aphrodite is the reason I wanted to write stories at Top Cow. Years ago, I had a pitch built for the character, but it wasn't the right time. I was new to comics, and my vision was bold so I completely understand needing to earn that trust.
After working on Postal, Matt asked me about Cyberforce and I jumped into that with gusto. He saw what I was doing there and asked me if there was a library character I wanted to launch into a series, and Aphrodite was the first character that flew out of my mouth. The rest of the conversation included Robocop, Ghost in the Shell and Michael Mann films and Matt said "go for it."
I had already worked with Jeff Spokes on the character in Cyberforce: Artifacts, so that was the first artist I mentioned and luckily for readers Jeff said "yes" because he's doing a fantastic job. He's a dedicated professional and he's bringing passion into every panel. We're excited.
DF: For the uninitiated, tell us a little about Aphrodite V as a character.
Bryan Hill: She's pretty simple. She's a (mostly) robotic assassin created by a company called CYBERDATA for the purposes of spilling blood in the name of power. There are a series of models, and she's the fifth, and she decides she wants to go her own way, live her own life, and discover what she wants to do with her power and her future.
DF: The new book will be an origin story of sorts, I hear, but occurs in modern day?
Bryan Hill: Of sorts. Her origins are pretty direct so I'm not going to waste the readers' time going over what they can understand in a series of pages. It's really an origin of how she becomes a hero, and a guardian of a Los Angeles on the brink of chaos. It happens now, right on the bleeding edge of technology and law enforcement. Like most of my stories, it's about power and purpose and the responsibility we have to make the world better when we know we can.
I worked with Stan Lee on a film project once and maybe the "great power and great responsibility" rubbed off on me.
DF: Bryan, you once told me that you are fascinated by "transhumanism" and the eventual merging of technology and biology. Is this Aphrodite V series an exploration of that and the potential pitfalls?
Bryan Hill: Sort of. I'm honestly not interested in yet another story about where humanity ends and technology begins. There are a million of those. Read classic William Gibson for that. I'm interested in taking a character like Aphrodite and crashing her into our world, and seeing how the world responds with both good and evil. She has a soul. That's not up for debate, but the NATURE of her soul is. She can be incredibly violent and confrontational, but she can also see through to the heroic truth in any situation.
DF: You are a very passionate writer. Tell us what this series means to you, and why readers should invest in it.
Bryan Hill: I was raised by a single mother and babysat by James Cameron films, so this is my ode to female protagonists in genre, as intense as I can make it, with ballistic action and driven characterization. If readers are fans of Robocop, Ghost in the Shell, Terminator, etc., then this book should definitely be on their pull list. This is New Era Top Cow. Genre with the safety off. Don't miss it.
DF: How has it been working with artist Jeff Spokes?
Jeff is brilliant. He works on paper! He's been great. The first conversation we had was about taking her away from cheesecake and making her a REAL character with depth and emotion, a force of nature created by technology. The work that he's doing is amazing. Jeff is going to be a major player in mainstream comics, so I'm lucky to be working with him.
DF: Aphrodite IX was one of the best-selling "Top Cow universe" books the Image imprint has done. Your hopes in that area for Aphrodite V?
Bryan Hill: Well, if readers are given the BEST experience I can give them for their money, then hopefully the book does well. You can't control sales, but you can control quality by pushing yourself as a creator and storyteller and that's exactly what I'm doing.
DF: Bryan, what other projects present and future can you tell us about?
Bryan Hill: Yes! Look out for my upcoming arc on Detective Comics beginning with #983 and also my Spider-Man Annual with Miles Morales coming later this year.
Dynamic Forces would like to thank Bryan Hill for taking time out of his busy schedule to answer our questions. Aphrodite V #1 from Image Comics/Top Cow hits stores July 18th!
For more news and up-to-date announcements, join us here at Dynamic Forces, www.dynamicforces.com/htmlfiles/, "LIKE" us on Facebook, www.facebook.com/dynamicforcesinc, and follow us on Twitter, www.twitter.com/dynamicforces.
---
NEW! 1. 11/30/2020 - SKYLAR PATRIDGE
5. 11/16/2020 - RYAN O'SULLIVAN