KYLE STARKS

SEND THIS TO A FRIEND!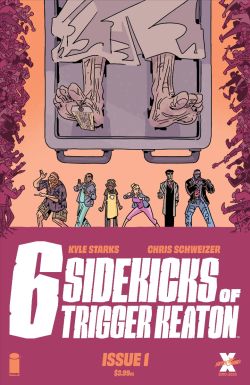 DF Interview: Kyle Starks weaves a Tinseltown murder mystery with 'Six Sidekicks of Trigger Keaton'
By Byron Brewer
The world's most unlikable action star has been found dead, and his previous TV sidekicks are looking to solve the mystery. But how can you catch a murderer when almost everyone hated the victim? Now these sidekicks are going to learn what it means to be the stars of the show… that is, if any of them survive the STUNTMAN WAR!
For fans of Chew and Assassin Nation comes the new action-mystery limited series, Six Sidekicks of Trigger Keaton, from Eisner Award nominees Kyle Starks (Sexcastle) and Chris Schweizer (Crogan Adventures). I found scribe Kyle Starks and we chatted about the book.
Byron Brewer: Kyle, is this a story that has been brewing on the ol' Starks backburner awhile? What was the inspiration for the coming Skybound limited series, Six Sidekicks of Trigger Keaton?
Kyle Starks: Hey! Actually, this one is pretty new and came pretty fast. My co-creator and artist, Chris Schweizer, actually came to me with a similar title and a vague idea that then came together pretty fast. Schweizer had the seed of the story but it grew quick. I've been calling Six Sidekicks a mix between Knives Out and Once Upon A Time In Hollywood and I think those are also pretty decent inspiration references. Schweizer and I saw both of those films together in 2019 and drew from the tone of them.
BB: Can you give us any backstory on the late and apparently unlamented Trigger Keaton? Is Keaton based on any action star you would rather not watch, by chance? (laughs)
Kyle Starks: Trigger Keaton at his peak was the best fighter in the world and was so good he became fearless in a tremendously selfish way. If no one could stop you from doing whatever you wanted – whatever you wanted – you can imagine how that could turn someone into a world class asshole before they ever decided to be television's favorite action star. And Hollywood success wasn't going to make him less of a jerk. He's just a real, top shelf piece of crap – racist, misogynist, selfish prick. I looked through a lot of "worst actors to work with" and "most hated actors" type thing but there was no singular reference. I really just thought, like, what if Bruce Lee was a drug addled, drunk piece of crap? Like what if he was a negative influence instead of a positive one?
BB: Can you put a little spotlight on the six TV sidekicks? And if no one liked Keaton (assuming it's true of the co-stars as well), why would they engage in the endeavor of finding his killer?
Kyle Starks: So yeah, all of these sidekicks' lives have been ruined or messed up because of their interaction and time with Trigger – so why WOULD they want to solve his murder? Miles is his most recent sidekick and thus the least traumatized by him so he leads the charge, but why the others? Overdeveloped since of justice? Misplaced loyalty? Hoping to use it as a jumping point to a return to acting? Maybe as a misdirect to cover their crime? They all have their different reasons.
And these sidekicks? Oh man, these bunch of dummies are great. You've got Paul, Trigger's first and most traumatized sidekick who's career and arguably life was ruined by Keaton. You've got his replacement, Terry Komodo, who is a real blowhard I think people will love to hate. You've got Tad who did the voice of a car like KITT in Knight Rider who's dealing with a ton of insecurity. Then there's Richard Brannigan, who's an ex-football player-turned-actor who's struggling with that world. And Allison is a kid prodigy martial artist who's sort of the mirror of Trigger in most ways.
BB: Tell readers the storyline of the LS a little more in depth than we have already discussed.
Kyle Starks: I mean, I'd say we've done a pretty good job here. World's most hated action star, Trigger Keaton, is found dead. A sidekick believes it's foul play and draws the others in as the try to find out who killed Keaton and why. Along the way, they get embroiled in a war with the town's stuntmen (who all despised Keaton, of course). They go through Hollywood sets, illegal fight clubs, tussle with a biker gang, go on a wild car chase, and basically find themselves repeatedly over their heads. It's a comedy-action-mystery that I think has a lot of likable characters doing charming things, getting into stupid fights and trying to find the safe place and found family these kids never had before.
BB: Will this be a whodunit in which readers will be able to follow actual clues leading to the murderer?
Kyle Starks: For sure. There are clues quietly dropped along the way.
BB: Talk about the art of Chris Schweizer.
Kyle Starks: I think Chris is America's Best Secret Cartoonist. He's so good. His sense of page, his sense of action, his sense of color are just top notch. His staging for the characters is top notch and he understands how to do comedy on page that makes my stuff land how it's supposed to. He's my literal best friend in this world and I think his art is incredible. He has a car chase in issue 2 that's top notch and if you know much about comics you know it's VERY difficult to pull of a car chase. If you want to see how good he is, come and see his work.
BB: Kyle, what other projects of yours can you tell readers about?
Kyle Starks: Well, everything else I have is in development and I can't talk about it yet, but if you haven't checked out some of my other stuff: Assassin Nation, my previous book from Skybound with Erica Henderson… [like Six Sidekicks] also thematically some dummies trying to solve a mystery. Or check out Mars Attacks which Schweizer and I did at Dynamite. That's a great under-looked book that you should check out . It's a good one.
Dynamic Forces would like to thank Kyle Starks for taking time out of his busy schedule to answer our questions. Six Sidekicks of Trigger Keaton #1 from Skybound and Image Comics is slated to be on sale June 9th!
For more news and up-to-date announcements, join us here at Dynamic Forces, www.dynamicforces.com/htmlfiles/, "LIKE" us on Facebook, www.facebook.com/dynamicforcesinc, and follow us on Twitter, www.twitter.com/dynamicforces.
MARS ATTACKS #1 BLANK AUTHENTIX EDITION
---
NEW! 1. 07/26/2021 - JIM ZUB
2. 07/22/2021 - PETER MILLIGAN
4. 07/15/2021 - SKOTTIE YOUNG AND JORGE CORONA
5. 07/12/2021 - JOHN ZUUR PLATTEN