DOUG WAGNER

SEND THIS TO A FRIEND!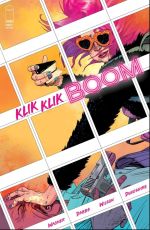 DF Interview: Doug Wagner launches new revenge saga 'Klik Klik Boom' this June
By Byron Brewer
Meet Sprout, a mute assassin who communicates exclusively through Polaroid pictures.
Being raised by her doomsday-prepping grandfather in the rolling hills of Idaho, Sprout has never been around other people, watched TV, or seen clothes outside of Army fatigues. Now she's headed to the big lights of New York City to avenge her grandfather's murder, but will the city's mesmerizing glitz and glam help her succeed – or be the death of her?
Writer Doug Wagner (Plastic, The Ride: Burning Desire) and artist Doug Dabbs (The Ride: Burning Desire) team up with Eisner award-winning colorist Matt Wilson and letterer Ed Dukeshire for the forthcoming revenge comic, Klik Klik Boom.
The title of this miniseries kind of "klik"-ed with me so I sat down with scribe Doug Wagner to find out what else is cool about this mag.
Byron Brewer: Doug, tell readers how your coming Image comic, Klik Klik Boom, came about. If memory serves, you said you wanted to find "this balance between the old and new"?
Doug Wagner: Klik Klik Boom came about from a single image I saw one day while surfing the internet. It was of this female in a dark, dank hotel room surrounded by hundreds of Polaroid pictures strewn across the room. As my writer brain tends to do, I had to solve the puzzle of why. This book was born from that answer. I wanted to incorporate the feeling this single image immediately gave me – crime noir with the nostalgia of Polaroids mixed with today's world, today's vivid fashion, and today's ever-changing sense of morality.
Byron: In this five-issue miniseries, what kind of "world" are artist Doug Dabbs and yourself building, what canvas will readers be set down into on June 21st?
Doug Wagner: A flamboyant revenge noir canvas all brought to you through the Polaroid lens of a mute assassin. We're hoping to introduce you to a world that will remind you of the past, of your childhood, yet make you question everything you take for granted in current society. Imagine you'd never been to a movie theater and never been influenced by societal norms. Given the choice, what would you wear? Would popcorn even cross your mind?
Byron: Introduce us to your protagonist, Sprout.
Doug Wagner: Sprout is such a joy for me to write. She's everything I kind of wish I could be. She's carefree, sassy, independent, full of life, and deadly. Yes, she's a mute assassin, but she's not the typical brooding, self-deprecating loner we normally see in these types of stories. She loves life, craves new experiences, and adores caring people. She was raised by her grandfather, a traumatized war photographer, who knew how to tell a story through a single image. It's the only way the two could communicate effectively. He raised her as a soldier, preparing her for the war he knew would one day come. They spent their days training in hand-to-hand combat, battlefield tactics, booby traps, deception… all the skills one would need to survive war. Sprout loved it. She loved filling days having the devoted attention of the only human being she'd ever known. It made her feel loved, cared for, and special. I mean, for an assassin, she's fairly well adjusted.
Byron: Not to include spoilers but talk as you can about the relationship between Sprout and her grandfather. Are there any layers to the grandfather that we might NOT guess from the fact that he has been prepping for doomsday?
Doug Wagner: Writing is always an interesting journey for me. I create these characters and always end up falling in love with them. Sprout's grandfather is no exception. In the beginning, I wanted to create this gruff, obstinate, damaged character based on a collection of Vietnam vets I grew up with. As war seems to do to almost every soldier, the vets I knew and loved were deeply scarred, plagued by PTSD, and unable to ever really reintegrate back into society fully. However, they were all some of the most genuine, loving people I'd ever met. You just had to always be on guard and be understanding. One minute we'd be laughing and joking on a tranquil walk through the woods, and then without warning, they'd think they were back in the war and in combat mode. My overwhelming thought when those episodes were triggered was "God, I hope they think I'm on their side." I'm hoping I can channel some of those experiences I had into Klik Klik Boom. I'm hoping people will love this man that can seem terrifying in one panel and overly loving in the next.
Byron: There are dozens of tropes for revenge comics and films. Are you working to avoid what may be expected in Klik Klik Boom or jumping right in and utilizing expectations to create something UN-expected?
Doug Wagner: Well, I'm hoping for a mix. I don't think you can ever completely escape tropes in a story. I mean, how do you do a revenge story without revenge? I do think readers will have fun with this story because Sprout thinks so differently than most. I wouldn't say she's insane, just that she was raised in such a different environment and so far away from societal influence that her logic isn't normal logic.
Byron: How fun – maybe not the right term, except for the scribe – was it to bring a shy, sheltered girl to the bright lights of NYC… except SHE is the one seeking revenge?
Doug Wagner: You might have made some bad assumptions there, Byron. Sheltered? In a way. Shy? Absolutely not! The fun we had in bringing Sprout to NYC is that she's like a kid in a candy store for the very first time… EVER! She's coming from the backwoods of Idaho. She's never seen a TV, eaten anything other than Army rations, never seen clothes outside of Army fatigues. Now, she's in a city that has just about everything the world has to offer, and she can't wait to try it all. Yes, she's on a mission of revenge and death, but that doesn't mean she won't try on every pair of pants at Gucci, or eat sushi with a side of tater tots and birthday cake. She's got a lot to make up for, and Sprout is going to squeeze every ounce out of NYC that she can.
Byron: Talk about the chemistry you have in your collaborations with Doug Dabbs.
Doug Wagner: Except for the obvious name issues (I was born first, so…), working with Dabbs has been an absolute pleasure. We knew each other back in Atlanta when he was attending SCAD. We'd remained friends over the years, and when an opening came up for one of The Ride backup features, I immediately reached out to him. I'd loved his work for years. I just hadn't found a way to trick him into working with me. We both had a blast doing our Albert & Arnie drug fueled backup story and talked about working together on something bigger. We tossed around a few ideas and landed on Klik Klik Boom. If you know anything about me, you know I work pretty closely with my co-creators. I run every scene and bit of dialogue through Dabbs, and he returns the favor by running every layout and penciled page through me. We just want to create the best story and comic book that we possibly can. That takes a lot of hard work, honesty, humility, and friendship. Dabbs came to the table with all that and more.
Byron: Doug, what other projects can you tell readers about?
Doug Wagner: I'm not really allowed to say much. I can tell you Daniel Hillyard and I are already deep in another quirky, serial killer-inspired book, but that's about it. I gotta respect my publishers' wishes.
Dynamic Forces would like to thank Doug Wagner for taking time out of his busy schedule to answer our questions. Klik Klik Boom #1 from Image Comics is slated to be on sale June 21st!
---
NEW! 1. 08/28/2023 - TONY S. DANIEL