CULLEN BUNN

SEND THIS TO A FRIEND!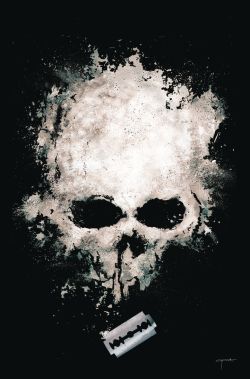 DF Interview: No one survives the first hit of Cullen Bunn's Bone Parish
By Byron Brewer
From writer Cullen Bunn and artist Jonas Scharf comes a chilling necromantic horror story. A new drug is sweeping through the streets of New Orleans, one made from the ashes of the dead. Wars are being fought over who will control the supply, while the demand only rises. While the crime families wage war, users begin to experience terrifying visions of the dead coming back to life – through them!
DF wanted to learn more, so we sat down with scribe Cullen Bunn to do just that. Here's what he told us.
Dynamic Forces: Harrow County. The Empty Man. Dark Ark. The Unsound. Regression. Cullen, you have become not only one of comics' most prolific writers but one if its preeminent horror authors. Where does Bone Parish fit into the Bunn bibliography? (I.e.: Can you tell us the inspiration for this new comic and does it compare or contrast well with your other horror works?)
Cullen Bunn: Bone Parish is as much a crime story as a supernatural horror story. It's very much grounded in the real world. It's grim and gritty and dangerous even before the horror elements find their way into the story. Inspiration for the series is drawn from crime fiction and—even more so—from great crime television like Breaking Bad and The Wire. I was also inspired by the Lovecraft story, The Case of Charles Dexter Ward.
This is a story I've toyed with for a while. It's had very different iterations over time. Once, it had more of a sci-fi feel. On another occasion, it was more of a superhero story. It wasn't until I stripped it all down and turned it into a crime story and family drama that it all came together.
DF: What is the storyline for the new book?
Cullen Bunn: Bone Parish follows the story of an up-and-coming New Orleans crime family, the Winters. The Winters family has brought a new drug to market. The drug, called Ash, is in high demand. So, a big part of the book focuses on the Winters being a small fish in a big, very dangerous pond, trying to make their way as their business grows faster than they can really handle.
The difference, though, is the drug itself. The Ash is derived from the remains of the dead. It works differently for everyone who uses it, but the most common effect is experiencing the life of the long departed. Take Ash derived from the bones of a rock god—you'll live the rock god's finest moments. Snort the remains of a master poet—for a short while, you'll have a poet's soul. Use drugs derived from a millionaire playboy—you'll know exactly how that lifestyle feels.
As you can imagine, though, misuse or overdose of the drug has ghastly—and ghostly—consequences.
DF: What can you tell us about the tenacious family at the center of this tale? Can you introduce them to us individually?
Cullen Bunn: The Winters are ambitious and cunning. They may be in over their heads with their burgeoning drug empire, but that's not going to stop them.
Grace and Andre are the matriarch and patriarch of the family. They call the shots for the organization. They also have a very dark secret they're hiding from their own children.
Brae is their oldest son. He's very ambitious and very frustrated. He sees a much bigger picture than his parents.
Leon and Brigitte are twins. Leon is torn between his loyalties to his different family members. Brigitte is something of a recluse. She is the person who developed the formula for the Ash.
Wade is the youngest member of the family, just 20 years old, and he is fiercely loyal.
DF: Can you offer us any clues about rival crime organizations?
Cullen Bunn: Well, there is more than one group who is vying for control of the Ash. We have a crime syndicate from New York, represented here by a gentleman named Simon Lamont. They want to buy the Winters out. Their relationship with the family is fairly professional at first, but a lot of tension begins to build between them the longer the Winters resist their offer.
The other rival group is dangerous in a different way. A drug cartel out of Mexico, they want the Winters eliminated. Their tactics are a little more straightforward… and bloody.
DF: Any other characters we need – or may need – to know about?
Cullen Bunn: There are some other characters—both living and dead—who will play big roles in the story. For now, though, let's keep the focus on the Winters.
DF: I am absotively posolutely sure I have asked this before, but (again) tell us from whence comes your love of the horror genre?
Cullen Bunn: I've most likely given a different answer every time you've asked! I've often said that I wasn't a horror fan early on in life, but the more I think about my childhood, I'm not sure that's true. I loved old Charlton horror books. I loved stories of Bigfoot and the headless horseman. I used to sneak out of my bedroom at night to watch the late horror show on TV. I loved hearing ghost stories and weird legends that I'm pretty sure my dad made up on the fly. As I got older, I became very interested in the horror work of Lovecraft, Barker, Bloch and Howard. I had my subscriptions to Fangoria and Gorezone magazines. So, I've always loved the genre to some degree.
DF: Besides the answer "EVERYthing else" (LOL), what else are you working on these days, Mr. Bunn?
Cullen Bunn: As you know, I like to stay busy. I'm still working on Dark Ark and Brothers Dracul and Regression and X-Men Blue. But with books like Harrow County wrapping up, I've been developing a few new titles for launch. A couple of these developing projects are horror-related, of course, but some are not. I hope to share these new titles with you soon!
Dynamic Forces would like to thank Cullen Bunn for taking time out of his busy schedule to answer our questions. Bone Parish #1 from BOOM! Studios hits stores July 25th!
For more news and up-to-date announcements, join us here at Dynamic Forces, www.dynamicforces.com/htmlfiles/, "LIKE" us on Facebook, www.facebook.com/dynamicforcesinc, and follow us on Twitter, www.twitter.com/dynamicforces.
DEADPOOL: SPECIAL MISSIONS #1 SIGNED BY CULLEN BUNN
VENOMVERSE #1 ULTRA-LIMITED SYMBIOTE SILVER EDITION - SIGNED BY CULLEN BUNN
VENOMVERSE #1 - SIGNED BY CULLEN BUNN
X-MEN: BLUE #1 SKOTTIE YOUNG VARIANT ULTRA-LIMITED BLUE SIGNATURE SERIES SIGNED BY CULLEN BUNN
DARTH MAUL #1 ULTRA-LIMITED CRIMSON RED SIGNATURE SERIES EDITION SIGNED BY CULLEN BUNN
X-MEN: BLUE #1 ULTRA-LIMITED BLUE SIGNATURE SERIES SIGNED BY CULLEN BUNN
MONSTERS UNLEASHED #1 SIGNED BY WRITER EXTRAORDINARE CULLEN BUNN
DEADPOOL BACK IN BLACK #1 SIGNED IN BLOOD RED BY CULLEN BUNN
DEADPOOL BACK IN BLACK #2 RARE FIRST PRINTING CGC GRADED!
DEADPOOL BACK IN BLACK #1 RARE FIRST PRINTING CGC GRADED!
MICRONAUTS REVOLUTION #1 SIGNED BY CULLEN BUNN
MICRONAUTS #1 CLASSIC ACTION FIGURE COVER SIGNED BY CULLEN BUNN
---
NEW! 1. 11/25/2020 - STEVE SKROCE
4. 11/16/2020 - RYAN O'SULLIVAN
5. 11/16/2020 - RYAN O'SULLIVAN