MIKE CAREY

SEND THIS TO A FRIEND!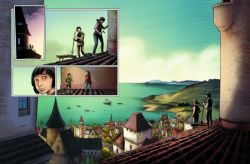 DF Interview: Mike Carey talks his new comic Highest House, The Girl With All the Gifts film, more
By Byron Brewer
They're at it again! Writer Mike Carey is teaming up with artist Peter Gross for another out-of-the-box fantasy story, but something very, very different than either Lucifer or The Unwritten.
The sprawling cast of Highest House is led by Moth, a slave boy who reluctantly inherits magical powers, and it is a book that finds a good measure of political themes running throughout its fantastical saga.
DF caught up with the very busy Carey and here is what he told us.
Dynamic Forces: Mike, what's it like to be collaborating on a third comics project, Highest House, with artist Peter Gross after the success of Lucifer and The Unwritten? You guys are certainly one of comics' truly great partnerships. Does all this shared experience help in communications in assembling a book?
Mike Carey: It helps in all sorts of ways – and that's even before you get to the fact that Peter is a genius and always makes me look a lot better than I am. We're extremely comfortable with each other's styles and approaches now, and we've developed a way of working together that's relaxed, open-ended and very effective. I'll still produce full script, as I would for another artist, although with more chatty asides and shorthand notes on what sort of effect I'm going for. But then when the script is in and Peter has read through it a few times we'll talk about pacing and storytelling and often we'll decide to add or alter what's there to bring out a particular character beat or to set up something for further down the line or whatever. And Peter has been keen right from the start to seed ideas and images about the wider world of the story so we've got things to call on later. Very simple visual details often have underpinnings that we'll open up further on in the story.
DF: I've only seen one page of Peter's work on the book, but it looks gorgeous. Anything you can tell us about the character and set designs for Highest House? Did you collaborate on them with him?
Mike Carey: Yeah, very much so. I'll seldom give a full physical description of a character in the script. Instead I'll talk about personality, background, story role, and Peter will start sketching. He's the one who's animating this cast, so it makes sense for him to take the lead in imagining them.
And the same goes for Highest House itself. It's a setting that's vitally important to the story, and its physicality is very much insisted on. In the first book, for example, Moth works as a roofer at the house and is taught his trade by an older slave, Fless. So we needed to think about what materials the roofs would be made from and what his work would entail. We both ended up watching videos about thatching and cutting shingles and all these traditional crafts, and we made the overall design of the place consistent. The house has a history and it was important to us that it should make internal sense, even though we're not referring to any real-world historical timeline.
DF: Tell us a little about the world Peter and you are building here.
Mike Carey: It's a quasi-medieval setting, with most of the action (initially, at least) taking place in a country called Ossaniul. Ossaniul for a long time was a very stratified society where the ruling class was sorcerers. It was also polytheist, with dozens of gods and hundreds of entities that were worshipped as gods but arguably were something else. Then there was an invasion, from the neighboring country of Kovik – and the invaders were monotheists with a matriarchal religion. Now it's illegal to worship anyone other than the Koviki mother goddess, and the idea that anyone other than the goddess or her servants could ever have performed magic is a heresy.
About the only thing that has stayed stable through all of this is the institution of slavery. And our protagonist is a slave, who at a certain point decides he's going to challenge the existing social order.
It's a pretty rich tapestry, though, and there are lots of other characters in the mix. Highest House is like a small city in some ways. It has its own very rigid rules and systems – thousands of people whose roles and relative status are absolutely defined, but who are unknowingly living on the cusp of change, at a moment when their nation's history is about to take a very unexpected turn.
DF: Who is the boy called Moth?
Mike Carey: Moth is the lowest of the low – a boy of common birth who comes to Highest House at the start of the story, having been sold into slavery by his mother. Ordinarily he wouldn't be expected to last all that long. The life of a slave is tough, and he's not physically strong. He's also consumptive. And of course he's desperately missing his family and the only life he's ever known.
We see this whole world through his eyes, which is useful in a lot of ways because everything is entirely new to him. He functions very well as an innocent eye. But he doesn't stay innocent for long. He has to fight to stay alive at Highest House, and he has to face a range of threats from some unexpected quarters. But he also has an ally – a voice that talks to him at night and promises to protect him. The voice belongs to someone or something called Obsidian, and he proposes a bargain that will give Moth enormous power. At a price.
DF: What other characters will we be treated to in Highest House? Can you introduce some of them please?
Mike Carey: It's a pretty huge cast. At first we mostly meet slaves and slavemasters, because that's the part of Highest House's ecosystem where Moth fetches up. Some of the slaves – Rodomon and Dor Nestor – come with him from his home village. Others, like his taskmaster Fless and the young kitchen girl Eena, he meets once he arrives.
Another crucial character is the steward of Highest House, Cael Extat, who buys Moth in the first place despite his tuberculosis and who seems to want to educate him beyond the place of a slave. And then in later issues we meet the Aldercrest family, the nobles who own Highest House along with a dozen other estates. The Aldercrests are some of the most fascinating characters for me to write, especially Lord Demini and his quietly rebellious daughter Shurubai. Demini is a monster in some lights, an enlightened and generous man in others, and we get to see both sides of his character. Shurubai is a woman who has very little freedom of action but finds ways to step outside the role her society and her family expect her to play. Moth gets to meet them all in due course, and he starts to renegotiate his position in ways that nobody could have expected.
DF: It's my understanding the publisher, Editions Glenat of France, will tell the story in hardcover "albums" in the French market, delivering 46 pages of story per album. Is it known how this will be coming to the U.S. market, and when as yet?
Mike Carey: We'll basically divide each album into two slightly oversized issues. I'm writing natural break points in each book so that the structure will still feel coherent and satisfying. We don't have a timetable yet, but we hope there won't be too much of a delay between the French and U.S. releases.
DF: While we're here, Mike, I see that the movie version of your novel, The Girl With All the Gifts, has hit American screens, streaming on DirecTV and in selected theatres. How does it feel to be a part of all that, as a creator?
Mike Carey: It feels wonderful! I was at the BAFTAs, where we were nominated for the Outstanding Debut award. It was pretty hard to believe. We made a zombie movie with a very modest budget and it seems to have struck a chord with a lot of people. Sennia (who plays Melanie) got the Best Actress award at the Sitges festival, and Colm was voted Best Director at Fantastic Fest in Austin. Camille Gatin, our lead producer, got a BIFA. We also got the popular vote as best film at Gerardmer, and we were chosen to open the Locarno festival. The whole journey has been like something out of a fairy tale. Only, you know, with zombies.
DF: Any more current or future projects you can tell readers about?
Mike Carey: I'm working on a lot of movie and TV projects at the moment, one of which (if it happens) will reunite the production team who made The Girl With All the Gifts. I'm very excited about that. I've also got a novel which just came out this month, The Boy On the Bridge, set in the world of The Girl With All the Gifts but with a different cast of characters. And there's my new series from IDW, Darkness Visible. It's sort of an alternate history in which demons helped the allied powers to defeat Hitler and got political concession in return. We're having a lot of fun with it. I'm co-writing with Arvind David (who writes the Dirk Gently comic) with Brendan Cahill and Livio Raimondelli rotating as artists.
Dynamic Forces would like to thank Mike Carey for taking time out of his busy schedule to answer our questions. Keep watching DF News for more on Highest House!
For more news and up-to-date announcements, join us here at Dynamic Forces, www.dynamicforces.com/htmlfiles/, "LIKE" us on Facebook, www.facebook.com/dynamicforcesinc, and follow us on Twitter, www.twitter.com/dynamicforces.
THOR: WOLVES OF THE NORTH #1 - SIGNED BY ARTIST MIKE PERKINS Written by Mike Carey
UNTOUCHABLE" ONE SHOT Written by Mike Carey
TORCH #6 DF EXCLUSIVE "VIRGIN ART" COVER SIGNED BY ALEX ROSS Written by Mike Carey
ULTIMATE FANTASTIC FOUR VOL. 2 HC Writtten by Mike Carey, others
RED SONJA: SHE-DEVIL WITH A SWORD VOLUME 1 TPB BY OEMING, CAREY AND RUBI! Written by Mike Carey, others
VAMPIRELLA MASTERS SERIES VOL. 8: MIKE CAREY WITH JOSHUA HALE FIALKOV TPB Written by Mike Carey, others
---
NEW! 1. 11/25/2020 - STEVE SKROCE
4. 11/16/2020 - RYAN O'SULLIVAN
5. 11/16/2020 - RYAN O'SULLIVAN