FAREL DALRYMPLE

SEND THIS TO A FRIEND!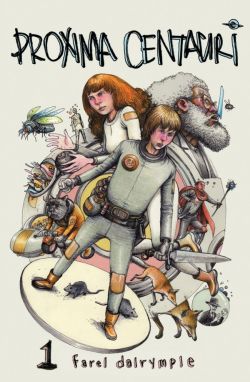 DF interview: Farel Dalrymple brings a psychedelic science fantasy action drama to readers in Proxima Centauri
By Byron Brewer
Some 4.243 light years from Earth, the teenage wizard adventurer Sherwood Breadcoat is stuck in the confounding spectral zone on the manufactured dimensional sphere, Proxima Centauri, looking for escape and a way back to his brother while dealing with his confusing emotions, alien creatures and all sorts of unknown, fantastic dangers.
From artist/writer Farel Dalrymple comes Proxima Centauri! DF spoke to the talented creator behind this Image Comics series.
Dynamic Forces: Farel, before we get into this new series proper, tell our readers how you got into art, storytelling and comics, please.
Farel Dalrymple: My mom is an artist and was an art director at a mid-western publisher for about 10 years during my adolescence. My entire life pretty much she has been very encouraging and enthusiastic about my work. I also had a couple of slightly older friends who were into comics, and then there was Star Wars, and the spinner rack at the grocery store and cable television babysitters that pretty much determined I'd end up telling my own brand of ridiculous stories.
How to Draw Comics the Marvel Way taught me perspective and a certain amount of dynamism, though it is subtly there, I think.
The Simpsons and Matt Groening' s Life In Hell, Lisbeth Zwerger, Natalie Ascencios, Mignola, Paul Pope, Jeff Smith, Dave McKean, Seinkeiwicz, and Arthur Adams... a little later Moebius, Ottomo, and Matsumoto and Tanaka, Brandon Graham, Tom Herpich, and James Jean and many more all played their part in making me want to make more comics.
DF: I was a fan of your great art on Marvel's 21st century iteration of Steve Gerber's Omega the Unknown, but was really bowled over by your watercolors in The Wrenchies, a universe in which Proxima Centauri takes place. Tell us a little about the different media you enjoy, and how you decide what to use when/where.
Farel Dalrymple: Omega the Unknown was first a 10-issue monthly series for Marvel. The assembly line process is well ingrained there. I had to ask three times to letter it myself. Also if I hand colored the entire thing it would have taken me another six months. It was partly done for speed. Lethem had also seen me and Paul Hornschemeier on our Bizarro World: Flash story (with Dylan Horrocks) and really liked the way we worked together. That was pretty much how we got the job. It was pretty cool because Paul was the designer on the book and I got to watercolor the cover and some of the end pages which was Paul's idea.
I enjoy painting and watercolors but was definitely feeling burnt out on all that after Wrenchies and it will all hurt. It's been a nice change of pace computer coloring most of Proxima plus I got to do a bunch for Chain Letter. It feels more in line with the space opera galactic tone. Some of the pages I like to give a bit of a hand approach and it has been fun figuring out different ways to integrate photoshop and hand coloring. I'm into this idea of mixed media and having a free flowing process but I'm still figuring it out. Slowly. It's been a little rough. I don't know how well it's going until it's all over.
DF: For those who've been under a rock (you know who you are!), tell us a little about the world of The Wrenchies and about the part we will be examining in Proxima Centauri.
Farel Dalrymple: The Wrenchies was half set in an undetermined future Earth fantasy post apocalypse world and half in more of a timeless/real magical world setting of Pop Gun War. It bounces back and forth because it is all about Sherwood's redemption and salvation. It will take place almost entirely on Earth in the future fantasy Wrenchies setting. Proxima Centauri (at least the first volume) is just about three years of Sherwood's life on board this enormous space station 4.5 light years from Earth where Sherwood is stuck in this spectral zone he's trying to escape from. This zone is a city-sized toxic trap and no one knows how but all of these seemingly random beings are held there by some unknown power. There's a couple of characters from The Wrenchies there too. It's where Sherwood first meets one of his best pals, the Scientist Herzog Duke, who is one of the major characters in The Wrenchies. Shakey from The Wrenchies is around a lot, trying not to slap Sherwood around for being so annoying.
DF: What can you tell us about Sherwood Breadcoat as a character?
Farel Dalrymple: He's a whiner teenager who has lost his family and everyone he loves. He is this idea of what might happen to a teenager who is given all this power early on and over the course of his life is tormented by isolation and demonic beings trying to destroy him. Eventually he ends up causing the Earth's corruption and creates the world of the Wrenchies. He saw all this in a flash but can't remember, like a fading dream. Other beings on the ship are aware of this but know they can't change anything.
DF: What other characters are there in the series? Who are Sherwood's friends?
Farel Dalrymple: There's the aforementioned scientist who is sort of like a father figure/mentor who has Sherwood help him with the robot body he is building.
M. Parasol is a ghost that is stuck in the zone and later goes back with Sherwood. He's got a crush on her but she is a ghost and too old for him anyway. There is some kind of magical connection between them that lasts for years.
Shakey is a space wizard who has his own quest and needs the scientist and some others to fight three gods who are using Sherwood's energies to infect the zone with their malevolent energy.
Dr. Ext the time traveler knows everything and gives Sherwood lessons and advice. Sometimes he has a hard time remembering what time he is in and what he is supposed to not tell Sherwood.
Dhog is the guy that Sherwood pals around with the most. He's a really nice, easy-going dog headed alien who has these intense savage moments. Sherwood tends to be mean to him like a kid might be to an obsequious animal.
Almendra and Gris will pop up a couple of times too.
DF: What can you tell us about any big-bads in the book? What challenges await Sherwood on this adventure?
Farel Dalrymple: The idea at first was that each issue he would fight some sort of boss per issue, each one unique and colorful like in a video game. I am too slow a storyteller to pull that off so he ends up fighting baddies only a couple of times. My idea was that it's this spectral zone itself that is the real enemy. The environment is becoming more corrupted and polluted, ultimately on its way to being completely unlivable. So it's like the zone is bringing these bad things for Sherwood and company to deal with while everything rots.
First there's a territorial sniper. Then, a mini-bot producing old-timey guy. And then there is Sherwood himself.
DF: Can you talk a little about working as an artist AND writer on a book? Advantage/disadvantage or both? (smiles)
Farel Dalrymple: Yeah, they both have their own things going for them. It definitely takes me longer doing everything myself. I can't say if the end result is any better than anything I've done with a writer but I feel like it is certainly more representative of me and who I am as an artist. More of my own thumbprint or ego than trying to imagine what someone else wants me to draw, for whatever that's worth. It's more creatively satisfying to me to write my own work. I'm unsure what, if any, sort of market there is for it. I'd love it if there were Pop Gun War bedsheets at Dillard's or wherever. All the writers I've worked with have been cool and I feel pretty good about that body of work. And it's easier to get in a rhythm and shut my brain off and just bang out pages. With my own stuff, there are way more false starts and doubting myself. It's been neat to get to briefly work with friends and some of the people I look up to creatively. I'm getting up there in years and only have a handful of productive years left in me. I want to finish all these personal projects and then get more into painting or something other than comics. There's still a couple of guys I'd like to work with. I keep bugging Rick Remender to write something for me.
DF: Farel, what other projects inside or outside comics can you share with readers?
Farel Dalrymple: Other projects?! I can barely keep up with doing a regular book. I'm throwing myself into another volume of Proxima Centauri in a few months. Hopefully Image Comics will keep publishing it for a few arcs.
Dynamic Forces would like to thank Farel Dalrymple for taking time out of his busy schedule to answer our questions. Proxima Centauri #1 from Image Comics hits stores June 13th!
For more news and up-to-date announcements, join us here at Dynamic Forces, www.dynamicforces.com/htmlfiles/, "LIKE" us on Facebook, www.facebook.com/dynamicforcesinc, and follow us on Twitter, www.twitter.com/dynamicforces.
CAPTAIN VICTORY AND THE GALACTIC RANGERS TRADE PAPERBACK
CAPTAIN VICTORY AND THE GALACTIC RANGERS #3
---
NEW! 1. 11/25/2020 - STEVE SKROCE
4. 11/16/2020 - RYAN O'SULLIVAN
5. 11/16/2020 - RYAN O'SULLIVAN