NATHAN FAIRBAIRN

SEND THIS TO A FRIEND!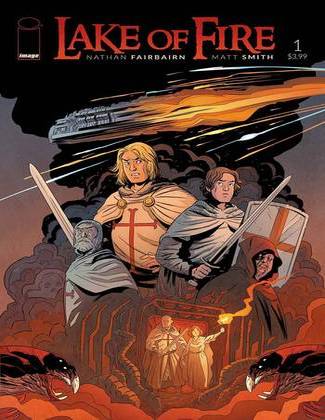 DF Interview: Nathan Fairbairn sets the Crusades ablaze in Lake of Fire
By Byron Brewer
Colorist Nathan Fairbairn is transitioning from art to writing for his new Image comic, Lake of Fire. Alongside Barbarian Lord artist Matt Smith, he will tell the tale of Crusaders who encounter something truly extraordinary.
Set for release this summer, Lake of Fire will take place during the Crusades and follows a small group of Crusaders as an alien spacecraft crash-lands in the French Pyrenees.
Sci-fi and history! Quite a combination. DF talked with the writer to find out more.
Dynamic Forces: Nathan, as a comic reader of course you are best known to me as a talented colorist. How did your decision come about to transition from art to writing to handle this new Image Comics book, Lake of Fire?
Nathan Fairbairn: I've actually always had writing as my ultimate goal in comics. Believe it or not, I started teaching myself how to color comics over a decade ago simply because I thought it would be an expedient way of getting my foot in the door. I never expected to become as skilled and successful a colorist as I did. In fact, I actually forgot for a good while that coloring was only supposed to be a stepping stone to my writing career (having babies and not sleeping through the night for six years had a lot to do with my loss of focus).
DF: Many known comic artists have gone on to writing: Jim Starlin, Frank Miller, many more. Which talent comes most naturally to you, art or writing?
Nathan Fairbairn: I'd say the written word was my first love. I have a degree in English Literature and have worked as an editor, journalist, and English teacher. Having spent the last decade working as a color artist, though, I feel like I have a much more balanced skillset and perspective than most first-time comics writers. I'm a far, far better artist today than I was a decade ago, and I think that makes me a much better writer as well (of comics, at least).
DF: I have heard the concept for Lake of Fire is something you have been developing for quite a few years. Tell us how it came to be a comic now on Image's summer schedule.
Nathan Fairbairn: Lots of work and tenaciousness, I guess. It's one thing to have a basic idea for a story, but the work it takes to follow up on that, and to keep moving forward until you have an actual comic is something else entirely. In my case, I spent years of evenings and weekends researching and plotting and revising and drafting until I had a pitch and a script for issue #1 that I was proud of. Then it was a matter of approaching artists until I found my partner and co-creator, Matt Smith. Then the two of us had to do a bunch of development and design work, as well as producing several finished interior pages to add to the pitch, which we then submitted to Image. And then once we had a deal in place, the real work of actually producing the issues started!
Yeesh, I'm skipping over a ton of stuff, and even so I'm getting tired thinking about how long it took to get to this point. Each step took so much longer than I thought it would. Suffice it to say that making comics is a preposterous amount of work, and the only reason anyone bothers is because we love the art form and telling stories as much as we do. (smiles)
DF: What is the basic storyline?
Nathan Fairbairn: Well, the synopsis on the solicit goes something like, "It is 1220 AD, and the gears of the Albigensian Crusade grind on. When an alien mining craft infested with a horde of bloodthirsty predators crash-lands in the remote wilderness of the French Pyrenees, a small band of Crusaders and a Cathar heretic are all that stands between God's Kingdom and Hell on Earth."
So, that's what happens, in a nutshell. On a deeper level, this is really a story about faith. It's about how faith can elevate the human spirit and also lead it down some of the darkest paths imaginable. It's about how faith provides easy and often false answers to complex questions, and how those answers can nevertheless give us the courage to live without fear and, hopefully, to be our best selves.
DF: Who are your protagonists?
Nathan Fairbairn: The Albigensian Crusade was a particularly long and vicious campaign against a group of Christians known as the Cathars. Our story follows a small band of Crusaders who've been sent away from the main body of the Crusade, essentially on a fool's errand up into the mountains to cleanse a village of suspected heretics. Members of the band include a famous, insubordinate drunk, a lordling looking for adventure, and a lunatic who's too zealous even for the Crusade that gave birth to the phrase "kill them all and let God sort them out". The cast is rounded out by the villagers, chief among whom is Bernadette, a young Cathar prefect. (One of the many ways the Cathar faith differed from the Catholic faith was that it allowed for women to be priests.)
DF: You've said that you and artist Matt Smith have worked on many of the aspects of this book together. Tell us about that co-creation process, and about Matt's art as regards Lake of Fire.
Nathan Fairbairn: Matt and I work hand-in-glove on all aspects of the creation of the book. I send him the scripts and then he does rough layouts, which I then give feedback on. Then he does finished inks, which I then color and letter. I guess that's not a lot different from how many comics are made, in that there are defined roles, but the fact that there are just two of us filling all those roles, and the fact that we both work digitally and often will send the same file back and forth at various stages of the production so we can each add our ideas, makes this book feel like the purest collaboration I've ever done. When I look at finished pages, I literally can't recall where my ideas end and his begin. He's my co-creator, and this book is as much his as it is mine.
DF: More and more, I see comic book writers using specific periods of history as their backdrop. This series happens during the Crusades. What kind of research did you do, if any? And was there historic research on Matt's part as well?
Nathan Fairbairn: It's very important to me that this story be as grounded in time and place as I can make it. I spent a lot of time reading about medieval knights and the Crusades in general and the Albigensian Crusade in particular. Many of the characters are even actual historical figures. Hell, I even spent four months sword training at a place called Academie Duello here in Vancouver just to get a feel for what that specific kind of armed combat was like. I got pretty deep down the rabbit hole there for awhile, until I found myself reading an obscure microhistory of a 13th century French village of 300 people and realized I knew more than enough to move on and just write the thing. I doubt I've ended up making use of a tenth of what I learned about the era, but I'm glad I learned it all, anyway.
Because I had spent so much time on the research before he came on board, Matt didn't have to do much except download the folders of reference I threw at him, and then to find a way to take it all in and streamline it into his own artistic sensibilities. I'd like to think we've managed to keep this wild fiction with one mailed foot firmly planted in historical accuracy. This is a very specific time and place with specific worldviews--take those and put them up against unknown horrors from another world and you have the foundation of our book. It's definitely not some collection of vague, generic medieval tropes and that gives it a pretty distinctive feel.
DF: Nathan, any other writing projects coming from your keyboard you'd care to discuss?
Nothing right now. I have a lot of story ideas on the backburner, but nothing far enough along to discuss. Right now I'm just focusing all of my energy and creativity into making Lake of Fire as exceptional as I possibly can!
Dynamic Forces would like to thank Nathan Fairbairn for taking time out of his busy schedule to answer our questions. Lake of Fire #1 hits stores this summer!
For more news and up-to-date announcements, join us here at Dynamic Forces, www.dynamicforces.com/htmlfiles/, "LIKE" us on Facebook, www.facebook.com/dynamicforcesinc, and follow us on Twitter, www.twitter.com/dynamicforces
---
NEW! 1. 11/25/2020 - STEVE SKROCE
4. 11/16/2020 - RYAN O'SULLIVAN
5. 11/16/2020 - RYAN O'SULLIVAN