ALEX PAKNADEL & JOHN LE

SEND THIS TO A FRIEND!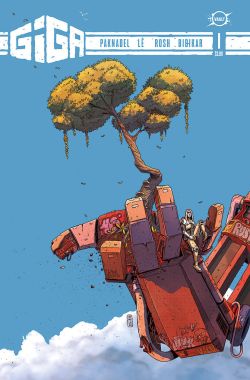 DF Interview: Alex Paknadel & John Lê unleash a giant robot murder mystery in 'Giga'
By Byron Brewer
Nobody knows why the skyscraper-sized mechs known as 'Giga' fought their bitter, centuries-long war. All they know is that when the fighting finally stopped, the dormant Giga became humanity's new habitat and new gods in one. When disgraced engineer Evan Calhoun finds an apparently murdered Giga, his society and the fascistic tech-centered religious order that controls it are rapidly thrown into chaos.
From Vault Comics comes Giga, an epic new sci-fi series co-created by writer Alex Paknadel and artist John Lê, with colors by Rosh, letters by Aditya Bidikar, and design by Tim Daniel. DF was anxious to dive deep into this new series, so we talked to both scribe and illustrator.
Dynamic Forces: Alex, tell readers about how this new sci-fi series Giga came about. Is this something that has been burning on the Paknadel backburner awhile?
Alex Paknadel: It's been through a few iterations, but I suppose it must have started coming together around 2016. I'd been marinating in a bunch of Francois Schuiten and Benoit Peeters' Obscure Cities books and just fell in love with their idea of presenting spectacular urban environments as banal. Their whole deal was postwar urbanism viewed through a sci-fi lens, so I thought I'd try to do the same for big-ass robots.
DF: What can you tell us, without spoilers, about this world you are building here?
Alex Paknadel: In this world, a war between skyscraper-sized robots called 'Giga' devastated our world. Our cities were all destroyed, leaving billions of us homeless and hungry. Then, abruptly, the war ended. For some reason – which we may or may not address in the book – the robots just stopped fighting, sat down and lay dormant for centuries. An itinerant humanity left them alone for a while and then made the best of a bad situation by moving into them. Inevitably, a religion sprang up to complement the new living arrangements. This religion is managed by a sect of engineer-monks called The Order of the Red Relay. They're the priests, the cops, the government… only they are allowed to interpret the will of the Giga. Our story is about the upheaval caused by the murder of one of these robots. What do you do when you find a dead god?
DF: So, the robots that destroyed our cities became our cities, and – perhaps inevitably – objects of religious worship to boot? That is a fascinating concept. How does that play out in the background of the series, and (although this is largely a reader's responsibility) what subtext does this speak to in our everyday (or future everyday) world?
Alex Paknadel: The religious aspect is central to the series, and most issues will feature passages from 'The Book of Assembly', a technical manual-cum-religious text used by the Order of the Red Relay to maintain order and control in the city. In terms of subtext, I'd like readers to find their own; that said, if you'll allow me to be cryptic I suppose I'm interested in why human beings imbue objects with life and how that tendency is exploited for power.
DF: Introduce us, if you would, to Evan Calhoun. Are there any other key protagonists readers should watch for in issue #1?
Alex Paknadel: Evan was a promising novice in the Order of the Red Relay as a kid, but when his friend Aiko's mistake led to loss of life, he refused to drop the dime on her. In consequence, he was excommunicated from the Order and became a scavenger of scrap on the outskirts of the city. He's lived like this for years, but when he finds the body of the dead Giga he's dragged back into the thorny politics of the Order and its agents. In terms of other protagonists, in the first issue you'll meet our cover star, Legs. This is Evan's robot companion, and since the construction of robots is strictly forbidden in this world, it should provide a big clue as to Evan's character.
DF: John, I hit upon this in a different way with Alex but talk a little about building this world in Giga from an artist's perspective. Discuss how you use your artist's toolbox to portray changes between calm and emotion, quiet and adventure, etc. I love an artist's mind.
John Lê: With Alex setting up such an engaging premise for a visual world, a dense metropolis of a city while replacing skyscrapers with inhabitable giant mechs, my imagination went wild. Giga takes place in a world that has a very wide spectrum of beliefs and cultures, so I wanted to make sure the cities and their boroughs reflected that – just as much as the characters we'll meet throughout the book. When approaching this visually, we wanted to have a heavy emphasis on scale. A city that felt larger than life, with a delicate balance between awe, grit and terror.
DF: Did you do the character designs for the graphic novel? If so, tell readers a bit about that and your collaboration on same with Alex.
John Lê: Yeah, I was able to design the characters from the ground up with Alex's descriptions in the pitch/scripts. As I mentioned earlier, the world of Giga inhabits many different groups of people that interact and interpret the city of mechs in various ways. I wanted my character designs to reflect that as much as possible.
DF: Guys, aside from Giga tell readers what else they can look for from you in the way of near-future projects.
Alex Paknadel: I can't name it just yet, but I have a TKO book coming out as part of their third wave of books this summer. Nil Vendrell's drawing it, it's a horror book, and it's going to be awesome. I also have a couple of Marvel one-shots coming out which tie into the Empyre event. Keep your eyes peeled for Lords of Empyre: Celestial Messiah and Lords of Empyre: Swordsman at your LCS.
John Lê: Unfortunately, I am unable to talk about any upcoming projects as they are yet to be announced. However, following my Twitter/Instagram would be the best way to keep up with any projects I'm attached to.
Dynamic Forces would like to thank Alex Paknadel & John Lê for taking time out of their busy schedules to answer our questions. Giga #1 from Vault Comics is slated to hit stores in the summer of 2020. Keep watching DF News and comics-related social media for more information.
For more news and up-to-date announcements, join us here at Dynamic Forces, www.dynamicforces.com/htmlfiles/, "LIKE" us on Facebook, www.facebook.com/dynamicforcesinc, and follow us on Twitter, www.twitter.com/dynamicforces.
---
NEW! 1. 11/23/2020 - CHUCK BROWN
3. 11/16/2020 - RYAN O'SULLIVAN
4. 11/16/2020 - RYAN O'SULLIVAN