DAN WATTERS

SEND THIS TO A FRIEND!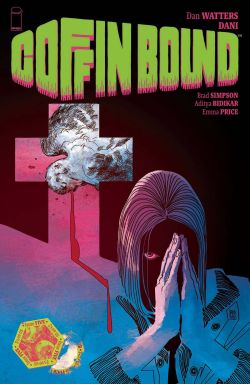 DF Interview: Dan Watters creates grindhouse nightmares and high-octane chills in 'Coffin Bound'
By Byron Brewer
Chased by an unstoppable killer, Izzy Tyburn has decided that if the world won't have her in it, it can have nothing of her at all. She's retreading her life, leaving nothing but burned rubber, ash… and the sun-scorched bones of those who get in her way.
Writer Dan Watters (Sandman Universe: Lucifer, Limbo) teams with artist Dani (2000AD, Girl with No Name) for the action chiller Coffin Bound. To get the full 411 for our readers, DF sat down with the scribe to discuss the new Image comic.
Dynamic Forces: Dan, let's start out with the genesis of Coffin Bound, a rather nightmarish tale, heavy on the grindhouse (which is always fun). Is this something that has been brewing on the mental backburner awhile? What was its inspiration?
Dan Watters: The kernel of Coffin Bound was conceived a few years ago now, when Dani and I were both guests at Malta Comic Con. We'd met briefly a few times before that, and I knew that her work was great, but it was at Malta we seriously started talking and swapping influences and realized that we wanted to work together. So the book is that: a combination of mine and Dani's influences, rather than any sort of writer-dictatorship.
As for grindhouse: I love old pulp fictions of all kinds, and it's always a joy to try and find something new to say either about or through them. Time-specific genres that have strong styles tend to come from points in history that carried deep neuroses – the post-Manson Murders paranoia of grindhouse for one – so to extrapolate the deep roots of this to talk about modern paranoia is a lot of fun. If fun is the right word.
DF: Give me an extended elevator pitch for Coffin Bound. (No fair using the Image solicit.)
Dan Watters: Coffin Bound is about Izzy Tyburn, who has tried to cut herself off from the world as much as possible – but then she finds out that an unstoppable contract killer has been set on her tail. Resigned to death, she decides that if she must go from the world, she's going absolutely. She's going to destroy every trace she's left in the world, everything she's touched or created that might remind people of her – attempting to annihilate her own life before it's snuffed out.
Which is going to mean a road trip that brings her back into contact with all she has tried to abandon, including blind prophets, poet mobsters, chemical cults, and a lot of cars, guns, and bloodshed.
DF: More please on Izzy: who is she, and is there anything there reflective of the writer?
Dan Watters: Izzy is kind of a screw up, with a wild and misspent youth just about behind her. She's made a lot of mistakes and is in a lot of pain, so she's closed herself off from the world. Izzy is wondering whether it would be less painful not to exist altogether, which is where we join her at the start of the book.
There's always something reflective of the creators in art like this, but characters like this are elevated elements of ourselves. Elements to be removed and examined and then returned to their place, hopefully understood a little better than when we took them out.
DF: Without spoilers, can you give readers any clues as to the unstoppable killer chasing Izzy?

Dan Watters: EARTHEATER! He is the dread psychopomp, devourer of soil and lives.
EARTHEATER! He knows that all earth is made of bones, and the land must be seeded.
EARTHEATER! He does not work on commission, nor for exposure. Payment upfront, if you please.
DF: Back a bit to a point: This seems a book all about the inevitability of death, and the choices each of us face towards that end. Can you talk a little bit about that as regards the series, and also your personal philosophy/feelings on the subject please?
Dan Watters: Oh man, how much time and how many bottles of whiskey have you got? [Note: I live in Kentucky; plenty of bourbon, just ask! – Byron] The book is absolutely about that. It's about how we (or how we don't) accept the inevitable, and kind of about how difficult it is to imagine the world without ourselves in it. But I hope that a lot of the book is also about how deeply entwined with each other's lives we are; we're a network of life and lives. That said, it's not particularly setting out with any agenda towards being a super-upbeat and uplifting book, though it's definitely going to be a lot of fun.
Personally, particularly when we set out creating this book, I was reading an awful lot of Nihilist articles with cheerful titles like "Better Never to Have Been" and ruminating on non-existence an awful lot. I don't mind admitting that the concept outright terrifies me, which is why it fascinates me too. It's the one true capital-U Unimaginable, and it's probably waiting for us.
DF: Any characters aside from Izzy we need to be on the lookout for as Coffin Bound gets underway?
Dan Watters: From the previews already out in the world, I adore both Vulture and Eartheater. Vulture is just that: a vulture skeleton in a robot body, who may well be more than he seems. Eartheater is death: an unstoppable killer who dogs Izzy's every step. But he does it looking bombastic as all hell, because Dani designed him.
DF: What more can you say about Dani's contributions? And don't leave out those crazy bright colors of Brad Simpson!
Dan Watters: With a book like this – with anything I'd want to do through Image, I think – it's a wholly collaborative process. As the writer, I'm not dictating tone, character designs and so on, it's a lot more like improvisational music in some ways, riffing back and forth between the writing and the art.
Dani and I knew we wanted to co-create something that was entirely "us", so it was a pretty circular process of her doing sketches, me throwing out ideas, one inspiring the other and so on. To turn all of that into Coffin Bound took a good while, but I think it was entirely worth it. I think it's a way of a team turning out a book that is unlike anything they could do individually by working to each other's strengths. And Dani has a lot of those. She's just starting to get noticed the way she deserves to, and she's going to blow the doors off the comics industry in the next few years.
Brad and I had worked together with Piotr Kowalski on Wolfenstein for Titan, where he really wowed me. I had a feeling that he'd excel with Dani's sharp contrasts – she agreed, and it turns out we were right.
Also while we're talking about the team, I definitely don't want to leave off mentioning letterer Aditya Bidikar or designer Emma Price. Aditya's ever-meticulous style contributes a ton to how the book reads, and Emma's design is responsible for so much of the grindhouse style that we were going for.
DF: Dan, what other projects in which you're involved can you tell readers about?
Dan Watters: Well, I'm currently working on two books in the Sandman Universe over at Vertigo, writing Lucifer and co-writing House of Whispers with Nalo Hopkinson. On top of that, I have another two major creator-owned things to be announced soon, one coming out before the end of the year, the other early next year. Beyond that, things I'm not allowed to talk about yet. Not all in comics.
Dynamic Forces would like to thank Dan Watters for taking time out of his busy schedule to answer our questions. Coffin Bound #1 from Image Comics hits stores in August!
For more news and up-to-date announcements, join us here at Dynamic Forces, www.dynamicforces.com/htmlfiles/, "LIKE" us on Facebook, www.facebook.com/dynamicforcesinc, and follow us on Twitter, www.twitter.com/dynamicforces.
THE SHADOW: LEVIATHAN TRADE PAPERBACK
---
NEW! 1. 11/25/2020 - STEVE SKROCE
4. 11/16/2020 - RYAN O'SULLIVAN
5. 11/16/2020 - RYAN O'SULLIVAN