SEAN KELLEY MCKEEVER

SEND THIS TO A FRIEND!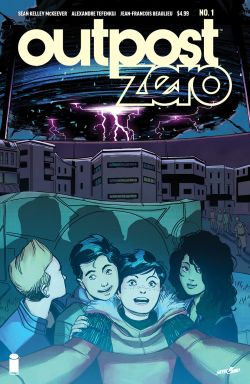 DF Interview: Sean Kelley McKeever takes a deeply personal journey via the denizens of Outpost Zero
By Byron Brewer
Welcome to Outpost Zero, the smallest town in the universe. The people there work the land, go to the fights every Friday night, and tuck their children into bed. But the Outpost is no place for dreams or aspirations. To survive is ambitious enough. As Alea and her friends graduate to adulthood on a frozen world never meant to support human life, something stirs. Something sees...

DF wanted to know more about the mysteries and wonder of the Frost in the over-sized debut issue of Outpost Zero by Eisner-winning writer Sean Kelley McKeever, artist Alexandre Tefenkgi and colorist Jean-Francois Beaulieu … so we went right to the scribe. Here's what Sean Kelley McKeever told us.
Dynamic Forces: Sean, before we begin talking about Outpost Zero, and I seldom have a chance to do this, let me ask you about your Eisner win. Fans often hear of these nominations and wins, but we do not often hear what they mean to the talent at the time. Tell us how your win may (or may not) have affected your comics career.
Sean Kelley McKeever: It took a while to sink in, I think. Like, I was enjoying it in the moment, but at the same time it was too surreal to properly react to, if that makes sense. I remember friends and colleagues talking to me as I went up to the stage and then when I walked off, but I didn't catch what a single one of them said. It still means a lot me now and I remember that night fondly.

In terms of my career, well, I can't say it moved the needle. I actually got a call late that year from an executive who was worried I might get nominated for Talent Deserving of Wider Recognition two years running. I just didn't have any bigger projects coming my way. Marvel tried to make a couple of high-profile projects happen in 2006, but nothing came of it in the end. But it's not like I was expecting jobs to come rolling in because of the win. I'm just still very grateful and wowed that people voted for me.
DF: For what seems to be your first comic book work in a while, you were quoted as saying you "wanted to go somewhere extremely personal to me." Tell us about the world in Outpost Zero and its personal meaning to you, please.
Sean Kelley McKeever: The super-duper high concept for OPZ is "The Waiting Place in space." I wanted to write something along the lines of TWP again, but I wanted it to have strange mysteries and to be in a sci-fi setting that would let me isolate the human condition.

You mentioned I haven't done a comic in a while, and that has something to do with its creation and being so personal. In 2011, I suddenly couldn't find any comics work and I went into debt and had a huge existential crisis. Developing OPZ toward the end of 2011 helped me cope to some extent. It was really a sort of therapy for me. I had already been dealing with anxiety and depression since puberty, so I was quite fragile going into 2012, but not as bad as I would have been without being able to escape into OPZ.

In writing scripts for the series, that's been a form of therapy too. I'm writing about things I'm feeling my way through. Anxiety, depression, family, love, heartache, the mysteries of the universe and what's at the end of the abyss. You know, the easy stuff.
DF: What can you tell us about the storyline of this new series?
Sean Kelley McKeever: This is the story of a teenage girl, her friends, her family, and some other folks who have to figure out what's necessary for survival and, to some degree, why survival even matters. They live inside a broken biome that crash-landed a long time ago on an inhospitable ice planet. It's a stressful existence, but then you juxtapose that with what looks like a quaint mid-sized town with a beautiful fake sky and renewable energy and you might almost be lulled into thinking everything's fine.

Everything is not fine, though, and the first issue makes that super clear when a massive ice storm comes calling just as Alea and her best friend Steven find some long-stewing tension in their relationship. After the first issue, nothing is the same for them and the first steps of an epic journey of discovery and self-discovery are taken.
DF: Tell us about Alea and her friends as characters. Is this a coming-of-age story for them, or something much darker.
Sean Kelley McKeever: It's coming of age times fifty, you know? They start their adult lives at fourteen and, along with all the other stuff going on in your brain and body at that age, they've got all kinds of responsibility. They go right from school to jobs, all of which are important to survival in some way, but some of which are right on the front lines of it all. So we're definitely into some dark territory, dealing head on with survival and fears and existential stuff. But I believe the dark times don't resonate unless there's balance, so you will definitely get the good with the bad, and sometimes you'll get them both at once.

Alea's one of those front-liners I mentioned. She's about to join her parents in Discovery Team, which is tasked with trying to determine if it's at all possible to live out on the planet, which they call the Frost. Alea's all about being part of that team. She's positive, exuberant, adventurous, forward-thinking, but she's also got some major tunnel-vision issues that her friends and family and enemies have to contend with. Steven, meanwhile, isn't really sure what he wants to do with the rest of his life but has to pick a career before one's chosen for him, like what happens with his and Alea's oddly super-positive friend, Lyss.
DF: Any other characters readers will need to know? If so, can you introduce a few of them here?
Sean Kelley McKeever: I am all about letting readers discover and get to know these folks on their own as much as possible. I will say this: characters that seem minor sometimes aren't, so you'll have to pay attention.
DF: How has it been assembling this fantastic saga and collaborating with artist Alexandre Tefenkgi and colorist Jean-Francois Beaulieu?
Sean Kelley McKeever: It's really wonderful to have Alex and JF on board. I've been developing this series in some way since 2006, and that was me alone in a vacuum until Skybound picked it up a few years ago, and even then it was just me and the editorial team batting it around. But to finally have it all realized visually is quite amazing and wonderful. Their work gives me the inspiration to dive back in and give them more to explore and depict. And I'd be remiss if I didn't mention Ariana Maher, our letterer, who's doing some great things, particularly with song lyrics.
DF: Sean, what other projects might you be involved with that you can tell our readers about?
Sean Kelley McKeever: Nothing that I can talk about at the moment, but I've got a few different video game projects at various stages of development. I hope I'll be able to talk about those over the next year or so.
Dynamic Forces would like to thank Sean Kelley McKeever for taking time out of his busy schedule to answer our questions. Outpost Zero #1 from Image Comics and Skybound hits stores July 11th!
For more news and up-to-date announcements, join us here at Dynamic Forces, www.dynamicforces.com/htmlfiles/, "LIKE" us on Facebook, www.facebook.com/dynamicforcesinc, and follow us on Twitter, www.twitter.com/dynamicforces.
---
NEW! 1. 11/25/2020 - STEVE SKROCE
4. 11/16/2020 - RYAN O'SULLIVAN
5. 11/16/2020 - RYAN O'SULLIVAN